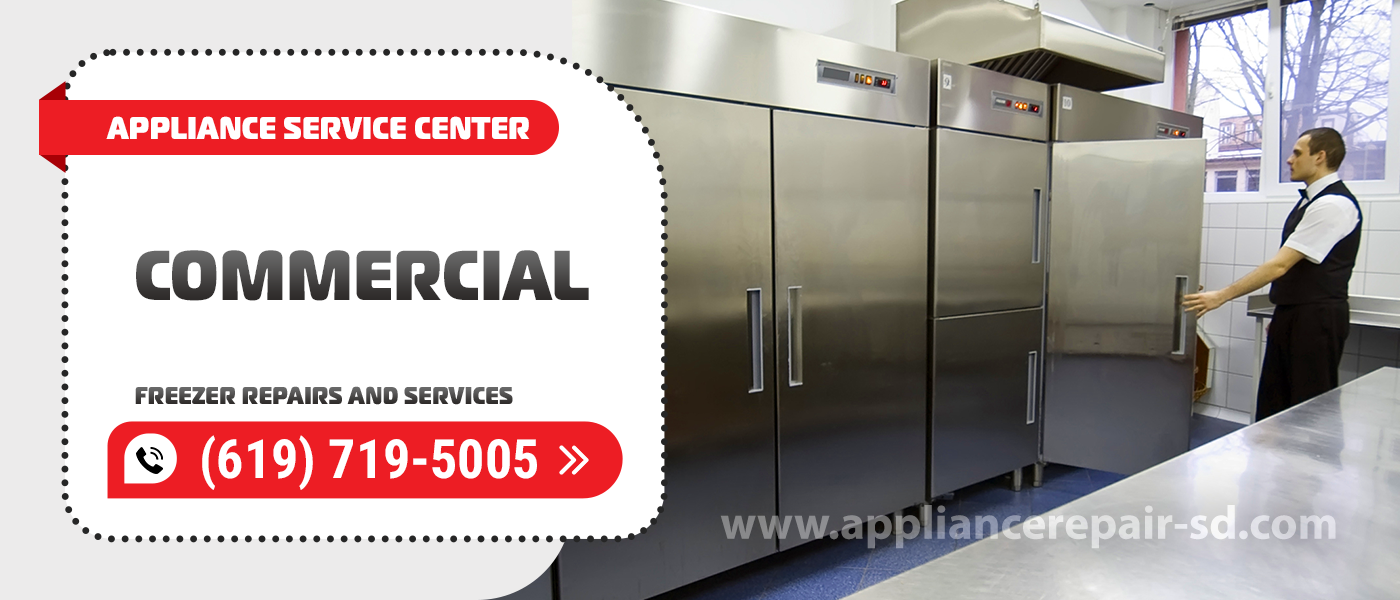 Commercial Freezer Repair
Failure of a commercial freezer is fraught with consequences and losses. But there's no need to get upset or worry. Appliance Service Center knows firsthand what to do in such cases. We've been professionally repairing commercial appliances for over 20 years. To carry out Commercial Freezer Repair in San Diego County, our technicians can do it to the highest standard. With a quality guarantee and reliability for years to come.
What are the most common breakdowns our technicians fix
Electronic control unit failure.

Damage to the thermostat of the freezing chambers.

Refrigerant (Freon) leakage.

Motor-compressor does not start.

Replacement of freezer door rubber.

Faulty temperature or air sensors.
In addition to the basic malfunctions of freezer units, there are often other problems. For example, heating of the case, the appearance of "coat" in the chamber, failure of indicators, water accumulation, the smell of burning plastic and many other problems. But regardless of the complexity of the breakdown, our craftsmen are the first choice for Commercial Freezer Repair and Service.
Entrepreneurs choose us for many reasons
We provide urgent

Commercial Freezer Repairs

. In most cases, our specialist will come and do all the work on the day you call. In 90% of cases, one day is enough for us to do the repairs.

Licensed specialists fix breakdowns of any degree of complexity. We are able to bring back to life the simplest to the newest equipment. That is why we have years of experience and modern equipment. Our specialists regularly improve their professionalism by taking an apprenticeship at the manufacturer's plants.

If a breakdown requires a complex repair, we have a specialized workshop. It is equipped with modern equipment for

Commercial Freezer Repair and Service.

We work only with original spare parts from the manufacturer. Original parts are also the key to quality repairs. After all, they last longer when used with care, and they are the perfect repair.

Commercial Freezer Repair

quality. Our masters try to do their work as quickly as possible without sacrificing quality. Testimonials from grateful customers speak for our professionalism. Who not only leave positive comments, but also recommend us to their friends and acquaintances.

On completion of the repair work, our technician will issue a statement of work and warranty card for three months. But the warranty is only for your peace of mind. After all, we know how to reliably repair your technique.

Among other things, craftsmen will prompt you on how to prevent possible breakdowns and advise on preventive measures. It is important to us that you are satisfied with the quality of our work!
Preventive measures to prolong the life of your freezer
Every technician will tell you that a breakdown is better prevented than repaired later.

Once every year or six months, you should perform a defrosting.

Do not leave the doors open too long. This disturbs the temperature regime and leads to rapid wear and tear of the compressor.

Carefully check the condition of the seals – as soon as you notice a breakdown, contact a service technician immediately.

The freezer should never be overloaded with food. Stack all the contents evenly.

Buy appliances that are suitable for your needs. For example, household options are not suitable for industrial use.
But if your appliances do break down, trust Commercial Freezer Repairs and Services to professionals.
We service and repair all major brands and models of freezers. But in order to avoid serious problems with such expensive equipment you should regularly carry out its technical inspection. You can entrust such work to our specialists at Commercial Freezer Repair. As it is a matter of professional technicians.
Over the years, Appliance Service Center has earned the trust of its customers. And these are not empty words. You have the opportunity to read testimonials from grateful customers. We work openly and we are responsible to every customer who comes to us for help. When you order Commercial Freezer Repair and Service from us, you can be sure of the quality of our work.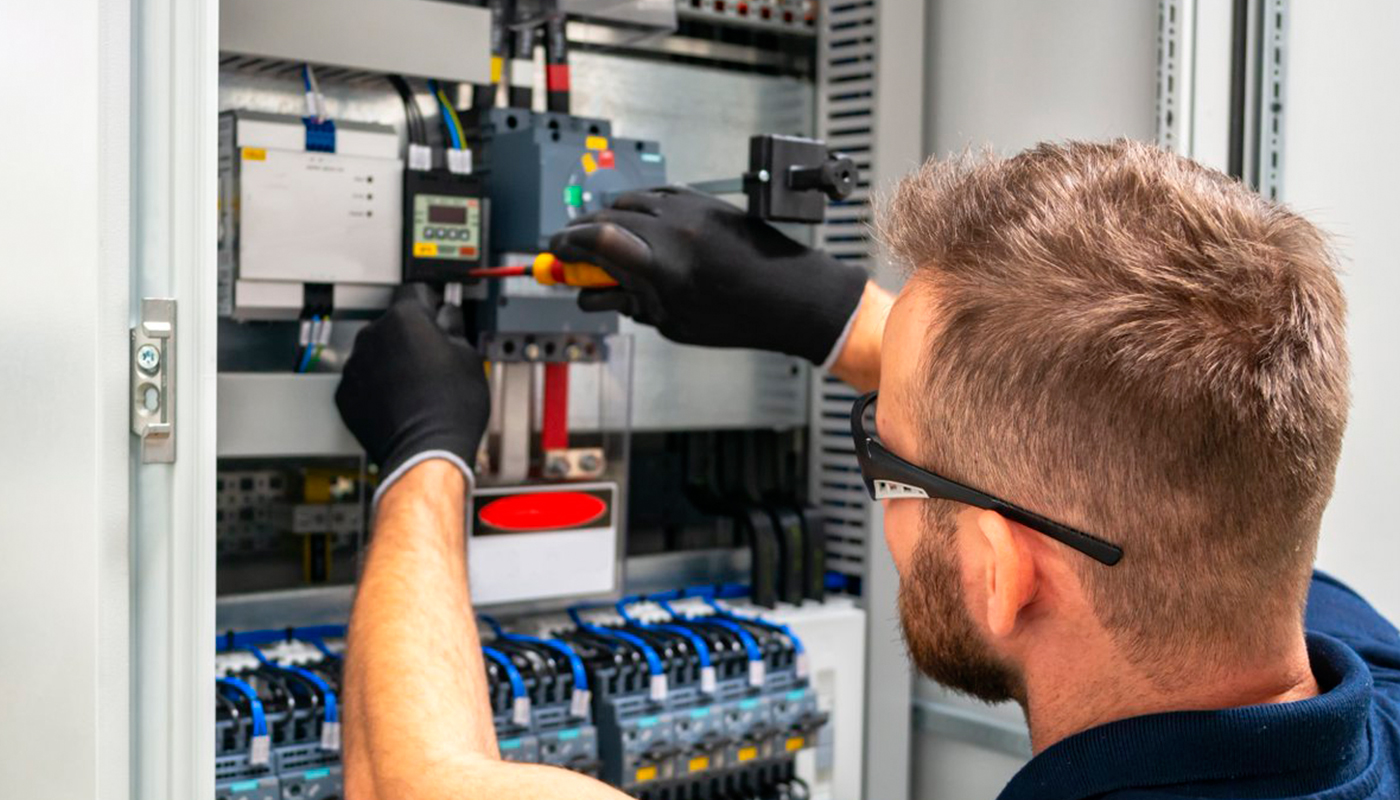 We use only professional equipment and tools, original spare parts, and high-quality consumables. Our technicians have 20 years of experience working with all types of household appliances from well-known brands. Specialists constantly improve their skills to provide you with high-quality services.
Frequently Asked Questions
Do you have questions about freezer repair? Before you contact our operator, we suggest you look at the frequently asked questions that our company's customers ask.
If you open and close your freezer too often and do it carelessly, you can damage the polymer seal on the door. As a result, the compressor will start working at higher speed, and freezing will be much slower. This can cause the compressor unit to break down soon. To diagnose the malfunction, you can contact our company for a Commercial Freezer Repair.
The thermostat is an electromechanical replacement for the temperature sensor. The thermostat, like the sensors, is mounted inside the freezer. A thermostat malfunction will similarly cause the control box to read the wrong data and adjust the freezer's operation accordingly. Our Commercial Freezer Repair technicians can determine the source of the problem and how to fix it. 
If the control unit is faulty, the freezer will likely turn on and that will be the only indication that it is broken. In some cases, the control unit can be reprogrammed with a new program, but more often it is replaced. Our company has Commercial Freezer Repair specialists who will replace it when you contact us.