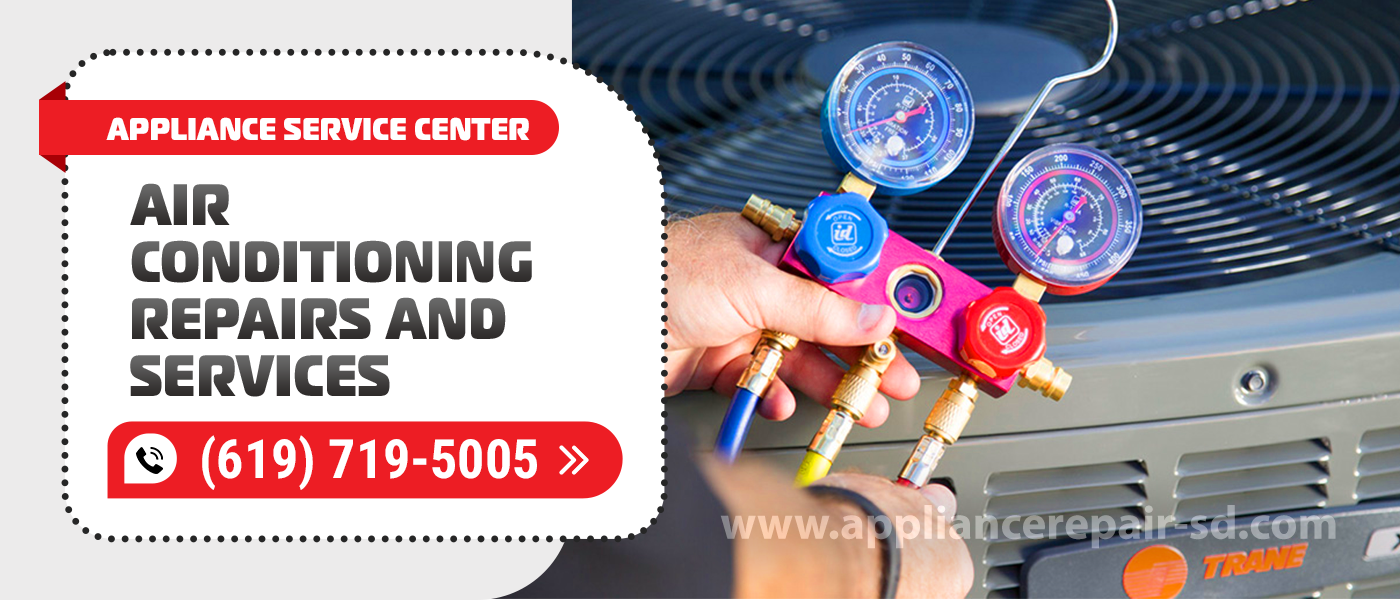 Air Conditioning Repair Service
Your air conditioner is broken? It is far from always that the repair of such equipment requires a lot of time and large financial expenses. We recommend contacting the Appliance Service Center for assistance. If you order Air Conditioning Repair in San Diego County, you'll get an affordable repair done in a short amount of time. We have professionals who have been doing their job for over 20 years. Our company started its work in 2001. We always successfully complete our tasks.
You can take advantage of Air Conditioning Repairs and Services, no matter what the problem is. Our specialists carry out repairs of any complexity. We can fix both the simplest breakdowns and the most serious ones. It's not just about the experience of the experts. We use the most efficient and modern tools for diagnostics and repair. They allow our technicians to work at the highest level.
Air Conditioning Repair can be ordered by literally any owner of such equipment. For example, ordinary residents of our cities turn to us for help. We regularly help commercial customers who use complex modern air conditioners. Technicians work effectively with equipment of any year of manufacture.
It is worth mentioning that specialists are able to restore the latest models. You can safely order Air Conditioning Repairs and Service, even if your appliance only yesterday appeared on the American market. Our technicians take refresher courses every 6 months. They study the latest innovations in the market and new technologies. You have no reason to doubt our professionalism.
To order Air Conditioning Repairs, you need to contact us by phone. If there is a breakdown, we will send a technician to you. However, this doesn't always happen. Sometimes we conclude that the client can handle the problem without professional help. For example, in some cases, you just need to change the equipment settings. In this case, our specialist will provide you with instructions for free.
We have an impeccable reputation for a reason
For more than 20 years, we have helped a huge number of clients. Our employees do their best to make every customer satisfied. You can verify this by reading the reviews of people who have used Air Conditioning Repairs and Service. To do this, visit Google and Yelp. You will definitely become another satisfied customer.
People note many of our advantages. One of them is the highest speed of work of technicians. In 90% of cases, the specialist completes the repair on the same day. We guarantee you that very soon after calling us you will be able to use your air conditioner again.
The good news doesn't end there. If you order Air Conditioning Repairs, we will provide you with professional assistance very quickly. In 95% of cases, a technician arrives at the customer's address on the same day. The fact is that we work 7 days a week, 365 days a year. We are almost always ready to process your application.
Many clients who turn to us for help save their money. For example, we provide a 15% discount for regular customers. If you have used our services before, just tell the manager about it during the application process. If you order repair online, we will give you a $25 discount. Seniors and veterans enjoy a special offer from our company too: $30 off.
How to order a repair
To order Air Conditioning Repair and Service, call the phone number listed on the site. Recall that you can contact us on any convenient day. You can also use the feedback form. Leave your details here and the Appliance Service Center manager will call you back. Usually, the client needs to wait only 1-3 minutes. Tell us your address and choose the time when the technician should come to you.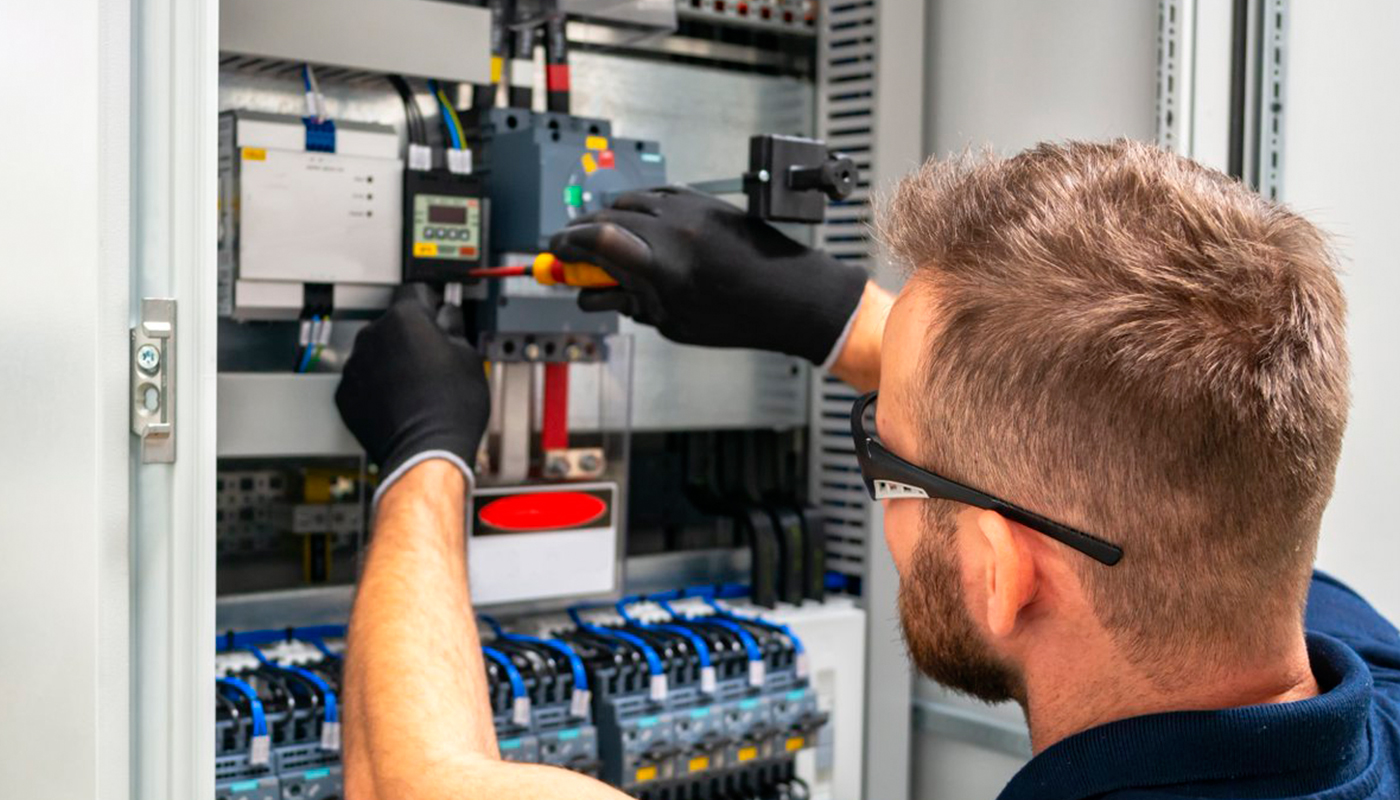 We use only professional equipment and tools, original spare parts, and high-quality consumables. Our technicians have 20 years of experience working with all types of household appliances from well-known brands. Specialists constantly improve their skills to provide you with high-quality services.
Choose the brand of your Air Conditioner
Frequently Asked Questions
If you have questions about our company, specialists or any service, you can call us. Our specialist will provide you with all the necessary information. We also recommend that you read the answers to the frequently asked questions. Let's take a look at them.
Yes, each of our employees has a complete package of documents that such an expert should have. The certificate is included in this list. This is a document that confirms that our specialist can carry out repairs of any complexity and we have all the necessary skills for this. In addition, all experts of our company have insurance. The rights of clients who turn to us for help are fully protected by law. After completion of the work, you will receive a quality guarantee. We mean a 90-day repair warranty. In addition, we provide customers with a 12-month warranty on new parts. Contact us for help if you want to get a guaranteed quality repair.
No. Our experts know how to fix any problem. You can safely order air conditioning repair in any situation. Of course, sometimes there are situations when the equipment is beyond repair, but this is an exception to the rule. In order to avoid such a development of events, order repairs as early as possible. Thanks to this, the breakdown will not progress, and our specialist will be able to restore the appliance. In addition, in some cases, the cost of repairs exceeds the cost of buying new equipment. In such a situation, we will help you choose a replacement.
Some customers of our company can get a big discount. If you want to order air conditioning repair and you have used our services before, you will get a 15% discount. During the conversation, tell our manager that you have previously contacted us for help. We also provide a $25 discount to customers who order repairs via the Internet. Seniors and veterans enjoy a special offer: such customers pay $30 less for repairs. If you want to not only get a quality repair, but also save money, contact our company for help.