Serving San Diego and Surrounding Areas
APPLIANCE SERVICE CENTER
The best and the most reliable Appliance Repair Technicians in San Diego County. Certificated repair specialists near You. We fix all appliance brands & models. We offer licensed repair services of Electric, Induction, and Gas household appliances.
OVER 1000 POSITIVE REVIEWS
OVER 1000 POSITIVE REVIEWS
Our Services
Professional Appliance Services We Provide
Our goals
High Quality Work & Reputation
01

Fast Same Day Service

In most cases, our experienced technicians carry out on-site repairs on the day of the call

02

Full Warranty On Parts & Labour

We provide service and labor warranty for all kinds of repairs.

03

Fully Licensed & Insured

Our team consists of licensed professionals with insurance

04

Simple Pricing And Quotes

No extra charge holidays & weekends. No overtime charges. No hidden fees.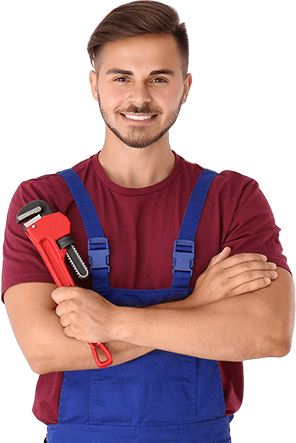 about us
Top Quality Appliance Repair & Installation In San Diego, CA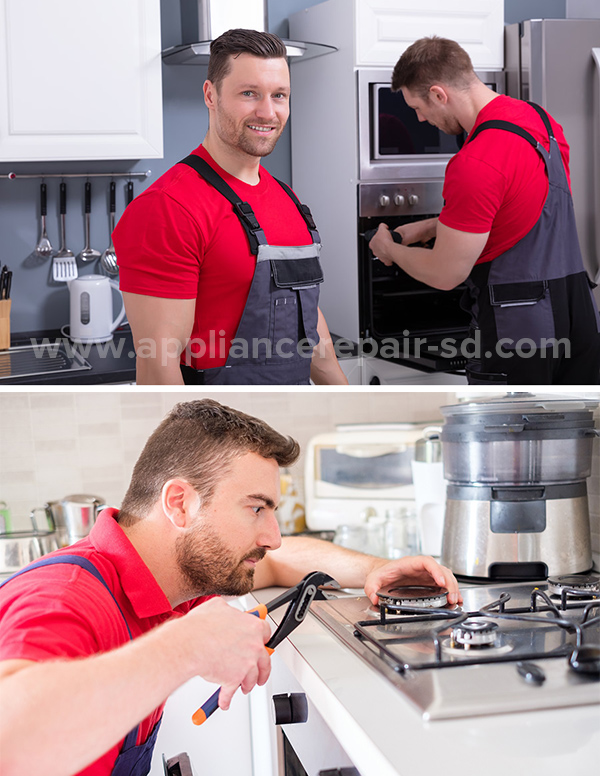 Appliance Service Center has been working on the market since 2001. During this time, we have earned a good reputation as the most reliable company and received many positive reviews from our satisfied customers. We have earned trust due to our advantages:
We are always honest with our clients and you can be honest with us too about your needs. If household appliances can be repaired, then we will do it. If the repair is too expensive or the device cannot be repaired, we will also tell you about it.
Contact us to repair any household appliances:
Our technicians have 20 years of experience. Therefore, it is highly likely that we have already encountered a similar breakdown before. Our experienced technicians are one of the best in the home appliance repair industry. We have a license to repair household appliances from 35 popular brands. Therefore, you can contact us with any problem without hesitation. Just call us, tell us the brand of your home appliances, and we are guaranteed to help you. Our clients contact us constantly and recommend us to their friends. We are proud of our reputation. Call us for professional assistance anytime.
Our motto
Your Appliance Will Be Fixed
This is the motto of the Appliance Service Center.
If your household appliances break down, we confidently declare that we can repair refrigerators, freezers, washing machines, dryers, dishwashers, ranges, and cooktops. No matter how complex the problem is, our technicians with 20 years of experience can handle it for sure.
We sincerely hope that you will value our motto as highly as we value each of our clients.
Licensed Repair Of All Appliance Brands
Brands On Servicing
Appliance Service Center is a reliable company that has all the necessary licenses and certificates to repair a wide range of household appliances from all popular brands.
We use original spare parts from well-known OEM manufacturers. This allows us to guarantee the highest quality repair of household appliances.
We have been providing home appliance repair services since 2001. You can trust our years of experience, as well as our many regular customers who are satisfied with our services. Our technicians work with all brands, makes, and models of household appliances. We provide services for businesses and individuals. If your household appliances are out of order, we will accurately determine the breakdown and offer the best solution in terms of price and quality. We will do our best to make your home appliances work like new ones again. Trust our professionalism and experience. We will repair your appliances as if they were our own.
Even if you are faced with a serious breakdown of household appliances, this does not mean that you need to throw them away. First of all, consider the possibility of professional repair, which will be done by the specialists of our service center.
We work with such popular brands of household appliances as
Amana
,
Bosch
,
Dacor
,
DCS
,
Electrolux
,
Frigidaire
,
GE
,
Jenn-Air
,
Kenmore
,
KitchenAid
,
LG
,
Liebherr
,
Magic Chef
,
Maytag
,
Miele
,
Samsung
,
Sharp
,
Speed Queen
,
Sub-Zero
,
Thermador
,
Thor
,
U-line
,
Viking
,
Whirlpool
,
Wolf
, and
more
. In most cases, we provide fast and professional home appliance repair on site the same day you call.
3 Simple Steps To Get Your Appliance Back In Good Working Order
How We Work

Identify Problem
We're experts who use professional equipment to diagnose breakdowns accurately. Our technicians determine the root cause of issues and provide the best repair solution for your appliances.

Estimated Approval
We discuss repair details with clients, including budget and preferences, before proceeding. We provide transparent pricing options and do repairs as per the agreed estimate, without additional costs.
Execute The Repair
We begin appliance repairs after client confirmation. Additional issues may arise during repairs. We advise on extra services to enhance repair quality, only with your consent. No surprises.
Your Appliance Repair Same Day Whenever Possible
Same-Day Appliance Repair Service In Your Area
We provide professional repair services in San Diego and surrounding places. Our service locations include all areas you see within the map.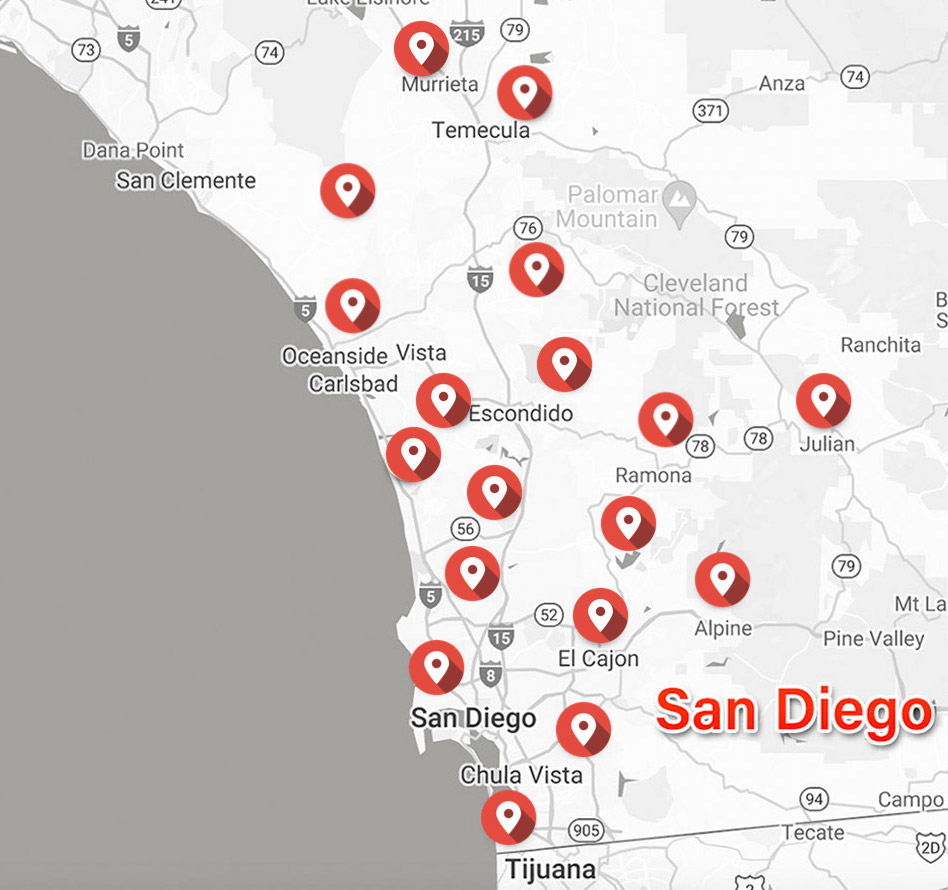 We always try our best to provide fast professional service on the day you call. Our technicians use their own vehicles to ensure prompt repair of breakdowns of any complexity. If we cannot come on the day of the call or it is more convenient for you for the technician to arrive on another day, we will agree on the date and exact time. We understand how important household appliances are for your home or company. Therefore, we are never late. We are always there to offer our professional assistance.
Our Testimonials
What Our Clients Says About Us
Special Offers
Discount Coupons For Appliance Repair
Get a great discount with our special program
We value each of our clients, so we have developed profitable discount programs. This means that you can use professional repair services at the most attractive prices. We offer veterans and seniors discount coupons, repeat customer discounts, online booking discounts, etc. We provide special offers to show how important our customers are to us. We try to do our best to make you feel like the most delighted customers of our company. Discount coupons are our compliments to each of our clients! Follow our current offers!
To take advantage of our discount:
Common Queries
Frequently Asked Questions
Answers to some of the questions we are most often asked by new customers. Please feel free to contact us if you have any other questions.
If you need professional appliance repair, contact specialists from Appliance Service Center. We are a local reliable company that provides repair and maintenance of household appliances since 2001. Technicians with 20 years of experience can cope with breakdowns of any complexity.
The cost of repairing household appliances is calculated taking into account many factors. For example, the price of refrigerator repair depends on the brand, the complexity of the breakdown, and the need to replace spare parts. It happens that important parts and mechanisms, which in themselves are expensive, fail. We work directly with manufacturers of spare parts and components, so we can offer the best prices for appliance repairs.
Our specialist usually goes to the address on the day of the call for dryer repair or to fix other household appliances. In rare cases, a technician may arrive the next day – about this we deal with the client in advance. You can also specify a time convenient for you or use the emergency repair service if you need a home appliance repairman immediately.
The duration of the repair depends directly on the complexity of the breakdown. In most cases, range repair or refrigerator repair can be completed on the day of the call, as our technicians always carry a full range of tools and spare parts for on-site repairs. In rare cases, very complex breakdowns may require the delivery of household appliances to a service center.
Our company has all the necessary licenses and certificates for the repair of household appliances from all popular brands. All of our technicians are insured and constantly attend refresher courses to provide you with even better services such as oven repair or air conditioning maintenance.
We are absolutely confident in the professionalism of our technicians and the high quality of the services provided. Therefore, for all the types of work performed, such as cooktop repair, we always provide a long-term guarantee. If your appliance breaks down during the warranty period due to reasons beyond your control, we will fix it free of charge.
Yes, we provide urgent repair services. In this case, the technician will leave at the specified address immediately after your call. For example, it may be necessary to have an urgent washing machine repair if it breaks down right during operation. By calling us, you can no longer worry. We will repair your home appliances as quickly as possible.
Our team consists of specialists with 20 years of experience who provide repair services for household appliances of all brands and models. Contact us if you need dishwasher repair, as well as repair of a washing machine, refrigerator, freezer, stove, and any other appliances that you have in your home.
If you need an air conditioning repair or other appliances are out of order, you may be wondering if it's worth paying for the repair services or if it's better to buy new appliances. In such matters, you can trust our experts. After the diagnosis, our technician will tell you exactly whether it is worth repairing the device. If your appliance is too old or the repair will be very expensive, we will tell you honestly about it and help you choose a new device.