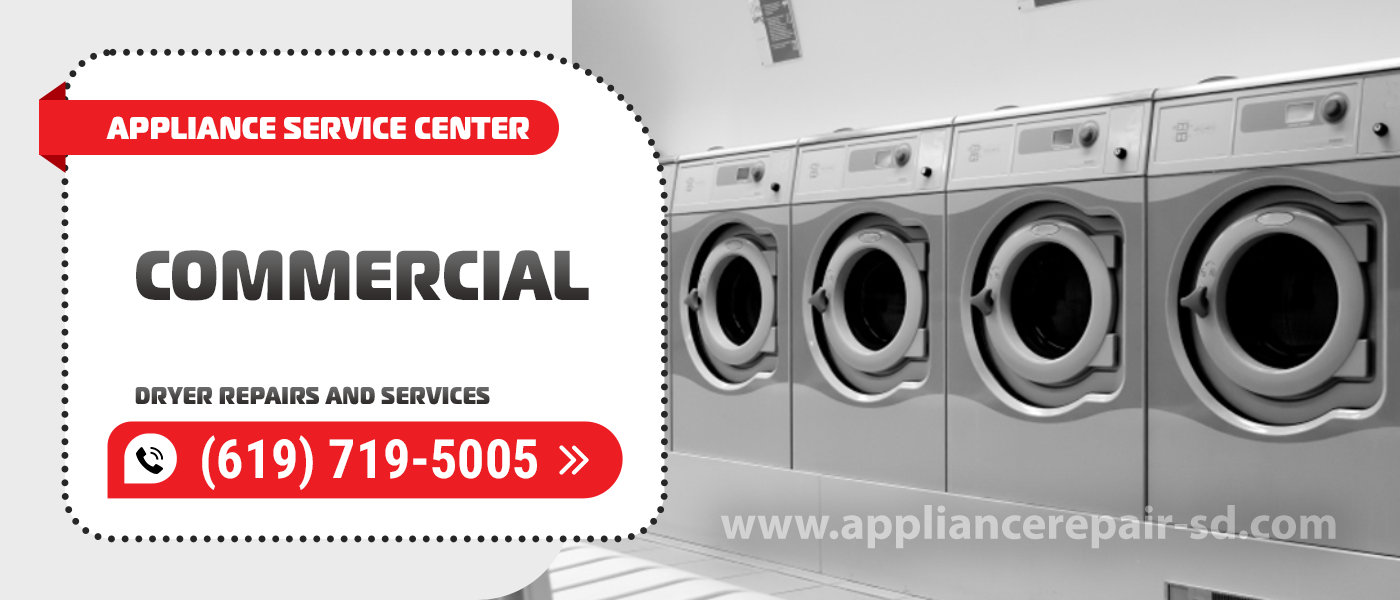 Appliance Service Center provides services and repairs commercial dryers of all well-known brands and models. Our technicians can fix even the most complicated breakdown, all you have to do is order Commercial Dryer Repair in San Diego County from our company.
In order to avoid serious problems with such expensive equipment you should regularly carry out its technical inspection. You can entrust such work to our experts at Commercial Dryer Repair and Service. Since it is a matter of professional technicians. Our employees regularly attend refresher courses and learn new skills. We have specialists with 20 years of experience.
Common dryer breakdowns
Belt breakage.

Motor overheating.

Breakdown of the flow dryer.

Failure of the pump or pump.

The technique does not turn on.

Failure of electronics, sensors and control panel.

Wear of the electric motor bearings.

Breakdown of water drainage system.

Heating element (heating element) breakage.

Occurrence of leaks.
You only need to contact our consultants and order the departure of the master. This service is available seven days a week. The cause of the failure and the cost of Commercial Dryer Repairs master will tell you immediately after a complete technical diagnostic of the device.
Why do customers choose us!
We provide an urgent

Commercial Dryer Repair and Service

– in most cases our expert will come and do all the work on the day of the request.

We work only with original spare parts from the manufacturer.

Quality of repair. Our technicians will do their work as quickly as possible without compromising on quality. Our specialists regularly improve their professionalism by undergoing training at the factories of the manufacturer.

On completion of the repair work will provide a three-month warranty on all types of its services.

Commercial Dryer Repair

licensed technicians fix breakdowns of any degree of complexity. We are able to bring back to life the simplest to the newest appliances.

Among other things, our technicians can tell you how to prevent possible breakdowns and advise you on preventative measures. It is important to us that you are satisfied with our quality work!
How we work
Call or order online
Our manager will call you back after your order. He will specify the nature of the failure, model, life and specify a convenient time for you to come to the wizard. This will allow the master to come to the site already equipped with everything you need for Commercial Dryer Repairs and Services. If you have any questions, you can contact our call center, including weekends! We are open seven days a week.
Breakdown diagnostics
Our technicians carry the latest diagnostic equipment and are fluent in everything.
Repair
Our company is known for prompt and quality repairs. We have everything you need for that. Our own warehouse with original parts, modern equipment, and a staff of professional technicians with 20 years of experience. Repair in 90% of cases takes one day.
Quality control of the work done
Our technician will not leave until he is sure your machine is in good working order.
We give you a three-month warranty
Upon completion of the Commercial Dryer Repair, our technician will provide you with a 90-day warranty card. That's more for your peace of mind. After all, we know how to repair appliances, so they don't break down again.
Self-repair: pros and cons
If you have some experience in this matter – you can try. But the risks still remain. What if you buy the wrong part, violate the technology of repair or generally incorrectly determine the cause of the breakdown. Then, most likely, after the work is done, you will have to call a master anyway.
Inexperienced users are better not to undertake repairs, even if you want to save money. You can't save money on professional service, more so that the cost of services in the Appliance Service Center is reasonable. Cooperation with us will not hit the wallet. In fact, in addition to low prices, we offer free diagnostics, if the customer agrees to further Commercial Dryer Repair and Service. Quality is our strength! Our prices are transparent and affordable.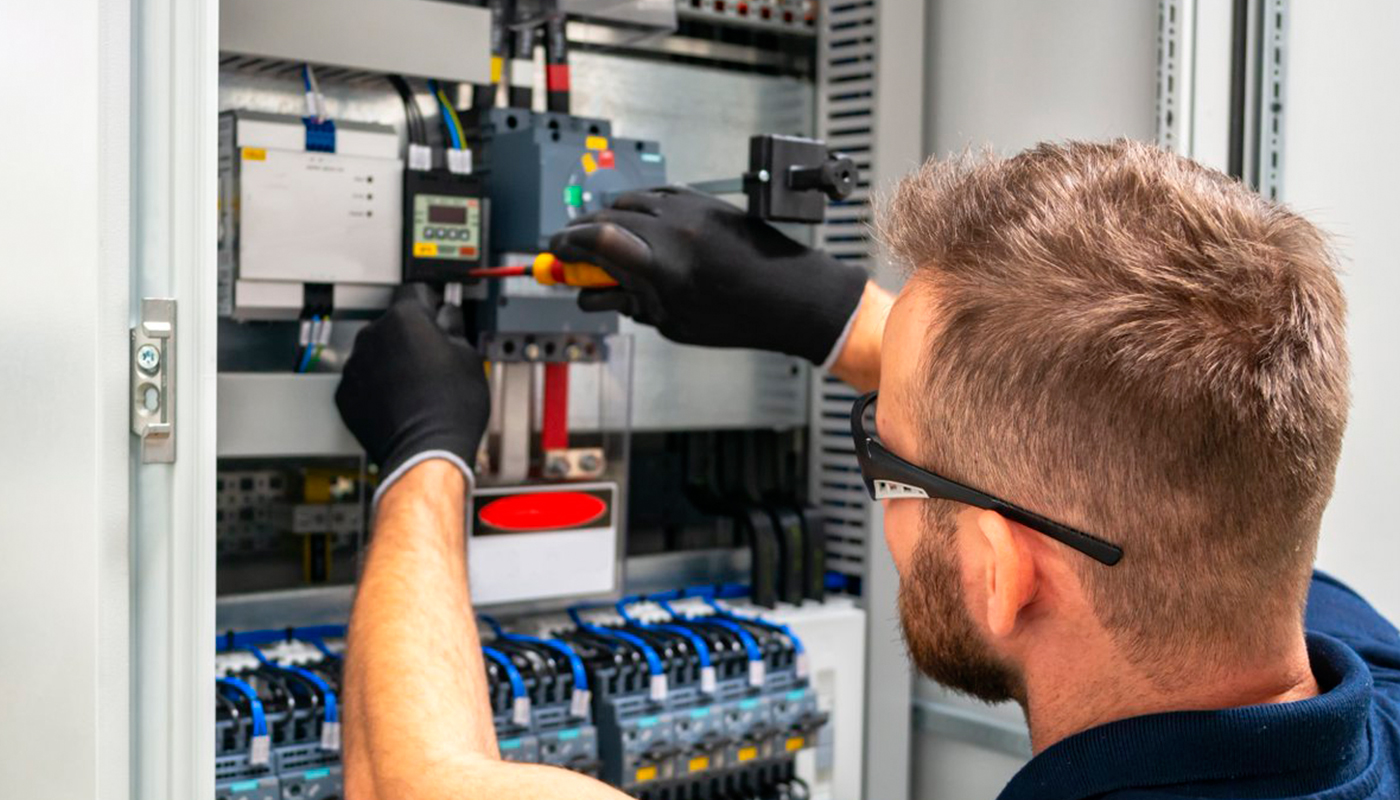 We use only professional equipment and tools, original spare parts, and high-quality consumables. Our technicians have 20 years of experience working with all types of household appliances from well-known brands. Specialists constantly improve their skills to provide you with high-quality services.
Frequently Asked Questions
Do you have questions about dryer repair? Before you contact our operator, we suggest you look at the frequently asked questions that our company's customers ask.
Just like with washing machines, dryers don't start running programs until the hatch lock is checked. If it is not sealed tightly, the corresponding icon will appear on the screen, and on models without a display, the indicator light will light up. First, open and close the hatch, making sure that things are not caught in the gap under the door. It may be warped. 
Occasionally you can fix the problem yourself with a screwdriver, but more often you have to call Commercial Dryer Repair. Cases involving mechanical damage are not covered by the warranty, so you'll have to pay for repairs.
The program selector on dryers is usually in the form of a rotary switch. With frequent use, it can become loose, causing it to malfunction when trying to turn on a particular drying program. Touch control panels can have other problems, such as burnout due to a power surge or accidental mechanical damage. In both cases, the part needs to be replaced. Commercial Dryer Repair specialists will perform these jobs.
The dryer in your home is designed to dry things instantly. When the dryer doesn't spin, it could be due to a broken belt. This will make it impossible to dry things and get rid of creases. Commercial Dryer Repair employees receive special training and pass a brand-specific appliance exam.