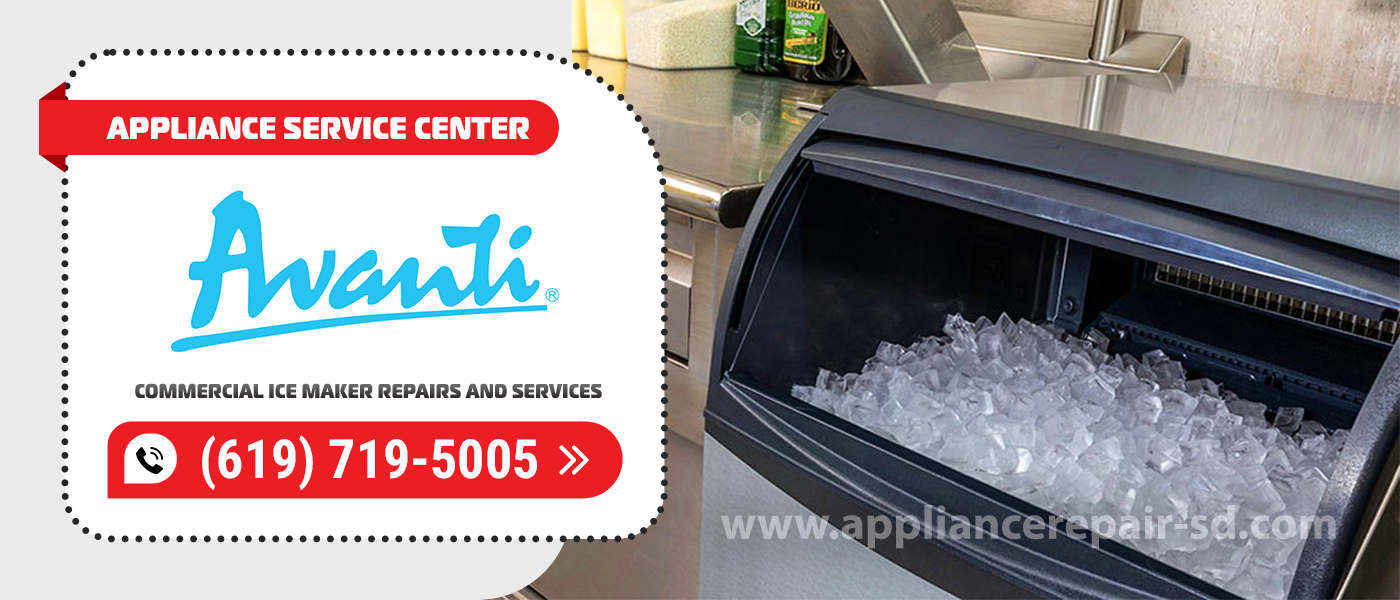 Avanti Commercial Ice Maker Repair
Avanti's commercial ice makers are widely in demand in the manufacturing industry. But even the most reliable equipment can fail or malfunction. In such cases, you should immediately contact the specialists of the Appliance Service Center. The company's specialists will perform prompt and professional Avanti Commercial Ice Maker Repair in San Diego County. The success and profits of your business depend on prompt and quality repairs. Don't waste time and contact the professionals you can trust.
When it's a good idea to seek professional advice:
The ice maker has begun to produce ice of an irregular shape.

The ice maker has begun to produce less ice.

After the ice melts, too much water is produced.

Equipment overheating.

Appearance of vibrations and a loud noise during operation of the equipment.

Lack of tight closure of the ice maker's door.
The most common breakdowns of the ice maker
If the ice maker is not working properly, this is reflected in the insufficiently low temperature that it produces. The cold may simply not be there! That means you need to contact an Avanti Commercial Ice Maker Repair and Service technician to get all of your equipment breakdowns fixed as soon as possible. The success of your business depends on the speed of repair.
Freon leakage
As a result, the equipment is unstable, the compressor begins to build up speed and function at full capacity.
Compressor wear and tear
In this case, the technician does not work, and if it works, it does not produce a cold or makes additional noises and sounds. Our Avanti Commercial Ice Maker Repairs technicians are always available for compressor replacement service.
Faulty water inlet valve
If the water inlet valve is faulty or has insufficient pressure, there will be no water flow. As a result, the ice maker will not make ice.
Ice level control board failure
In this case, the ice maker will stop making ice. The only way out is to call Avanti Commercial Ice Maker Repair and Service.
Failure of control unit
Without a control unit, any equipment turns into a pile of metal and plastic.
Clogged water filters
The fact that it's time to change the filter is indicated by a general decline in the performance of the equipment. The unit freezes worse, does not work as productively. It is not difficult for a professional to determine the cause of the breakdown and perform Avanti Commercial Ice Maker Repair.
Irregularly shaped ice cubes
The cause could be excessive or insufficient water flow.
If you are facing the above problems or you have another breakdown, our Avanti Commercial Ice Maker Repairs and Services technician will come and take care of everything.
Our benefits that we offer our customers are
Free troubleshooting
We don't charge for diagnosis when you order repairs at our service center.
Professionalism
We are staffed by people with over 20 years of experience. Our masters regularly improve their qualification and professionalism. They undergo an internship at the factories where the equipment is manufactured. We have licensing for the newest and most advanced machines.
Convenient work schedule
Our service center is open seven days a week. You can always call our call center and get any advice. It is better to prevent the breakage than to fix it later. Order the Avanti Commercial Ice Maker Repair at your convenience.
Repair of equipment at the production site
Our masters are true professionals. In 90% of cases, they perform diagnosis and repair on the spot and within one day.
In-house parts warehouse
We repair faster and at affordable prices thanks to our own parts warehouse. Cheaper, since we work directly with appliance manufacturers. Faster, as you don't have to wait weeks for the necessary parts. But most importantly, we work only with original components.
Undoubtedly you can try to repair the combi stove yourself. But we do not recommend making repairs of this equipment with your own hands, as often such repairs lead to even more problems. It is better to entrust the repair to qualified specialists of the Appliance Service Center. After all this equipment is not cheap and not as easy as it may seem at first sight. Avanti Commercial Ice Maker Repair and Service technicians are true professionals. They will get your appliance back in working order and provide a three-month warranty on their services.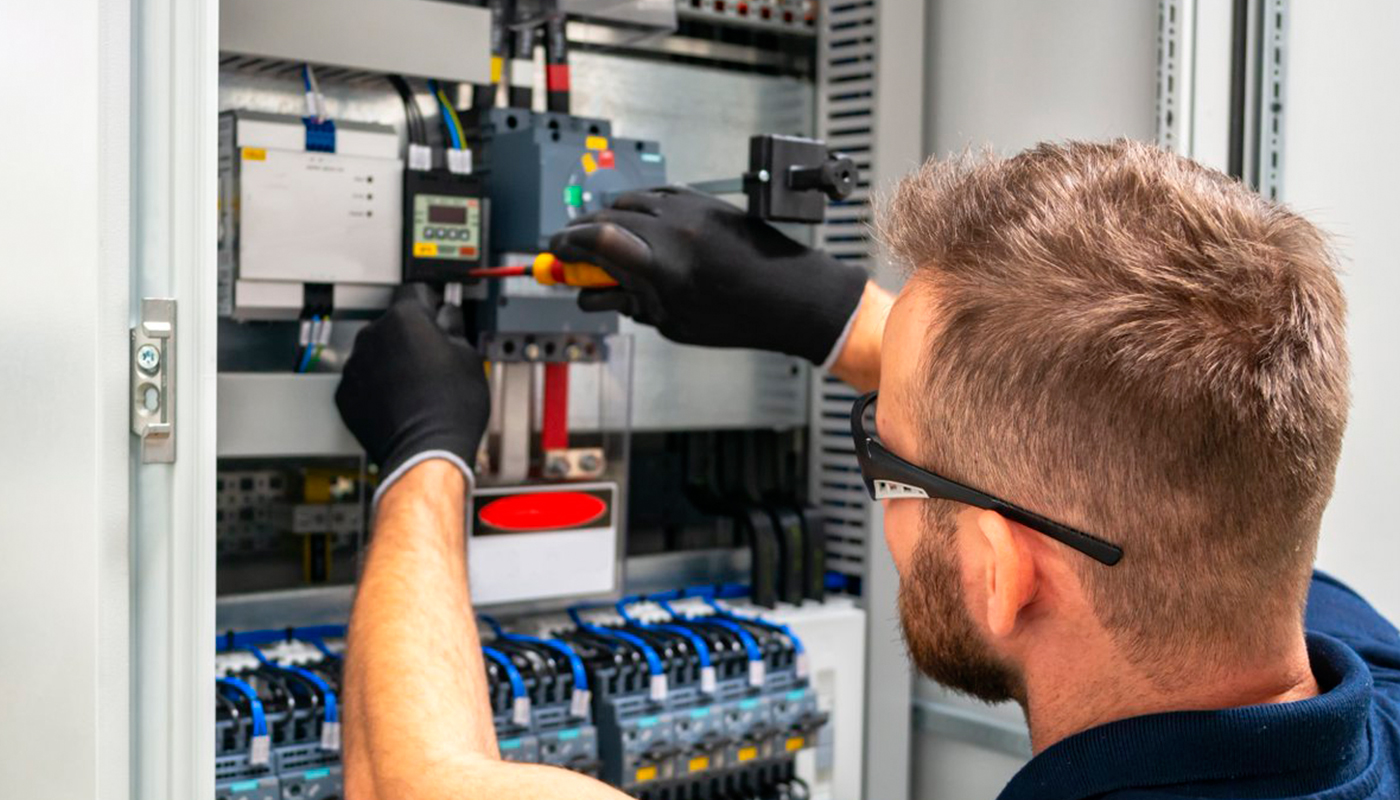 We use only professional equipment and tools, original spare parts, and high-quality consumables. Our technicians have 20 years of experience working with all types of household appliances from well-known brands. Specialists constantly improve their skills to provide you with high-quality services.
Frequently Asked Questions
Do you have questions about ice maker repair? Before you contact our operator, we suggest you look at the frequently asked questions of our company's customers.
It happens when the pump malfunctions or nozzles get clogged. You can understand it by incomplete filling of the molds or incorrectly shaped ice. The pump performs the function of forcing the liquid into the compartment. It then passes through the nozzles. When the water does not come, it indicates a clog. It must necessarily be removed. To do this, the water manifold is dismantled, the nozzles and filter are cleaned. The pump is also checked. Broken parts are to be replaced. We perform quality Avanti Commercial Ice Maker Repair.
If the ice maker does not turn on, or if it shuts down, there may be a defect in the hopper thermostat. In case of a problem, the regulators are inspected, the opening/closing of the shutoff valve is checked, the condenser, fan and solenoid valve are examined. Our craftsmen specializing in Avanti Commercial Ice Maker Repair will replace it in no time.
If this happens, it means that there is some kind of problem. You need to check the amount of liquid in the tank, filling the mold with ice. An automatic filler uses a purge filter. The water in the tank changes every day. The hopper is cleaned with a soda solution. If flashing does not stop, call Avanti Commercial Ice Maker Repair.