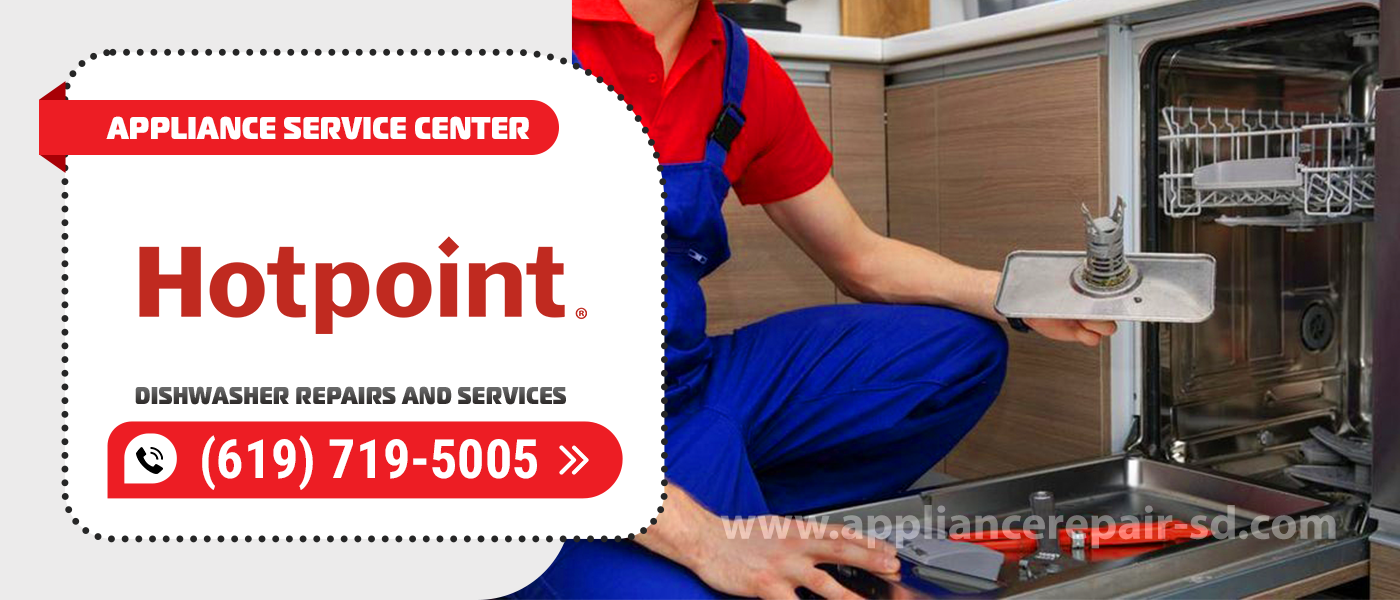 Hotpoint Dishwasher Repair
Has your Hotpoint dishwasher malfunctioned? Do not get upset. After all, nothing lasts forever. Even appliances that are reliable and of good quality. The Appliance Service Center is here to help. For more than 20 years our Hotpoint Dishwasher Repair in San Diego County has been bringing your appliance back to life. For us, there are no barriers to repair, just a problem to solve.
When you need the help of a dishwasher repair technician
The dishwasher does not turn on.

Dishwashers drain system is clogged.

Dishwasher will not empty.

Dishwasher does not heat water.

Dishwasher will not run when turned on.

Dish does not wash well.

Dishwasher does not dry dishes.

Leaks.
Only a specialist with certain knowledge and experience will be able to make prompt and high-quality diagnosis, to understand what the cause is. And having all necessary tools and equipment for this. Order Hotpoint Dishwasher Repair and Service to get expert help right now.
10 reasons to stop worrying about your dishwasher with Appliance Service Center
Quality and speedy diagnosis 
As soon as you discover a problem, give us a call. A manager will ask a few clarifying questions during the call and suggest the most likely cause of the breakdown. The manager will clarify the age of the equipment, the model, and the nature of the breakdown. This will allow the Hotpoint Dishwasher Repairs technician to arrive at the call with everything you need for accurate diagnosis and repair. 
Every breakdown is important.
If it's broken in the morning, it's good as new in the evening (or the next day). We repair your equipment the same day it is delivered to our service center or the same day the technician arrives at your property. No extra charge for urgency. 
We are online 7 days a week, 24 hours a day. Your equipment never asks when it's going to break down, and we're always ready to fix it. After all, we know how important it is to bring back the comfort and service to the daily lives of our customers. Don't wait for weekdays, order your Hotpoint Dishwasher Repair and Service now.
Diagnostics – free of charge, original parts at wholesale prices, no cheating. The company buys spare parts for household appliances in large quantities directly from official suppliers or from the manufacturer's plant itself. You do not overpay for retail.
We have our own warehouse with original branded components from the manufacturer. No cheap imitations. All necessary spare parts are in stock, so we can easily cope with any failure. And most importantly it is a guarantee of quality Hotpoint Dishwasher Repair.
Appliance Repair Workshop
We repair any appliances on site or in our service center. There are breakages that require a special approach and special equipment. There are no barriers for us at Hotpoint Dishwasher Repairs and Services.
We tell you and show you what we do. When the job is done, the technician will tell you how to handle the equipment to avoid a second breakdown. After all, any breakage is better to warn, than to correct later.
Our company employs over 20 years of experience. For our licensed Hotpoint Dishwasher Repair technicians, there are no breakdowns they can't handle. With an engineering background, our technicians regularly upgrade their skills and undergo apprenticeship training in the appliance industry.
We offer a 3-month warranty on all our work. But we are confident that you will not need to contact us again. As we know how to repair qualitatively and reliably.
Our diagnostics are free, and our parts are at wholesale prices. We take for the repair exactly as much as it costs. The technician will never replace what is to be repaired. And will never try to repair what has outlived its time and cannot be repaired.
Appliance Service Center – we value our reputation and your appliances! It is impossible to repair a complicated, multi-node technique by yourself without skills and tools. In this case, it is better to turn to the masters of our firm. Hotpoint Dishwasher Repair and Service technicians will quickly and efficiently fix any breakdown. A warranty will be given for all the work.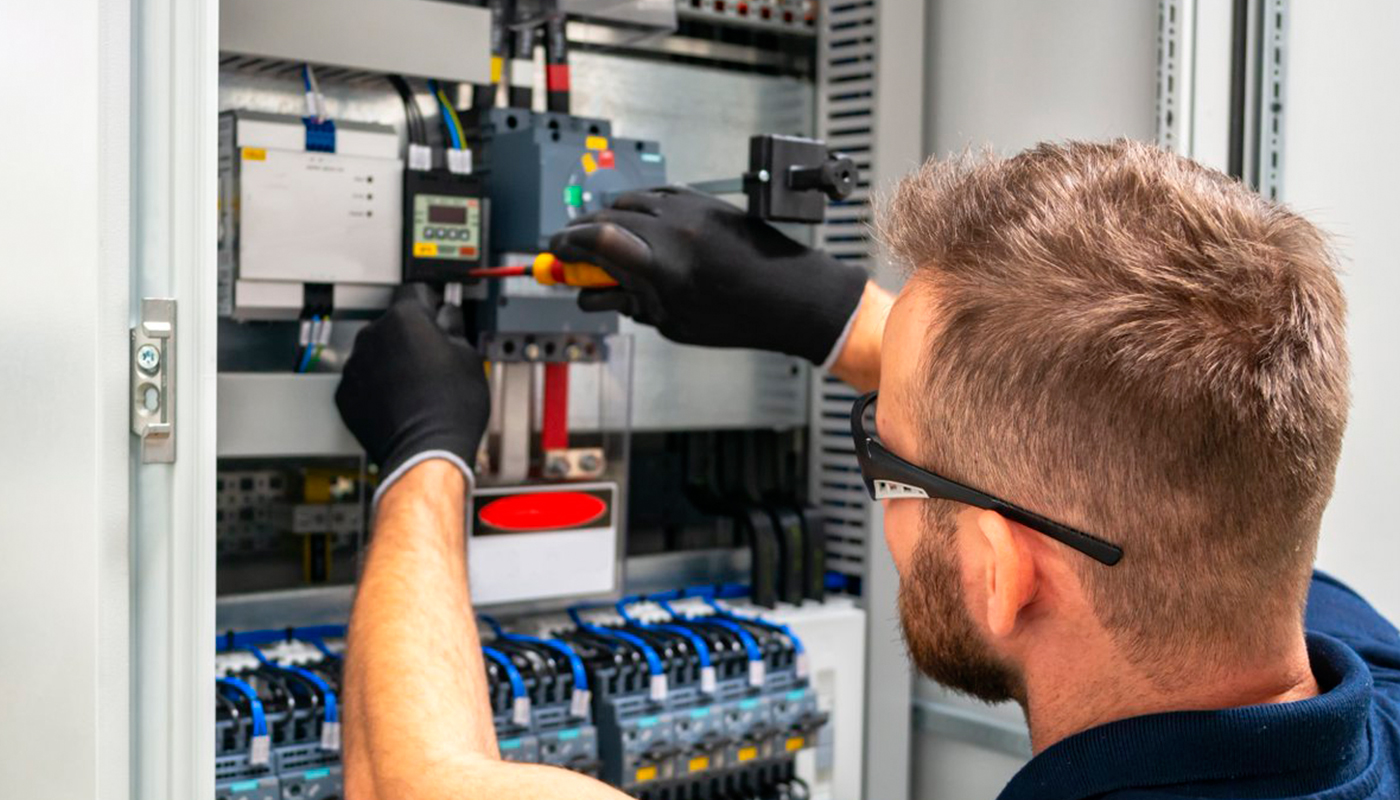 We use only professional equipment and tools, original spare parts, and high-quality consumables. Our technicians have 20 years of experience working with all types of household appliances from well-known brands. Specialists constantly improve their skills to provide you with high-quality services.
Frequently Asked Questions
It's important to get a complete answer to your dishwasher question. Open our section with answers to your questions and find the answers.
The main criteria you should look for when choosing a dishwasher are size, capacity, energy consumption, wash and dry class, and features. Each of these criteria has a significant impact on the price of equipment and quality of its work. With the perfect combination of your requirements and the capabilities of the appliances, you can avoid unplanned Hotpoint Dishwasher Repair.
A dishwasher lasts on average up to 10 years. If the appliances are used properly, minor damage can occur, which can be repaired quickly. It is enough to do this by calling a Hotpoint Dishwasher Repair technician in time. With proper operation of the dishwasher, the buyer saves on utility bills for water and electricity and uses dishwashing chemicals rationally.
You can't wash cast iron, aluminum or Teflon pans in the dishwasher. A cast iron skillet has a porous surface that, when fired, fills with oil and thus makes a smooth non-stick layer. The machine washes dish due to the strong water pressure, which destroys the oil film, which will cause the dishes to rust.