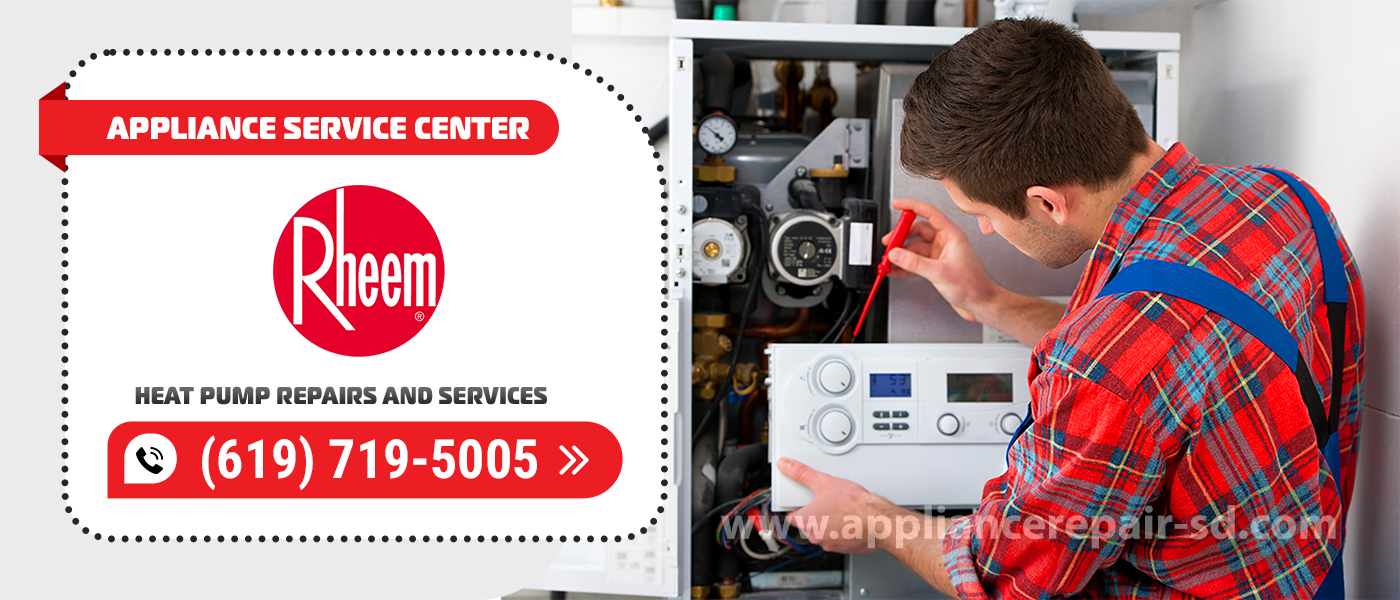 Modern technology of production of heat pumps allows users to be confident in their reliability and quality performance. But despite constant modernization and innovation, pumps fail. Appliance Service Center is a company that is ready to help you seven days a week. We will perform quality and reliable Rheem Heat Pump Repair in San Diego County. And get your appliance back in working order in no time.
Heat pump repair and its features
As soon as you notice heat pump malfunctions and deterioration of its productivity, do not delay in calling a specialist. It is very important to perform Rheem Heat Pump Repair and Service in time. This will prevent more serious consequences and breakdowns.
The appearance of heat pump malfunctions is related to:
Problems with the discharge valve.

Insufficient cooling of the condenser.

Insufficient ventilation or high ambient temperature.

Condenser is sufficiently worn or contaminated.

Refrigerant level is elevated or insufficient.

Condenser has insufficient space to evaporate gasses.
The occurrence of such failures is associated with high load on the equipment, violation of operating rules, as well as improper installation. For competent and quality diagnostics of heat pumps, it is recommended to seek help from a Rheem Heat Pump Repairs technician.
The technician will perform a qualified Rheem Heat Pump Repair and Service with a warranty. Our repair shop performs a wide variety of heat pump troubleshooting work of varying levels of complexity. Over the years we have managed to accumulate a base of regular customers who order maintenance of their devices every few months.
Service of heat pumps
Its service is very important in the work of the heat pump. Ignoring them can lead to serious consequences and breakdowns.
What is included into the list of service maintenance:
External inspection of all heating subsystems. Inspection and testing of attachments, guards.

Check the operation of the elements of the external circuit, check the temperature of the coolant, check the circuit circulation, check the condition of the circulation and water pump.

Master Rheem Heat Pump Repair

check once a year.

Check the operation of the heating system – the flow of coolant (water or air), check the piping, radiators and manifolds for leaks, cleaning filters, check the condition of the fans. Carried out once a year.

Make sure that the heat pump operates in accordance with the operating mode card and that all protection functions are in working order. This is done by significantly reducing the operating parameters of the pumps in the control unit. It is carried out once a year.

Cleaning of contacts of electromechanical components. To be carried out once a year.

Check the Freon pressure in the system and check the oil quality and condition of the Freon filter. Add oil if necessary. To be carried out once a year.

Complete change of oil and Freon, change of filters. Recommended to do every 5 years.
Complete regular Rheem Heat Pump Repairs and Services will keep your heating system working, but also ensures the warranty period is valid.
Advantages of working with our company
Free diagnostics when ordering repairs with us.

Professionalism of our technicians with 20 years of experience.

Service and repair at your home / on-site at the customer.

Rheem Heat Pump Repair

efficiency.

Three months warranty on all types of services.

Our technicians work only with original components.

Own delivery service if necessary.

Reasonable prices for service.

A comprehensive approach to repair and service.

We work seven days a week.
Do not waste time thinking and doubts, trust the repair professionals!
Turning to the Appliance Service Center, you can be assured of quality services. Over the years we have earned the trust of our customers. And it's not just words. You can read the testimonials of grateful customers who recommend us to their friends and acquaintances. We work openly and we are responsible to each client who comes to us for help. When you order Rheem Heat Pump Repair and Service from us, you can be sure of the quality of our work.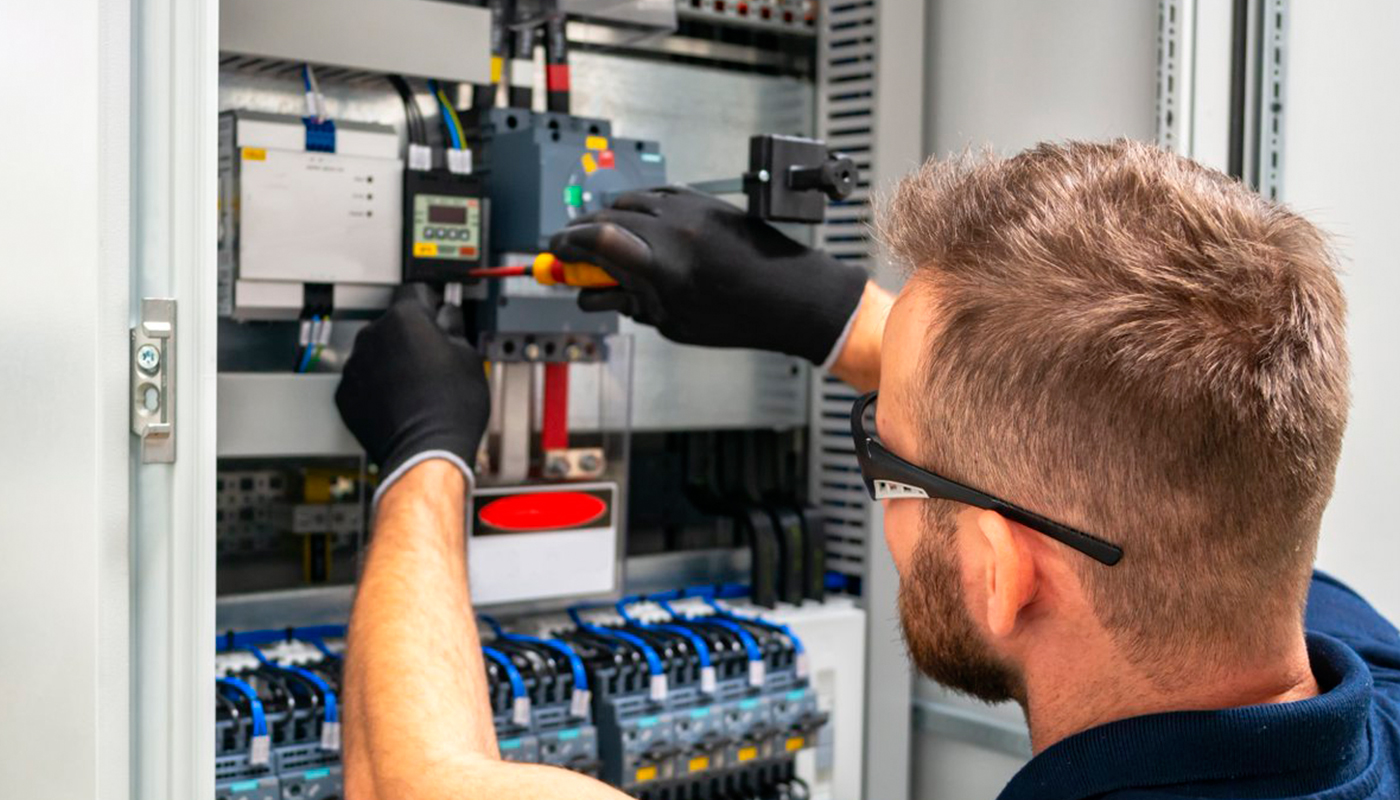 We use only professional equipment and tools, original spare parts, and high-quality consumables. Our technicians have 20 years of experience working with all types of household appliances from well-known brands. Specialists constantly improve their skills to provide you with high-quality services.
Frequently Asked Questions
You can contact us with any question, our answer will not take long. We are open daily for your convenience.
One of the most common causes is improper installation of the equipment. The work of unqualified people can be accompanied by mechanical damage or incorrect connection of technical units. Such important work as installation should be trusted only to specialists of Rheem Heat Pump Repair. There is no denying the improper operation, high load on the equipment and the physical wear and tear of parts over time.
Regular preventive maintenance performed by Rheem Heat Pump Repair professionals can significantly extend the operational life of the unit. Professional performance monitoring, cleaning of technical units, replacement of consumables has the best effect on the overall functionality. Early detection of failures and their elimination allows you to avoid major repairs.
A heating system failure, especially in the winter, is an emergency by any measure. For us every call is urgent and important. With the necessary state-of-the-art equipment, knowledge and experience, Rheem Heat Pump Repair technicians are on call promptly. They determine what the cause of the breakdown is and begin fixing it right away. For all of this work in 95% of cases, our specialists are enough for one day.