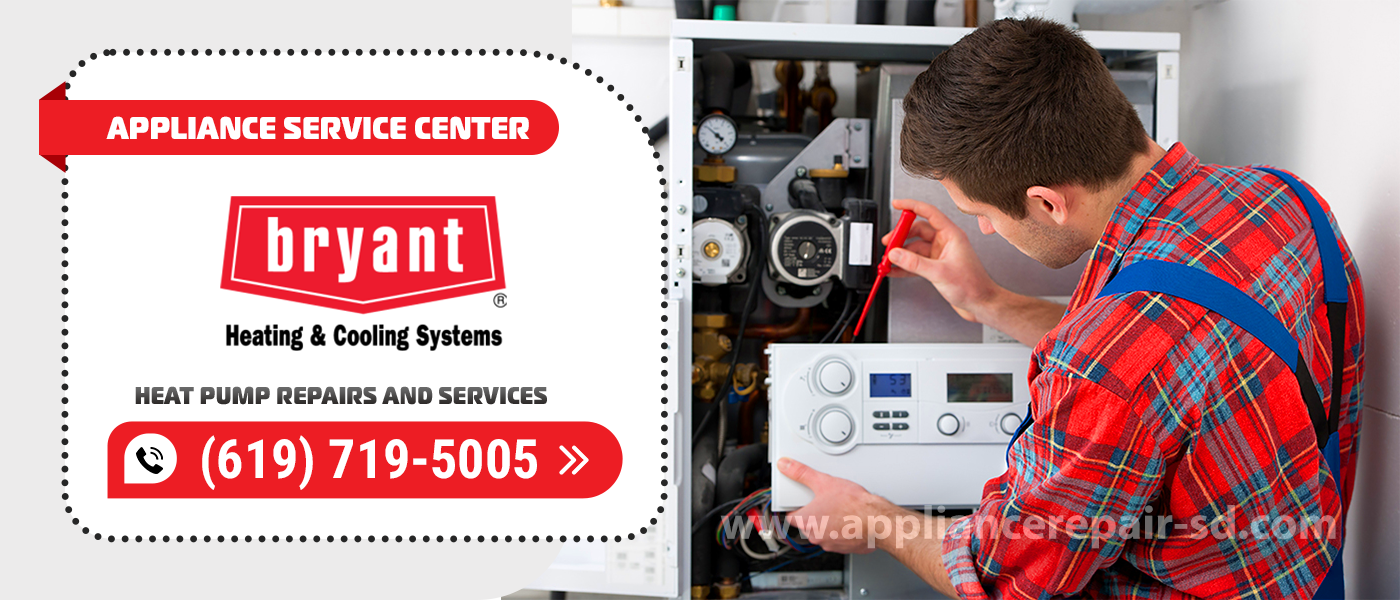 The wear and tear and breakdown of Bryant heat pumps, inevitably leads to adverse consequences. But to avoid buying a new appliance and freezing in your own home, contact the experts at Bryant Heat Pump Repair. Appliance Service Center has been performing professional Bryant Heat Pump Repair in San Diego County since 2001. It's easy for us to determine the cause of a breakdown and fix it quickly.
Heating is a complex set of interconnected systems whose breakdown is better prevented. Scheduled Bryant Heat Pump Repair and Service is a smart solution that will save you money and nerve. 
What heat pump breakdowns our technicians fix
Bryant Heat Pump Repairs

technicians highlight several common defects.

Refrigerant leak.

Defrosted heat pump exchanger.

Compressor failure.

Broken circulating heat pumps.

Adjustment of intake valves.
In addition, technicians perform diagnostics of the thermostatic expansion valve. If problems arise in the process, they are fixed. This kind of Bryant Heat Pump Repair and Service can greatly improve overall performance. There is another way to improve functionality – check the evaporator operation. Its area is adjusted to normalize performance.
Regular preventive maintenance can significantly extend the operating life of the unit. Professional monitoring of performance, cleaning of technical units, replacement of consumables has the best effect on the overall functionality.
Service maintenance includes several stages of work
What you need to do to ensure that the heat pumps work without failure.

Thorough external inspection. This is necessary to detect damage on the outdoor unit as well as to correct problems with the air mass heating in a timely manner.

Checking pressure levels in the discharge and suction phases.

Evaluating room heating during unit operation. Detection of overheating and evaluation of compressor voltage.

Timely fixing of failures. If the causes of the breakdown are identified immediately and

Bryant Heat Pump Repair

is performed, you can significantly extend the life of the unit. Minor repairs can improve the situation and prevent important components from failing.

Regular cleaning of contaminants. From time to time, heat pumps need to be cleaned of dust and dirt, which are bound to appear during the operation of the equipment.

If there are failures in the control process, masters check the remote control, monitor the progress of commands, record the occurring failures.

Productivity of operation of air filters. If these components are out of order, the work of the entire system as a whole is significantly impaired.
How we work
Apply
You leave a request for Bryant Heat Pump Repairs and Services. A manager contacts you, specifies the manufacturer, the model and age of the unit, and the nature of the problems encountered. This is necessary to prepare the spare parts that may be needed. You coordinate conveniently for your time of our master's arrival at your home.
Diagnostics of malfunctions
Our specialist conducts visual and technical diagnostics, determines the cause and nature of the breakdown. For diagnostics we use modern specialized equipment.
Repairing problems
Our licensed specialists have 20 years of experience with all well-known manufacturers. That's why Bryant Heat Pump Repair takes little time. For our technicians, there are no breakdowns that they haven't encountered in their long experience. You can hear about their professionalism from every one of our customers who have repeatedly contacted us. And recommended us to their friends and acquaintances.
To avoid the emergence of various malfunctions of the heat pump, you need to carefully follow the advice of the manufacturer of equipment. Then the unit will last much longer. But if a breakdown does occur, Appliance Service Center is your trusted helper. Our Bryant Heat Pump Repair and Service technicians will get your appliance back in working order quickly, efficiently, and with a warranty.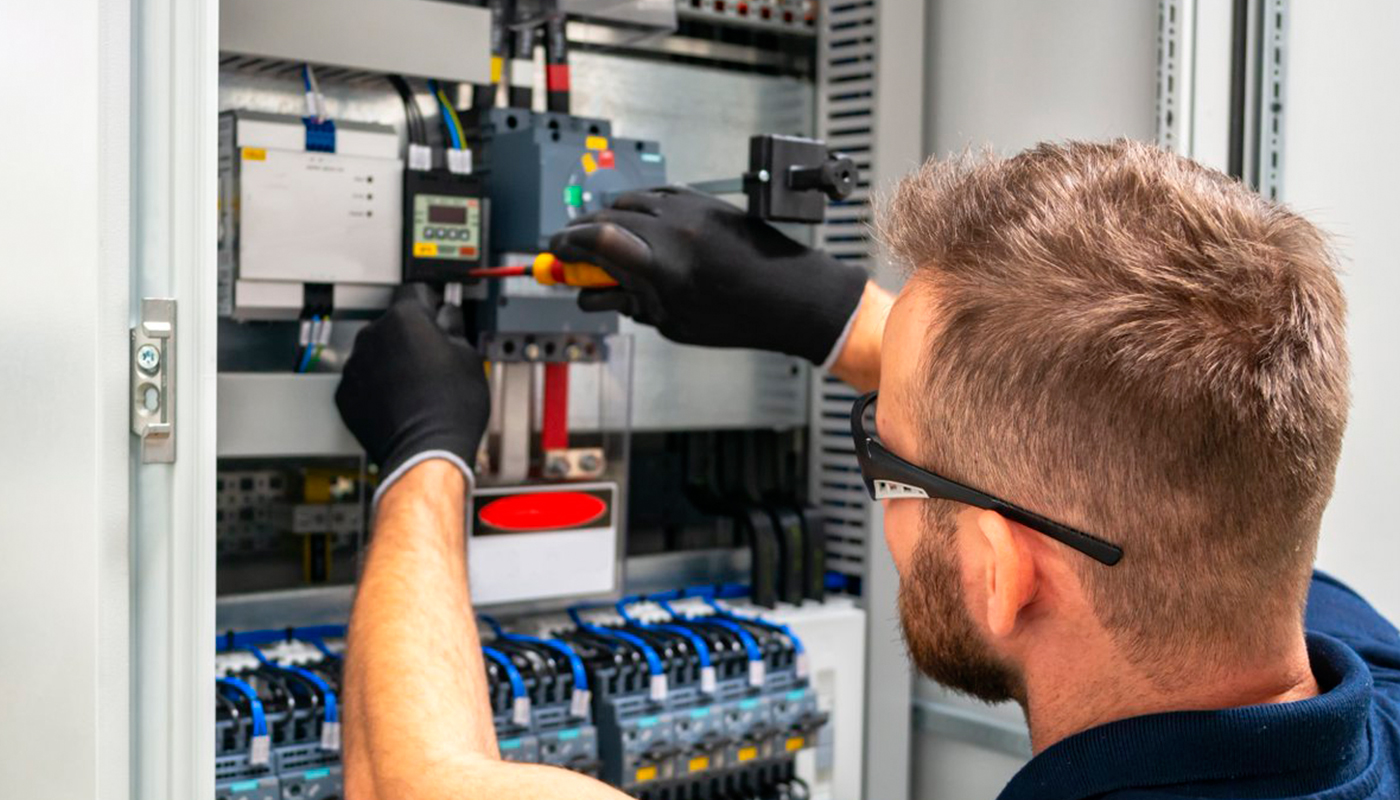 We use only professional equipment and tools, original spare parts, and high-quality consumables. Our technicians have 20 years of experience working with all types of household appliances from well-known brands. Specialists constantly improve their skills to provide you with high-quality services.
Frequently Asked Questions
When a question arises, it is very important to know who to turn to for advice and professional help. You can contact our service center with any questions in the operation and repair of heat pumps.
A heat pump is a rather complicated and expensive heating system. But thanks to the quality assembly and advanced construction, it is quite a robust structure, which has a service life of 15-20 years before major repairs. But it is very important to treat the equipment carefully and not to ignore the service. And if the slightest malfunction occurs, contact the Bryant Heat Pump Repair experts right away.
If you notice that your air heat pump isn't heating, the first thing to check is whether the filters inside the unit are clogged. Often, a heat pump will stop delivering heat at its normal rate when dust builds up on the filters. But if the filters are okay, take the help and advice of Bryant Heat Pump Repair.
It's important that your air-source heat pump is installed correctly – if the outside of the unit is installed crookedly, you could have a situation where meltwater has nowhere to drain, and the unit gets covered in ice. If this is the case, the outside part of the heat pump must be reinstalled correctly by Bryant Heat Pump Repair.