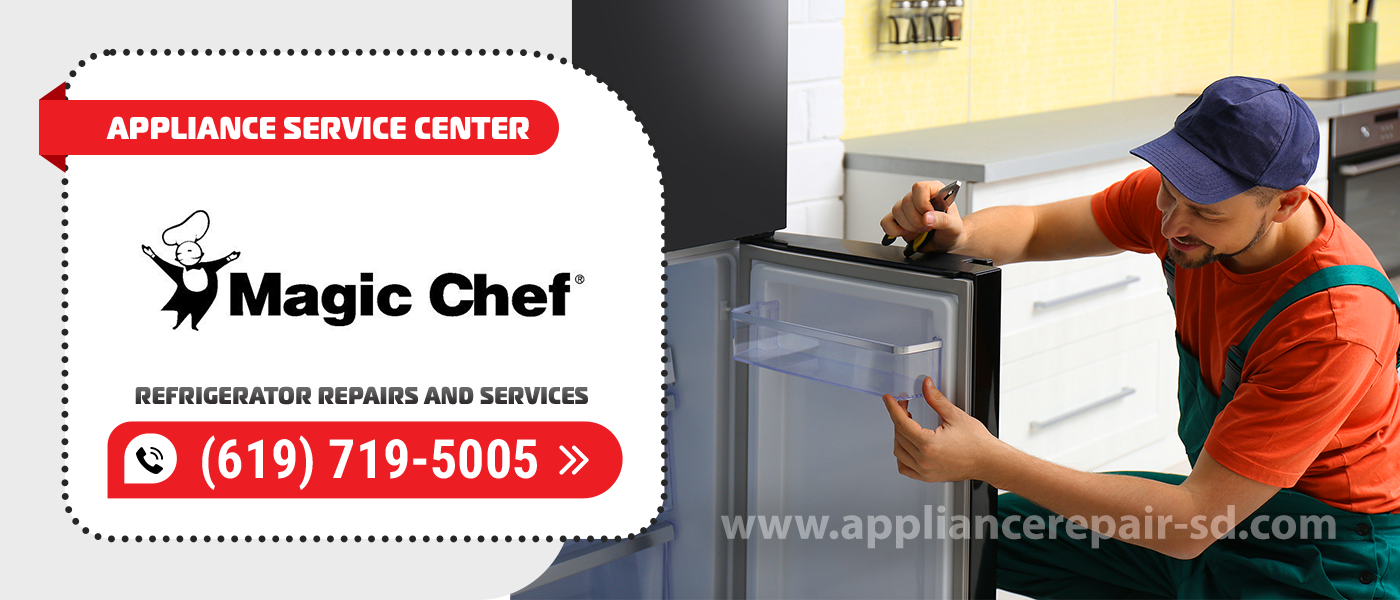 Magic Chef Refrigerator Repair
If you are looking for professionals who can get your refrigerator repaired quickly, contact the Appliance Service Center. Magic Chef Refrigerator Repair in San Diego County is a fairly in-demand service since we use our refrigerator every day. Refrigeration equipment has become so indispensable that even the slightest malfunction can cause serious problems. We have experienced craftsmen who know all the features of appliances from different brands and have modern repair equipment, which makes it possible to guarantee an excellent result. 
Why this company? 
Your refrigerator has stopped working and you need to repair it urgently? You do not know who to turn to – a service center or a private repair company? Magic Chef Refrigerator Repair and Service at home are convenient and practical. Calling a master, you do not waste your time and money on transporting equipment to the service center.
Experts of our company have performed Magic Chef Refrigerator Repairs at home since 2001. In our staff only qualified craftsmen with extensive experience, special skills and necessary equipment. 
Our Benefits: 
Our craftsmen perform

Magic Chef Refrigerator Repair and Service

on-site;

You can call a specialist at home on any convenient day for you. We carry out diagnostics and quickly pick up spare parts;

We carry out

Magic Chef Refrigerator Repair

at home inexpensively;

You pay after the completion of the work.
We, unlike many service centers, do the repair of refrigerators at home at competitive prices. Turning to us, you trust Magic Chef Refrigerator Repairs and Services to real craftsmen.
Main malfunctions 
Your refrigerator won't turn on
If the light bulb doesn't come on when the refrigerator is plugged in, but the unit itself continues to work, you probably just need to replace it. Another thing is when the light bulb doesn't come on and your appliance doesn't start functioning. The first thing to do is to see if there are any problems with the connection. 
To do this: 
Check the outlet; 

Check the cord; 

Check the plug.
If during such a test inspection the trouble is eliminated, then consider yourself lucky. If the problem is not eliminated, then, most likely, the thermostat is out of order. It is responsible for controlling the temperature in the chambers. This node is also called the thermostat. For Magic Chef Refrigerator Repair, call a professional. 
The refrigerator starts up but shuts down after a few seconds
Listen to the operation of your refrigeration generator. If you hear a distinctive clicking sound a few seconds after you turn it on, and then it shuts off, the root of the problem is a broken compressor. This is the "heart" of the refrigerator. Sometimes it is cheaper to buy a new appliance than to replace the motor-compressor.
If you did not hear a characteristic click before switching off, the cause of the breakdown is the starting protection relay. It will not be a big problem to replace it, it is located on the back of the refrigerator in the lower compartment. It connects to the refrigerator with two wires bonded with a terminal. For a home handyman, replacing such a relay will not be much of a problem.
The refrigerator works but does not freeze
If the appliance works but doesn't produce enough cold, the most common cause of the breakdown is a freon leak. This can happen due to cracking of metal welds. Unfortunately, over time, such a malfunction occurs in almost every unit.
In this case, you will have to call a refrigeration repairman. He conducts a diagnosis of the refrigerator malfunction and determines the freon pressure in the system. The control of this most important indicator is carried out with the use of a special technical spigot. Due to the fact that freon is flammable and requires an approval to pump it, you should not try to fix such a breakdown on your own.
Appliance Service Center has been in the market since 2001. All our craftsmen have more than 15 years of experience, and regularly take courses to improve their skills. We carry out Magic Chef Refrigerator Repair and Service and all our customers get all the services they are interested in from the comfort of their home or office. To contact us, you can call on the specified number or leave a filled form on the website and our manager will contact you soon.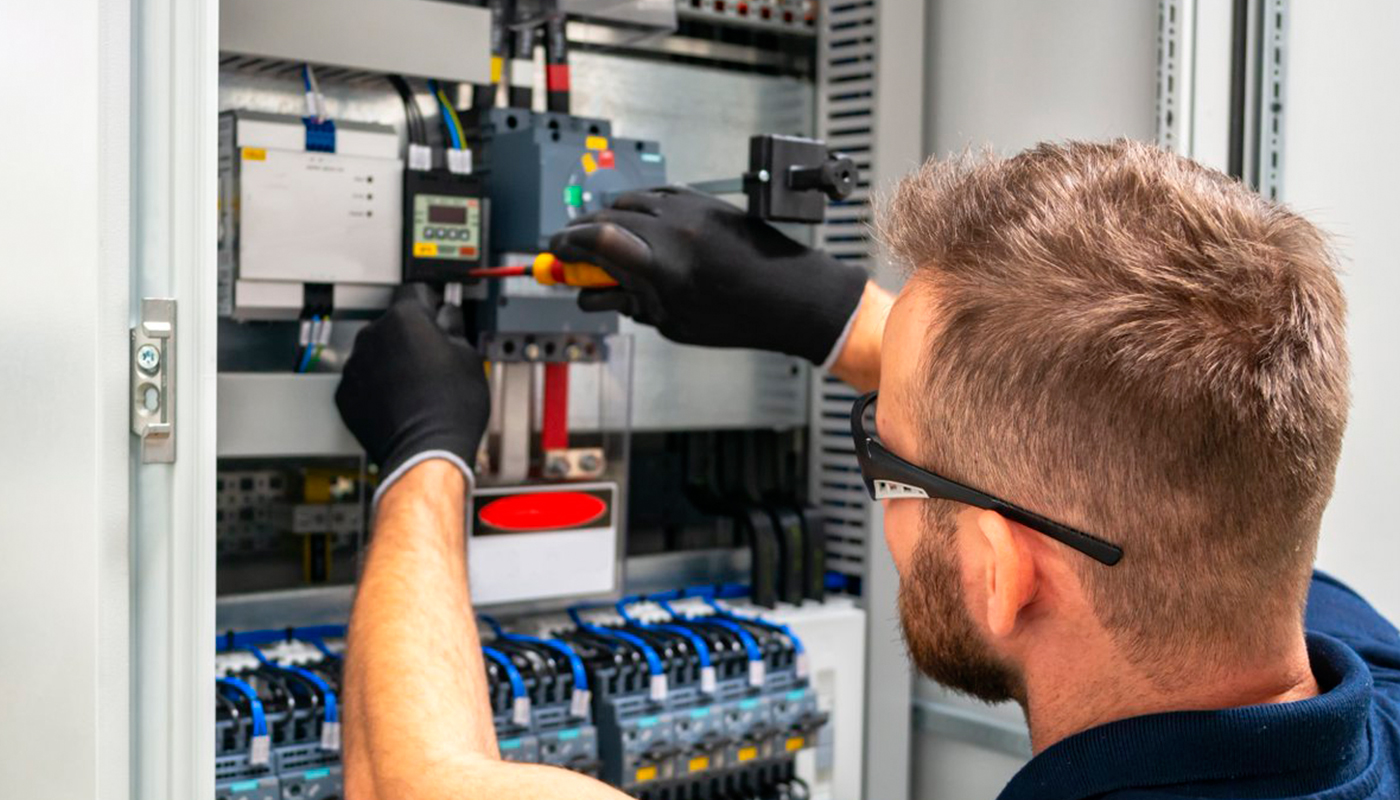 We use only professional equipment and tools, original spare parts, and high-quality consumables. Our technicians have 20 years of experience working with all types of household appliances from well-known brands. Specialists constantly improve their skills to provide you with high-quality services.
Frequently Asked Questions
Do you have questions about refrigerator repair? Before you contact our operator, we suggest you look at the frequently asked questions that our company's customers ask.
However, there are other signs that indicate the need for refrigerator compressor replacement:
Noise and vibrations.

Constant turning on and off.

High temperatures in the refrigerator.

Increased electrical consumption.

Refrigerator won't start.
If you notice any of these signs, it is recommended that you contact a professional technician or Magic Chef Refrigerator Repair service center for diagnosis and repair.
As a professional Magic Chef Refrigerator Repair service center, we can offer several additional services and recommendations to help you extend the life of your refrigerator:
Regular refrigerator cleaning.

Checking your refrigerator fluid levels.

Checking the rubber seals.

Maintaining the compressor.

Following the refrigerator's operating guidelines.
Doing Magic Chef Refrigerator Repair, yourself, based only on the instruction manual, can be a complicated and risky process. Depending on the type of breakdown and the user's level of experience, it may or may not be doable.