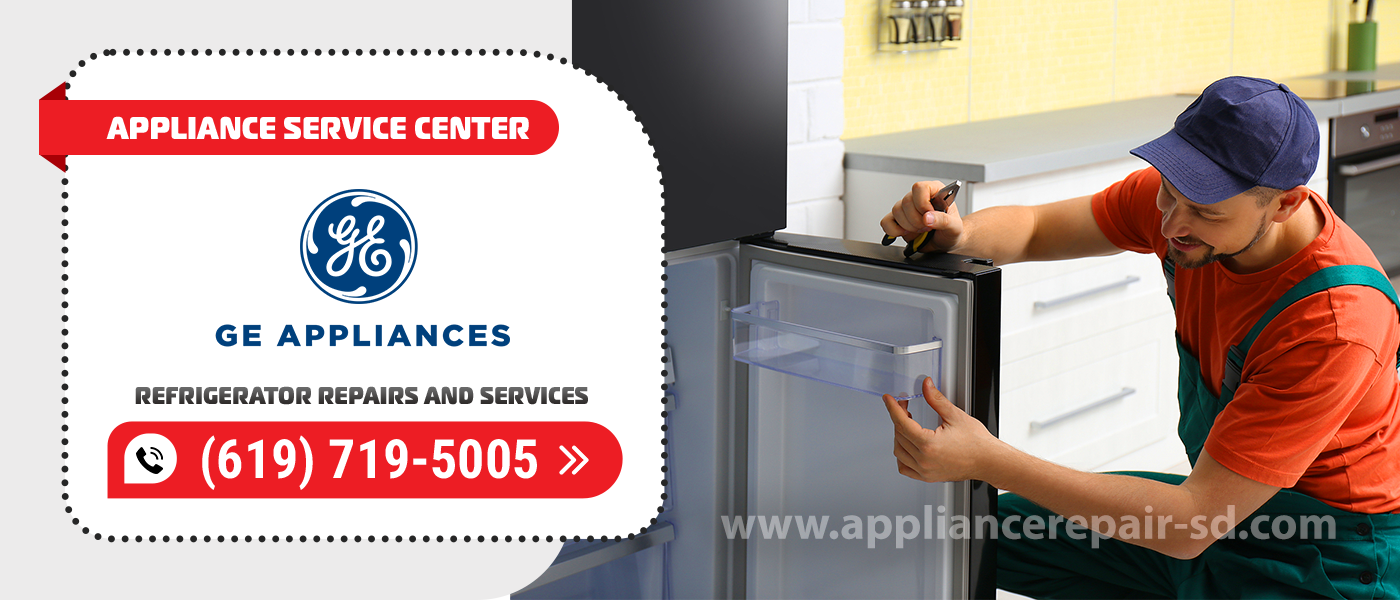 If you are looking for professionals who can get your refrigerator repaired quickly, contact the Appliance Service Center. GE Refrigerator Repair in San Diego County is quite a sought-after service as we use our refrigerator on a daily basis. Refrigeration equipment has become so indispensable that even the slightest malfunction can cause serious problems. We have experienced craftsmen who know all the features of appliances from different brands and have modern repair equipment, which makes it possible to guarantee an excellent result.
Why this company? 
Appliance Service Center Company deals with all kinds of urgent GE Refrigerator Repair and Service. 
Competent advice and first-class work of all specialists – from operators to GE Refrigerator Repairs craftsmen. 
The big advantage of our company above other workshops on GE Refrigerator Repair and Service, besides possibility of realization of all necessary work at home, is a variety of variants of payment. Our firm provides its customers services both for cash and bank card cashless payment. 
Another advantageous feature of the company is the continuous training of the specialists. Our masters on GE Refrigerator Repair in contrast to private "craftsmen", do not stop on the achievement, and constantly raise their qualification, passing various trainings and taking part in numerous masterclasses.
In order to call home our master GE Refrigerator Repairs and Services, you need to call a contact phone number, the number you will always find on our official website. Operators of the company will carefully listen to your problem, will give a comprehensive consultation and, of course, will make an application for repair. You can always make an urgent call master at any convenient time. 
Don't put off such an important matter as GE Refrigerator Repair! Call us today, so the breakdown of the refrigerator is not the cause of all sorts of problems tomorrow! Our company will be infinitely happy to see you among our favorite customers!
Troubleshooting 
Snow coat builds up very quickly and a lot of frost forms on the refrigerator evaporator
Often, improper use of the refrigerator – placing hot food in it, frequently opening the door, placing liquids in open utensils – leads to the formation of a snow coat.
The main reason for the rapid growth of the snow coat is poor quality sealing in the door opening, i.e., the formation of gaps where the sealant should fit tightly to the plane of the cabinet. Over time, the seal can lose elasticity and crack.
You can check the quality of the gasket with a strip of plain paper or a metal stylus. If the refrigerator has a built-in magnetic seal, the stylus should be made of brass or aluminum. If the seal is good, the stylus placed between the plane of the cabinet and the seal should press well anywhere. If the feeler does not press in any area, the gap detected should be corrected.
Feeling current when touching metal parts of the refrigerator
The situation when you feel an electric current when you touch any of the metal parts of the refrigerator with your hand means that there is a current leak to the cabinet. Sometimes the leakage may only occur when the compressor motor is running. In such cases, it is not recommended to touch the refrigerator with wet hands, or to touch both the refrigerator and the water pipe at the same time. If the refrigerator is installed on a metal flooring or cement floor, the current sensation may increase when you touch it.
If you find this problem, your refrigerator should be turned off immediately as it is a hazard.
Appliance Service Center has been in the market since 2001. All our craftsmen have more than 15 years of experience, and we also take regular refresher courses. We do GE Refrigerator Repair and Service, and all our customers get all the services they are interested in from the comfort of their home or office. To contact us, you can call on the specified number or leave the completed form on the website and our manager will contact you soon.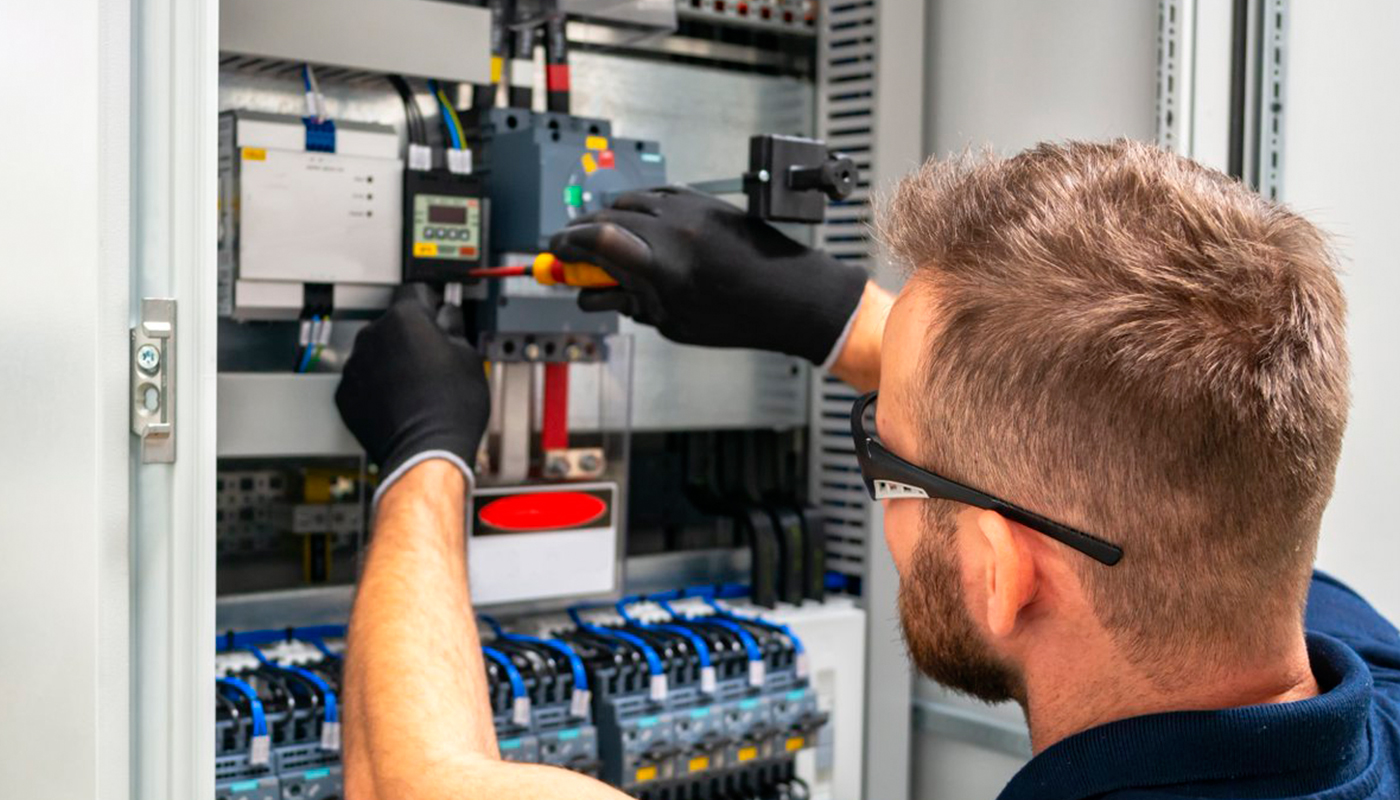 We use only professional equipment and tools, original spare parts, and high-quality consumables. Our technicians have 20 years of experience working with all types of household appliances from well-known brands. Specialists constantly improve their skills to provide you with high-quality services.
Frequently Asked Questions
Do you have questions about refrigerator repair? Before you contact our operator, we advise you to look at the frequently asked questions that our company's customers ask.
Here are a few steps that can help solve this problem:
Make sure the thermostat is set correctly to keep the refrigerator at the optimal temperature.

Check for damaged or worn door seals and replace them if necessary.

Check that the refrigerator is installed in a dry and cool place to reduce condensation.
If you are still having condensation problems, contact our service center for an inspection and GE Refrigerator Repair.
Yes, our company is licensed and insured. We have all the necessary licenses and certifications that allow us to repair refrigerators and other appliances. We also have professional liability insurance that protects our customers from possible risks and contingencies during GE Refrigerator Repair.
Yes, you can replace the refrigerator door seal yourself, but it will require some experience and tools. But if you don't have the experience or the necessary tools, it's better to contact our company for GE Refrigerator Repair to install your refrigerator door seal.