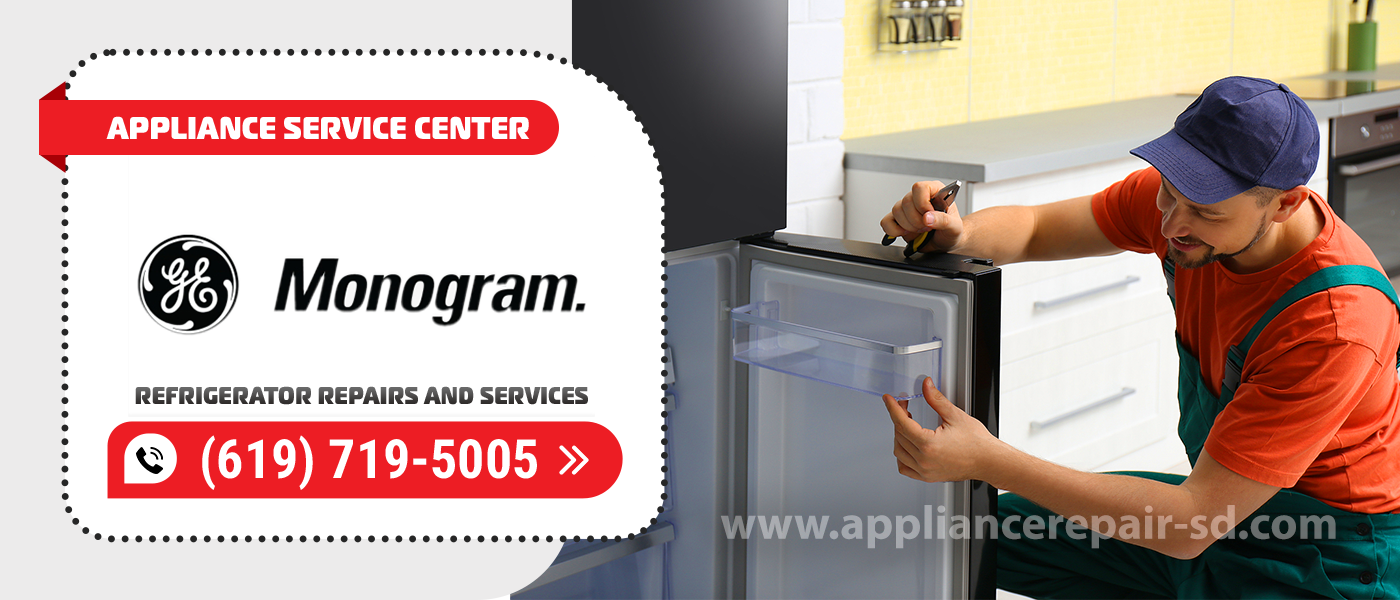 GE Monogram Refrigerator Repair
If you are looking for professionals who can get your refrigerator repaired quickly, contact the Appliance Service Center. GE Monogram Refrigerator Repair in San Diego County is quite a sought-after service as we use our refrigerator daily. Refrigeration equipment has become so indispensable that even the slightest malfunction can cause serious problems. We have experienced craftsmen who know all the features of appliances from different brands and have modern repair equipment, which makes it possible to guarantee an excellent result.
Why this company? 
If you need GE Monogram Refrigerator Repair and Service, contact us. We have a service center that has parts for the entire lineup of each company. We take orders for emergency refrigerator repairs, as a refrigerator is a necessity in every home.
Our company carries out GE Monogram Refrigerator Repairs with departure on a house or in an office of the customer. 
Our advantages: 
Our specialists will identify the malfunction and immediately fix it, as well as advise the customer on the advisability of repair;

We have the most accurate diagnostics;

All our masters are trained in the leading service centers for repair of the equipment of various brands;

At our company, the cost for

GE Monogram Refrigerator Repair and Service

is affordable for any budget, and the quality of work is at the highest level;

For

GE Monogram Refrigerator Repair

we use only new modern equipment and only original components.
Main malfunctions 
A modern refrigerator is a reliable appliance that can serve for many years without complaint. But even such capital equipment sometimes breaks down. From this article you will learn about the most frequent reasons for a refrigerator breakage, their signs and ways of troubleshooting. 
The refrigerator turns on and immediately turns off
The refrigerator can turn on for a short time and turn off for two reasons – failure of the starting protection relay or malfunction of the compressor itself. Further operation of the refrigerator until the malfunction is eliminated can only make the situation worse and make GE Monogram Refrigerator Repairs and Services more expensive.
Refrigerator won't freeze
There may be several reasons why the refrigerator does not freeze. Thus, most often it is a failure of the refrigeration unit (freon leakage, freezing moisture, zeolite cartridge clogging, corrosion or valve breakage).
First of all, it is necessary to connect the motor-compressor and check the discharge pipe by the feel. If it is heated, it means that freon leakage can be ruled out. If the evaporator duct is not cooling, the zeolite cartridge is probably clogged.
If when checking the evaporator tube you hear the characteristic sound of oil-air mixture flowing, it means that there is no Freon in the unit. When the nozzle does not make this sound, then the compressor is malfunctioning.
The refrigerator vibrates, makes a strong sound, noises
The cause of extraneous noise in the refrigerator may be a faulty fan, which can catch a layer of ice with its blades. Sometimes a strong noise can be caused by the motor itself in case of malfunction. Strong vibration on the body of the refrigerator motor-compressor can give due to the drying out of rubber compensators or wear and tear of the motor.
In some cases, the cause of the strong noise can be due to improper installation. To eliminate the malfunction, it is necessary to level the refrigerator with a horizontal level on the floor surface, fixing the legs carefully.
Rattling may be caused by a malfunction in the suspension of the motor cover. On refrigerator models with external shroud suspension, if the shroud touches the cabinet or frame wall, or if the suspension bolts are not removed sufficiently, a rattling noise may occur. Call a GE Monogram Refrigerator Repair technician to troubleshoot the problem. 
Appliance Service Center has been in the market since 2001. All our craftsmen have more than 15 years of experience, and we also regularly take advanced training courses. We provide GE Monogram Refrigerator Repair and Service, and all our customers get all the services of interest from the comfort of their home or office. To contact us, you can call on the specified number or leave the completed form on the website and our manager will contact you soon.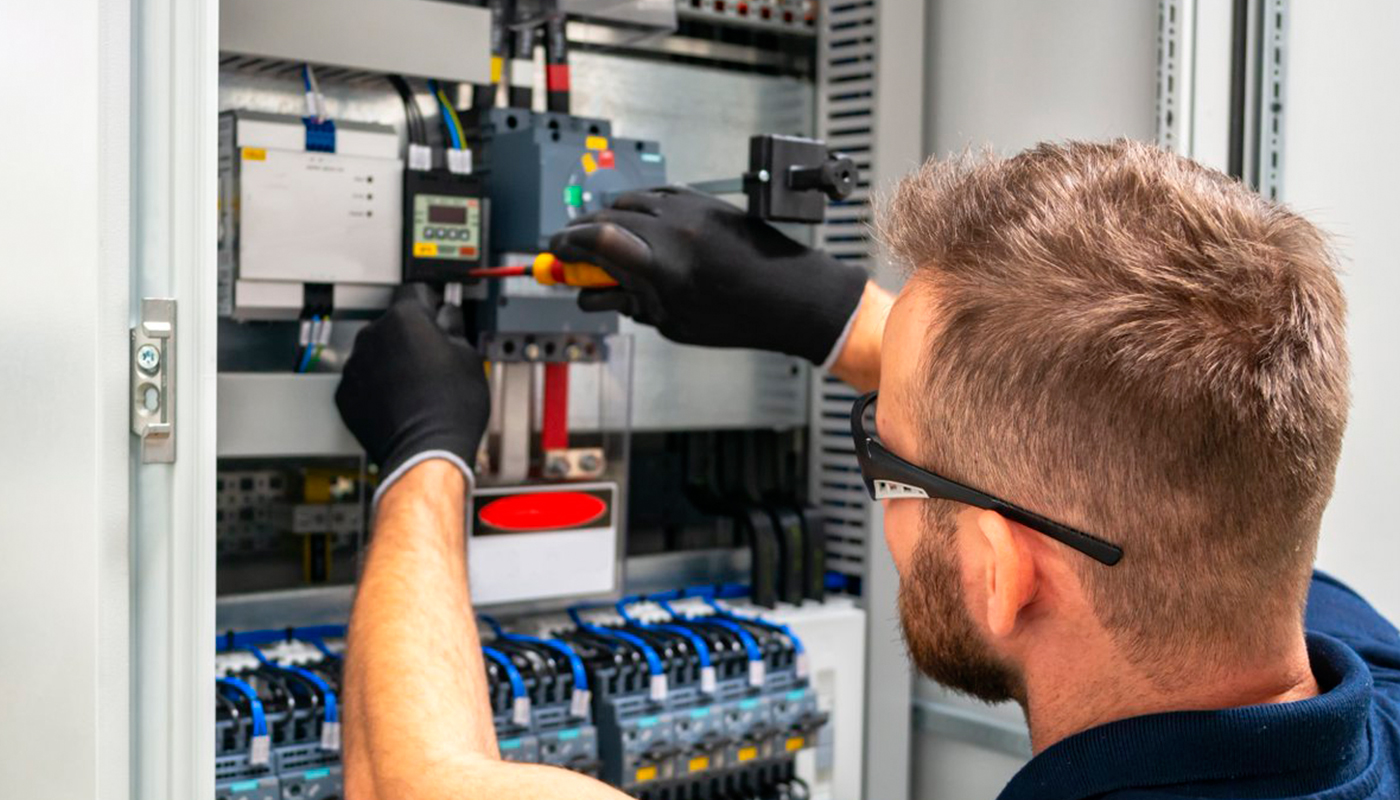 We use only professional equipment and tools, original spare parts, and high-quality consumables. Our technicians have 20 years of experience working with all types of household appliances from well-known brands. Specialists constantly improve their skills to provide you with high-quality services.
Frequently Asked Questions
Do you have questions about refrigerator repair? Before you contact our operator, we suggest you look at the frequently asked questions that our company's customers ask.
Typically, refrigerators can run for 10-15 years without any major problems if properly and regularly serviced. However, if your refrigerator is not operated properly or not serviced in a timely manner, it can lead to earlier problems that require repairs.
If you notice any changes in the operation of your refrigerator, it is best to contact a professional technician for diagnosis and GE Monogram Refrigerator Repair.
We have extensive experience with a variety of refrigerator makes and models. Our professional technicians have the knowledge and experience needed to service and GE Monogram Refrigerator Repair no matter how complex the breakdown.
You should take the following steps:
Check the temperature.

Clean the freezer compartment.

Check the fill level.

Check the sealing rubber.
If you have completed all these steps and your refrigerator is still not freezing in the freezer compartment, it is recommended that you contact certified technicians for diagnosis and GE Monogram Refrigerator Repair.