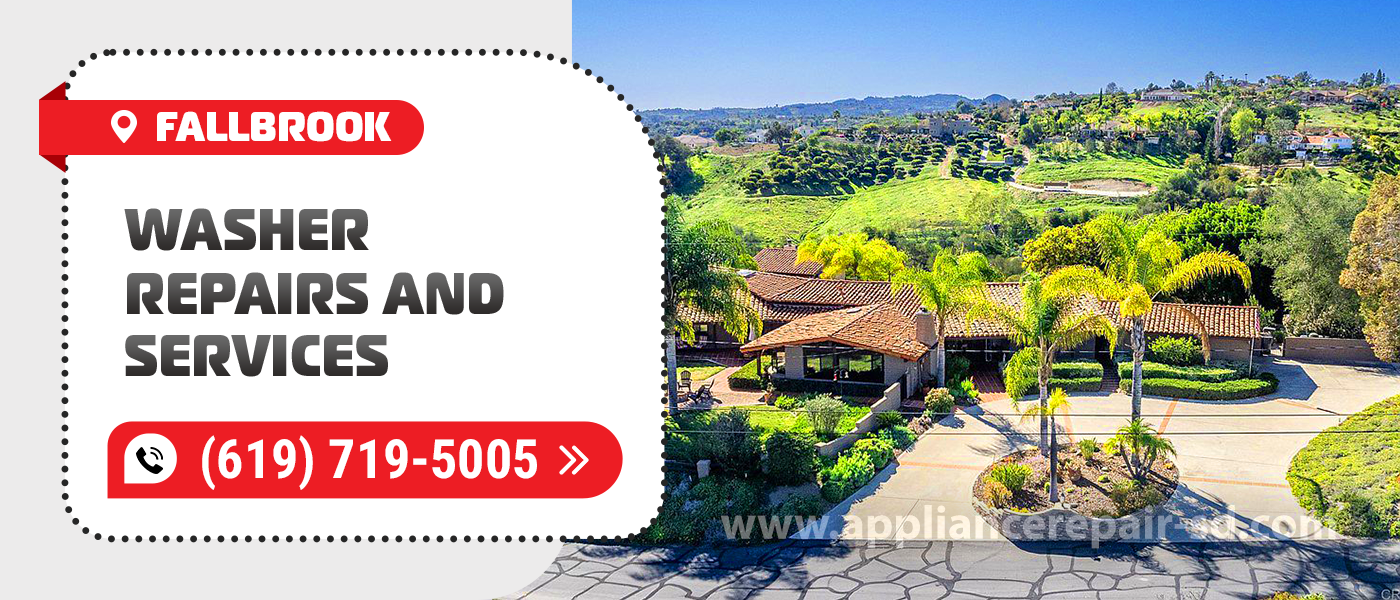 Washer Repair in Fallbrook
It always seems like the washer breaks down at the most inappropriate moment. But there is never a good moment for a breakage. Not to feel much discomfort when you cannot properly wash your clothes, just apply to Appliance Service Center. Having over 20 years of experience, we provide the best Washer Repair in Fallbrook, CA. Our team makes any issues vanish in the shortest terms, so you do not have your washing machine failed for long. The highest quality for the most reasonable price – that is what each of our clients gets.
The proficiency and qualification of our team is the main reason why we always reach brilliant results. Regardless of the model, brand, oldness, or rareness of your appliance, we find a proper approach to any! Our team has licenses for coping with luxury and the latest appliances and regularly undergoes training. We provide top-quality Fallbrook Washer Repair for any commercial and household items.
Every unit requires special knowledge, and our technicians perfectly know the subtleties of all of them. Thus, they always understand which procedure is needed and which detail fits perfectly. We have tons of original and alternative spare parts in stock, so always pick the most suitable ones. The right choice of details means the durable and smooth performance of your appliance. We also conduct each Washer Repair in Fallbrook, CA with the best professional tools, equipment, and materials. So, our work is always precise, neat, and dustless.
There are many signs of improper functioning which people do not pay attention to. If you want your washer to serve you properly for a long, do not ignore even the smallest malfunctions. Here are the most common troubles that happen to washing machines and require the interruption of a specialist.
Faulty controls (time/temperature/water level/wash selector) that do not let you adjust the needed settings.

The information screen is out of order.

The software issues, so the control module requires recalibration.

The control board, timer, heating element, pump, motor, thermostat, agitator, transmission, or other hardware is dysfunctional.

The drum is not spinning.

The appliance is not washing or wringing out clothes properly or makes them damaged/torn.

The tub and clothes get a foul odor.

The tub is cracked or displaced.

The washer is not draining.

It cannot fill the water in, or it fills non-stop.

The washing cycle takes too long, runs endlessly, pauses midway, or stops without completing.

The item is not turning on.

A puddle of water and foam appears under the washer.

The detergent cannot reach the tub.

The door glass is cracked or the whole assembly is damaged.

The door does not latch, close, or open properly because of deformed hinges, springs, joints, hooks, lid switches, interlocks, latches, or gaskets.

The appliance trips the power while working.

When the item is on, it produces a burning or electrical smell.

Worn-off, broken, or lost details require replacement (leveling feet, belts, seals, bearings, off-balance switches, handles, screws, drum support rollers, buttons, knobs, water level control assembly, switches, water inlet valves, hoses, filters, connectors, etc.).

Incorrect installation.

The body of the washer heats too much while it is on.

When spinning, the washer is bouncing, jumping, and moving around the room.

The appliance makes out indistinctive noises, like loud vibrating, gurgling, thumping, squealing, humming, ticking, knocking, grinding, bubbling, buzzing, popping, hooting, etc.

The indicator is blinking red, flickering or not shining.

The electricity supply is unstable due to spoiled wiring, isolation, or plug.

The dispenser, valves, hoses, pipes, seals, or filters are obstructed with dirt.
The fluency of our technicians and perfect management of our team means the quickest Fallbrook Washer Repairs. Being open 24/7, we are ready to make your washing machine back to normal at any needed moment. Mostly, it takes less than a single day to finish any task. But you can pick any moment you want. An urgent arrival is available during days off and non-working hours too. It costs a little bit more but means an instant reaction to your request.
We adjust to all requirements of our clients. Thus, they always get the most effective solutions in comfortable conditions. Our customers trust all their electronics to our reliable hands, as they are satisfied each time, they apply to us. You can see tons of positive reviews on the net about the best Washer Repair in Fallbrook, CA we provide. An honest opinion of our clients is the best sign of our reliability. Especially the fact that they recommend our services to friends too.
One of the features that our clients really appreciate is our honesty. We clearly inform you about the condition of your item even if it is not financially beneficial for us. When getting a replacement is the only solution, we clearly inform you. And we set the most favorable prices for our Fallbrook Washer Repair. You always know what you pay for and see the effective result of it. Besides the most affordable prices, we also have pleasant discounts. They are $25 for online booking, $30 for veterans and seniors, and 15% for returning customers.
You have an opportunity to find out the approximate price for the needed work beforehand. We can calculate and announce it after a free consultation or remote diagnostic. The diagnostic is free too if you apply to us for Washer Repair in Fallbrook, CA. After finding the reason for the breakage and the best way to fix it, we quickly detect the best solution. Our friendliest managers answer any questions and help arrange the most convenient way to eliminate the breakage.
With Appliance Service Center, your electronics are always in perfect condition. Since 2001, we provide the best results regardless of the complexity of the issue. Our polite and reliable staff resolves any troubles in the quickest and most effective way. You can easily get the highest quality Fallbrook Washer Repair and Service at the fairest price. Just call us or place an online application to get an instant callback.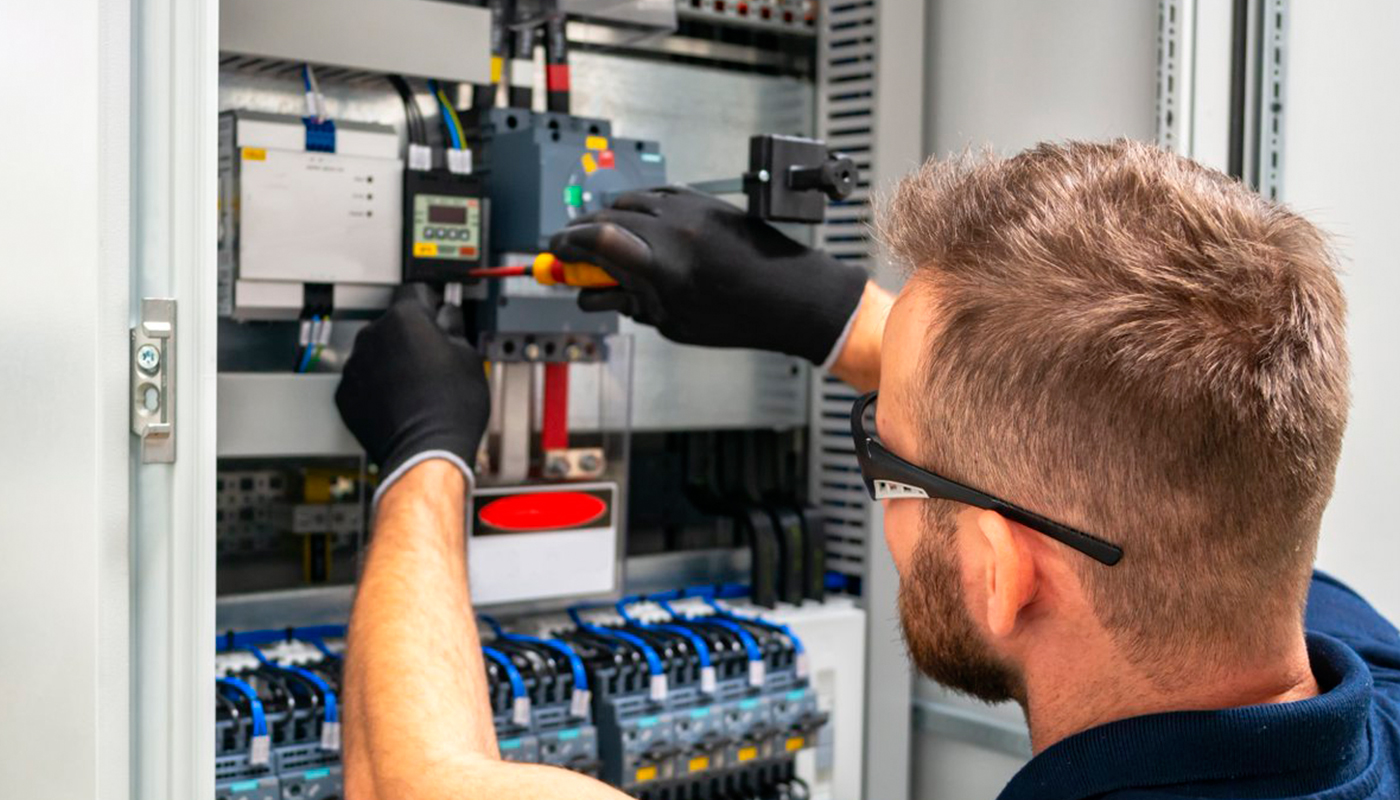 We use only professional equipment and tools, original spare parts, and high-quality consumables. Our technicians have 20 years of experience working with all types of household appliances from well-known brands. Specialists constantly improve their skills to provide you with high-quality services.
Frequently Asked Questions
Do you have any questions you would like to ask us? We recommend reading the answers to the most frequently asked questions first. If you don't find the information you need here, give us a call.