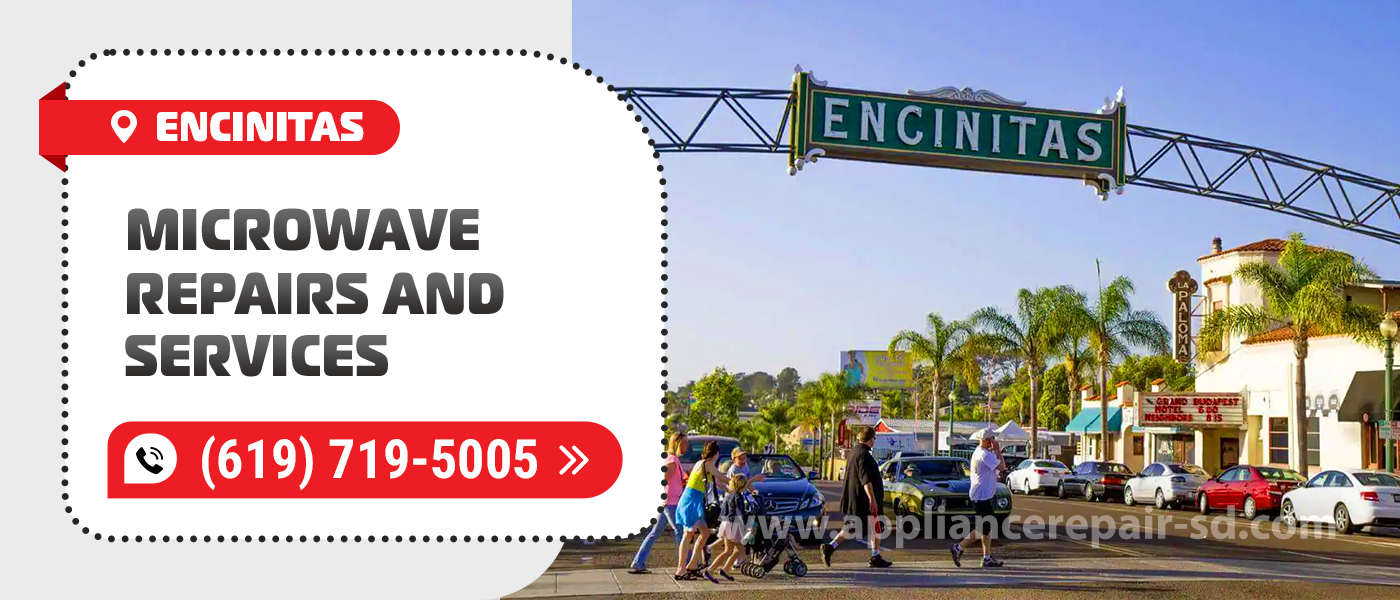 Microwave Repair in Encinitas
A microwave is the best friend for people who have no time or wish to cook. With this unit, we can get a warm meal in a few minutes wherever we are. To prevent or eliminate the breakages of your microwave, the best idea is to apply to Appliance Service Center. Having the most proficient, friendly, and responsible team, we provide the best results in any situation. With us, you get the highest quality Microwave Repair in Encinitas, CA at a reasonable price at any needed moment.
If your microwave starts behaving not the way it usually does, do not hurry to panic. We offer free consultations and remote diagnostics. Thus, the better idea is to call us and explain what happened. Here is the list of the most common troubles with these units.
The roller ring does not rotate.

The bulb or light indicator flickers or is not glowing.

The thermal protector, thermal fuse, high-voltage capacitor or transformer, magnetron, diode, waveguide, main control board, drive motor, cooling fan, or other part is dysfunctional.

The microwave is not heating the food properly (it heats unevenly, too slowly, too much, or does not heat at all).

It stops heating before the time is off or goes on heating non-stop.

The appliance turns off itself and cannot turn on.

Knobs, buttons, touchpads, switchers, timers, information screens, or other elements of the control pad work wrong, have a loose connection, do not respond, are lost, or worn off.

The control module requires recalibration.

The heating tan or air vent is obstructed with debris, crumbs, or dirt.

The microwave is buzzing, vibrating, humming, squealing, gurgling, sparking, or arcing.

It produces a burning or electrical smell.

The screen shows an error or nothing at all.

The door glass is cracked.

The door is not latching, closing, or opening easily, as it has deformed hinges, latches, interlocks, springs, joints, lid switches, or gaskets.

The turntable ring, rack mount, coupler, leveling feet, buttons, knobs, switchers, or other parts require replacement.

Troubles with electricity supply due to damaged wires or plug.
When we have a vision of the situation, we quickly indicate the most effective solution and its approximate cost. With us, you get an honest estimation of the problem, even if it is not beneficial for us. In those cases when the replacement is the only recommendable solution, we honestly let you know. We do not cheat you but provide only durable and rational Encinitas Microwave Repair.
The cost of work is one of the key indicators of its effectiveness. Thus, if the needed work (details that require replacement) cost too much, we cannot recommend it to you. But such situations are rare, and mostly we just need to arrive and make your trouble vanish. We have the most affordable rates and no hidden fees. Applying to our company, you can be sure of getting the best result at the fairest price. If you book our Microwave Repair in Encinitas, CA online, you get a $25 discount. The price is also $30 lower for seniors and veterans, and 15% lower for returning clients.
Why do people return to us if we promise durable and solid work? To fix other appliances too! Our team always provides flawless results and the best attitude, adjusting to any of your requirements. Thus, our customers confidently recommend our Encinitas Microwave Repairs to friends and other people. To check their honest opinion, just visit our Google page. There you can see tons of positive reviews from people who got their units running perfectly by applying to us.
Friendly attitude to each client and effective approach to each appliance – that are our rules. Our team conducts Microwave Repair in Encinitas, CA of the highest quality for any commercial and household unit. Regardless of the brand and model of your appliance, we know how to reanimate it fluently. Our technicians have over 20 years of experience, so their skills and knowledge are the greatest. And their qualification is developing all the time to be always up to date. We have regular training and get licenses for serving luxury and the newest microwaves. Thus, you may always be sure of getting brilliant results.
Our team uses the best equipment for proceeding with the most precise and tidiest Encinitas Microwave Repair. We pick the most suitable materials and details as it plays an essential role in the smooth and long performance of your appliance. We have various high-quality original and alternative spare parts in stock. Thus, we select perfectly fitting ones for each unit. And we are in charge of each of our actions, so provide a 1-year guarantee for details. Plus, we add a 90-day warranty for our labor.
Our company adjusts to any requirements of customers. Your comfort is the main goal, so we cannot make you wait long to get your microwave back to normal. For providing you with the quickest Microwave Repair in Encinitas, CA, we are always around. Our local branch is open round the clock and has perfect management and logistics. It helps us complete over 90% of tasks within a single day. For a small additional payment, the specialist rushes to your address within 15 minutes. You can rely on us even during days off and non-working hours.
If you are looking for a reliable service provider, Appliance Service Center is exactly what you need. Our team finds the most effective solutions for breakages of any complexity. We eliminate all problems with microwaves in the quickest term. Just call us or place your order online. We arrange the most comfortable way to return your unit back to normal. With us, you get the best Encinitas Microwave Repair and Service of top quality and at the most reasonable price.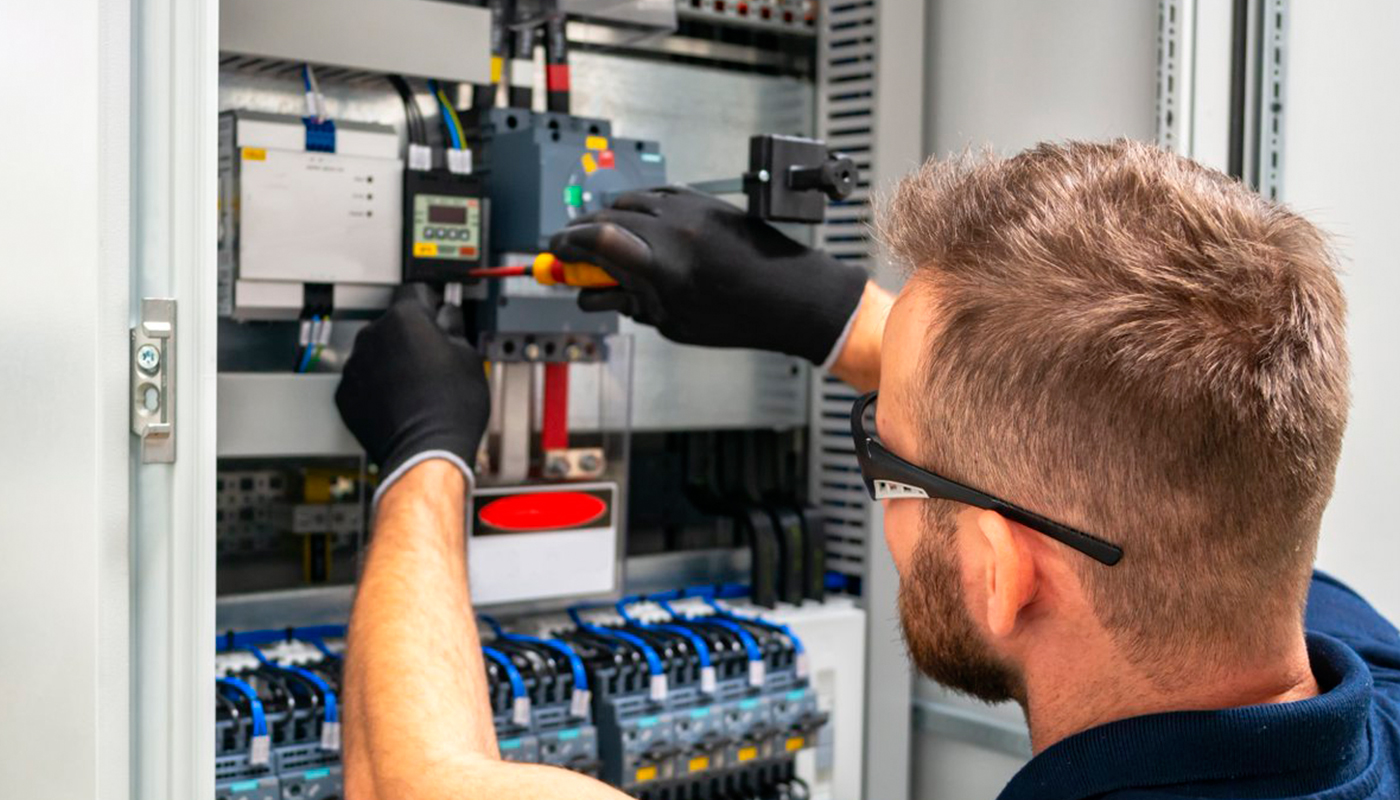 We use only professional equipment and tools, original spare parts, and high-quality consumables. Our technicians have 20 years of experience working with all types of household appliances from well-known brands. Specialists constantly improve their skills to provide you with high-quality services.
Frequently Asked Questions
Do you have any questions you would like to ask us? We recommend reading the answers to the most frequently asked questions first. If you don't find the information you need here, give us a call.