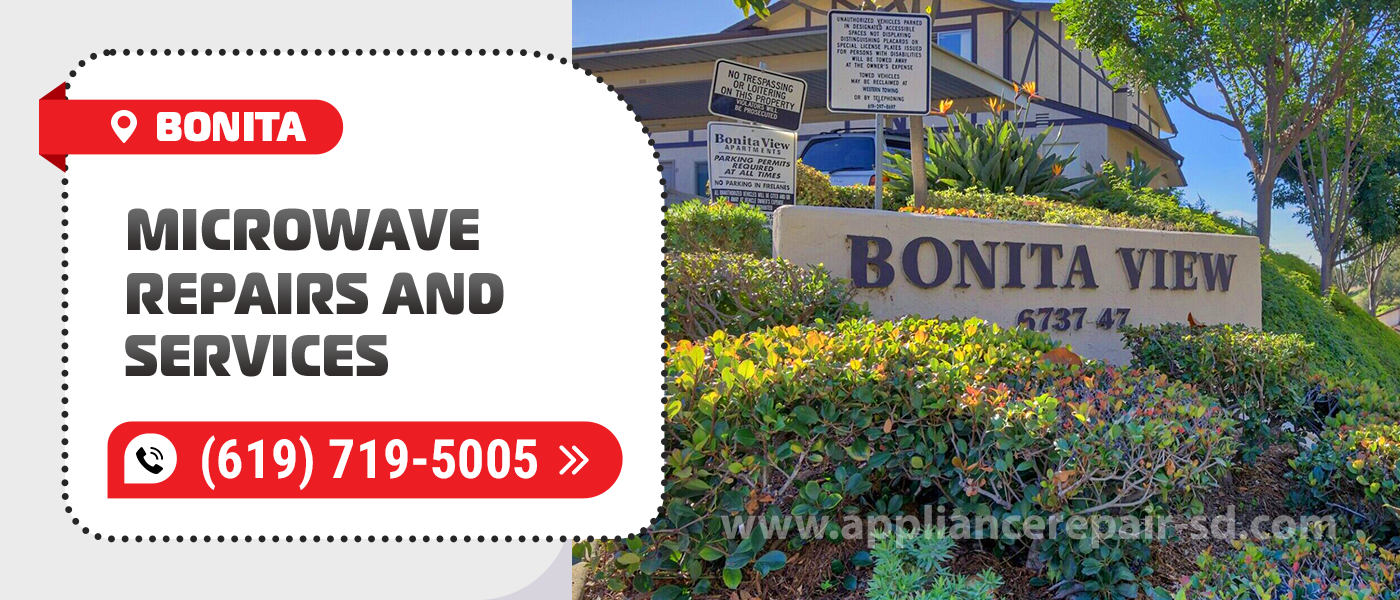 Microwave Repair in Bonita
Appliance Service Center has been fixing microwaves since 2001. In this term, we learned how to make items back to normal in the most effective way. We can deal with any situation without any stress for you! Thus, whenever you require maintenance or the quickest Microwave Repair in Bonita, CA, just apply to us! Our team is ready to adjust to any of your wishes, timing, and budget. You get the needed help in the most comfortable conditions. 
The first thing to mention is that we are flexible about timing. You pick the moment when we arrive to you, even if it is during the night or a day off. For a small extra payment, the technician sets off to you immediately. And we complete over 90% of normal cases within a single day. For Bonita Microwave Repair for complex and large appliances, we can provide you with a team of our specialists.
When they come to your place, they have the best professional equipment, materials, and the most popular needed spare parts. So, they are ready for any type of work! We have a huge variety of original details and their alternatives. Thus, we can find the most suitable ones to reach smooth performance for any item. Our technicians always provide the most effective Microwave Repair in Bonita, CA. The quality of their work is always on the highest level, regardless of the model and brand of your microwave.
With over 20 years in Bonita Microwave Repairs, our team deal with anything! They have flawless skills and knowledge and always go on developing! Our technicians get licenses for the latest and luxury items from the best manufacturers. Thus, they are up-to-date and qualified enough to reanimate or serve properly any commercial or household microwave. Plus, we back up our labor with a 90-day guarantee and a 1-year guarantee for details.
Still, there are situations when we have to recommend you a replacement. It happens when the needed services cost more than a new item, or when the old one is unrepairable. If we come and indicate it, you only pay a Service Fee and get recommendations about picking an appropriate unit. And if we can fix your microwave but you decline it, you have 30 days to change your mind. Then you can use that money as part of the payment for the repair.
Talking about the price of our work, we promise not to disappoint you! Our affordable and fair prices often surprise our clients. We do not make you waste money and always inform you what you pay for. Plus, we have pleasant discounts for any Microwave Repair in Bonita, CA! The returning clients pay 15% less. Plus, we offer discounts, such as 25$ off for booking online and 30$ off for seniors and veterans.
To find out beforehand the price for the needed Bonita Microwave Repair, call us anytime. We gladly provide you with a free consultation and remote diagnostics. You just tell us what makes you worry, and our specialists detect the reason for the breakage, how to fix it, and how much it costs. Sometimes we can even just instruct you by phone and eliminate the problem in minutes! 
The most common troubles with microwaves are…
While the item is working, it is sparkling or arcing.

The unit produces smoke or an electrical or burning odor.

The door cannot normally close, open, or latch.

Cracked door glass.

Worn off door seal, interlock, lid switch, hinges, springs, joints, or latches.

The turntable is not turning.

The information screen shows an error or is blank.

Knobs, touchpads, or buttons do not respond or have a poor connection.

The interior lamp or exterior indicator is going on and off or not shining at all.

The appliance is buzzing, vibrating, clicking, ticking, or making other awkward noises.

It heats too slowly, not enough, unevenly, or does not heat at all.

Thermal fuse, thermal protector, waveguide, magnetron, diode, drive motor, high voltage capacitor or transformer, cooling fan, or main control board malfunction.

The microwave is not turning on or off.

It cannot start or stop heating or stops midway.

The turntable ring, coupler, belts, rack mount, legs, seals, buttons, handle, plug, wiring, or other parts are too old, damaged, and require replacement.

The air vent or heating tan is obstructed with grease or crumbs.
We understand that each company claims to be the best. We would not say that without hearing it from our clients! You can see tons of positive reviews for our Microwave Repair in Bonita, CA. After applying to us once, our customers trust other items us too. Thus, they recommend us to friends too, as they know that we offer the best attitude and conditions.
By picking Appliance Service Center, you get assistance from a reliable and qualified team of specialists. We provide the most comfortable conditions and the highest quality at the most favorable price. Just call us or place an application online to get a callback in several minutes! With us, you get the best Bonita Microwave Repair and Service in the most comfortable conditions.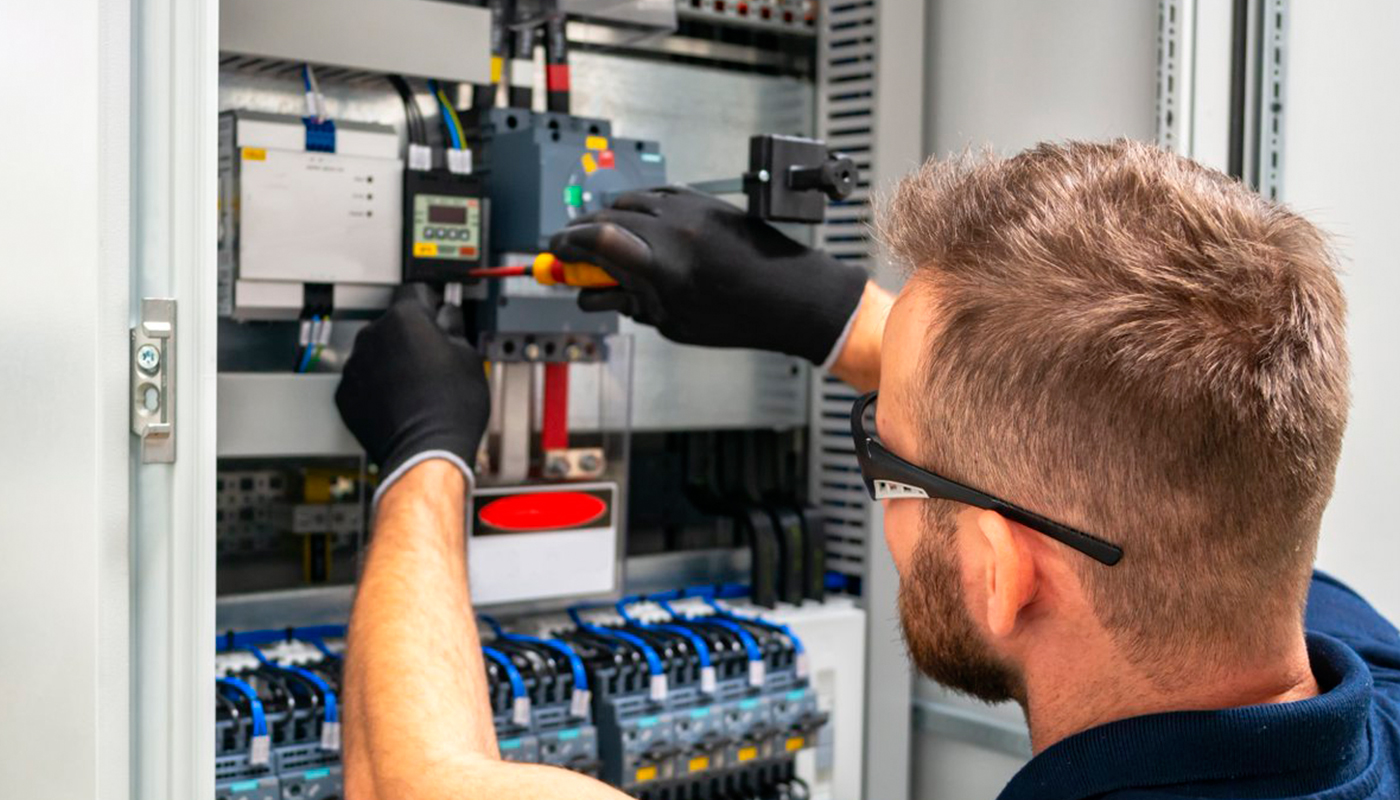 We use only professional equipment and tools, original spare parts, and high-quality consumables. Our technicians have 20 years of experience working with all types of household appliances from well-known brands. Specialists constantly improve their skills to provide you with high-quality services.
Frequently Asked Questions
Do you have any questions you would like to ask us? We recommend reading the answers to the most frequently asked questions first. If you don't find the information you need here, give us a call.