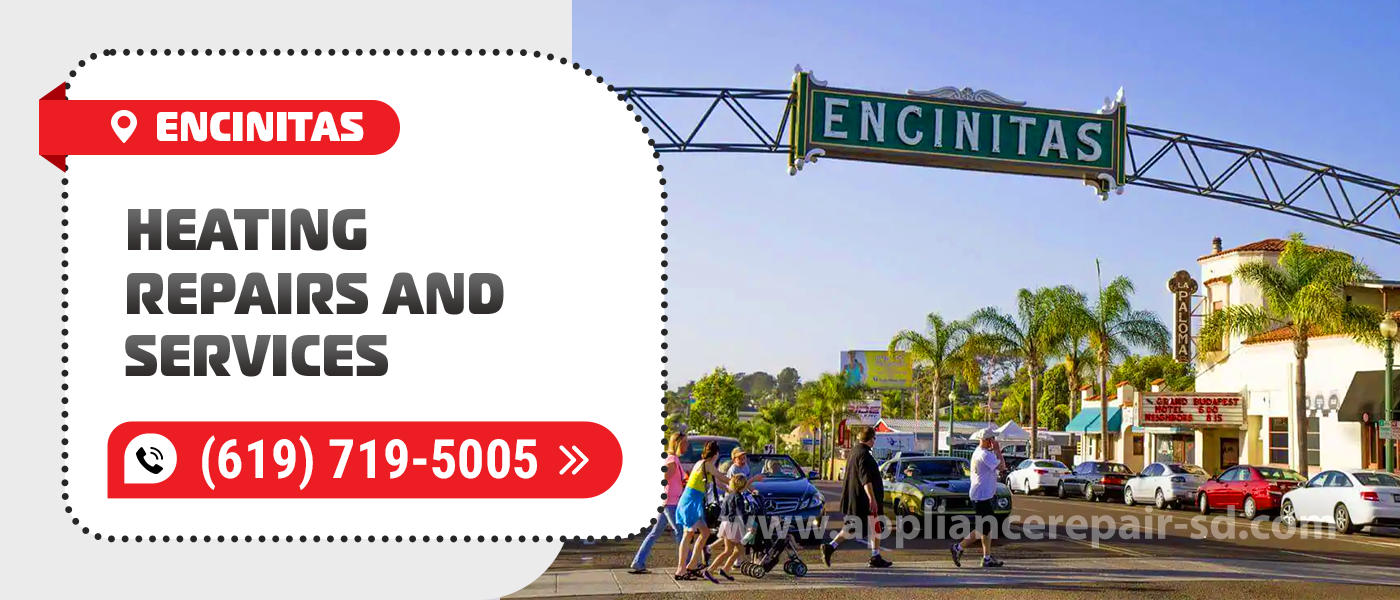 Heating Repair in Encinitas
Appliance Service Center is a client-focused company with over 20 years of experience. Thus, we know what troubles with electronics people may face and how they want to solve them. When the cold weather comes, the most often orders we get are fixing heaters. After downtime, lack of maintenance, and other reasons, these units start working worse. But if you apply to us, things get back to normal quickly. Our team conducts the most effective Heating Repair in Encinitas, CA at the best price.
Heaters may fail in various ways, and our team always knows what to do. Here are the most widespread issues with these units.
It tries to turn on but just goes on and off repeatedly.

The unit shuts off itself or you cannot turn it on at all.

The heater turns on but does not heat.

It heats too slowly, too weakly, or not evenly.

The appliance produces a gas, burning, or electrical smell.

You cannot set the needed temperature or mode, as the controllers do not respond or the control panel malfunctions.

It does not react to the remote-control commands.

The screen is showing an error, blank, or not working.

There is no airflow, or it is too weak.

The appliance gives out a filthy smell or makes the air humid.

The limit switch, compressor contactor, thermostat, heat pump, fan motor, heating element, sensors, or other part is out of order.

The ductwork is leaking or clogged.

The heater produces weird noises like buzzing, thumping, gurgling, clicking, ticking, squealing, grinding, etc.

The moisture is accumulating on the unit or under it.

The heat transfer liquid is leaking.

Obstructed or dirty HVAC filters, vents, flue pipes, burners, air handlers, dampers, flame sensors, condensate drains, or coils.

Failed pilot light, ignition control, or gas valve.

The reversing valves, buttons, knobs, belts, fan blades or baffles, flaps, registers, bearing, leveling feet, or other details are worn off and require replacement.
If you notice that your heater works worse or does not work at all, do not rush to panic. The first thing to do is to find out what is the problem. For that, we offer free consultations and remote diagnostics. It clarifies the situation and helps find the best solution in minutes. And you find out the approximate cost of the needed Encinitas Heating Repair during a phone talk too. You can expect an honest estimation from us, as we care for your comfort and trust. Thus, if your appliance is beyond repair or the work costs too much, we recommend you a replacement.
The price of the needed services often depends on the details that we use. To fit any budget, we have various original and alternative spare parts in stock. Thus, we use the most suitable ones for each situation. And they are always top-quality and perfectly fitting, as it is essential for the proper functioning of your heater. While conducting any Heating Repair in Encinitas, CA, we use only the best professional equipment and materials. As a result – dustless work and a perfectly functioning item.
The tools matter, but the hand holding them matters more. Thus, the main reason for the brilliant quality of our work is the highest qualification of our technicians. 
Their skills are perfectly honed, and their knowledge covers all possible issues with electronics. They conduct the most effective Encinitas Heating Repairs for household and commercial units of all brands and models. Do not worry if your item is too old, the latest issue, or a delicate luxury one. We have licenses for dealing with any of them and regularly undergo training. Outstanding proficiency and responsibility are the features of each of our specialists.
You should never doubt our reliability. Caring for that, we provide a 90-day labor and 1-year details guarantee. Each Heating Repair in Encinitas, CA we conduct is durable and solid. Another proof of that is the huge number of 5-star reviews from our clients. After applying to us once, they trust all other electronics in our reliable hands too. Being absolutely satisfied with our attitude, professionalism, and conditions, our customers recommend us to others too. And that is the main indicator that we provide a decent job!
Our clients highly appreciate the fact that we adjust to any of their wishes. Most often, it means the quickest possible way to fix their units. And our company is flexible about timing. We complete any Encinitas Heating Repair in the shortest term. Mostly, we make your item run like a clock within a day. But you can pick any other suitable moment. If you need us right now, then the option of an urgent arrival is for you. In this case, our specialist leaves the office not later than 15 minutes after you apply. Our local department in Encinitas is open 24/7 and is always ready to help you.
Our company is always honest with clients about all aspects of their orders. It means that we do not overcharge, have hidden fees, or pretend to fix a unit that is beyond repair. Thus, our rates for Heating Repair in Encinitas, CA are always the most reasonable and favorable. We also adjust to any budget and have pleasant discounts. If you make an online booking, you get $25 off. For veterans and seniors, the price is $30 lower. And we have a 15% discount for returning clients.
Since 2001, Appliance Service Center has made tons of appliances to serve their owners perfectly. With our experience and proficiency, any trouble vanishes immediately! If you are looking for a swift high-quality solution for affordable money, just call us. We gladly provide you with the most effective Encinitas Hood Repair and Service. Your comfort is our major goal!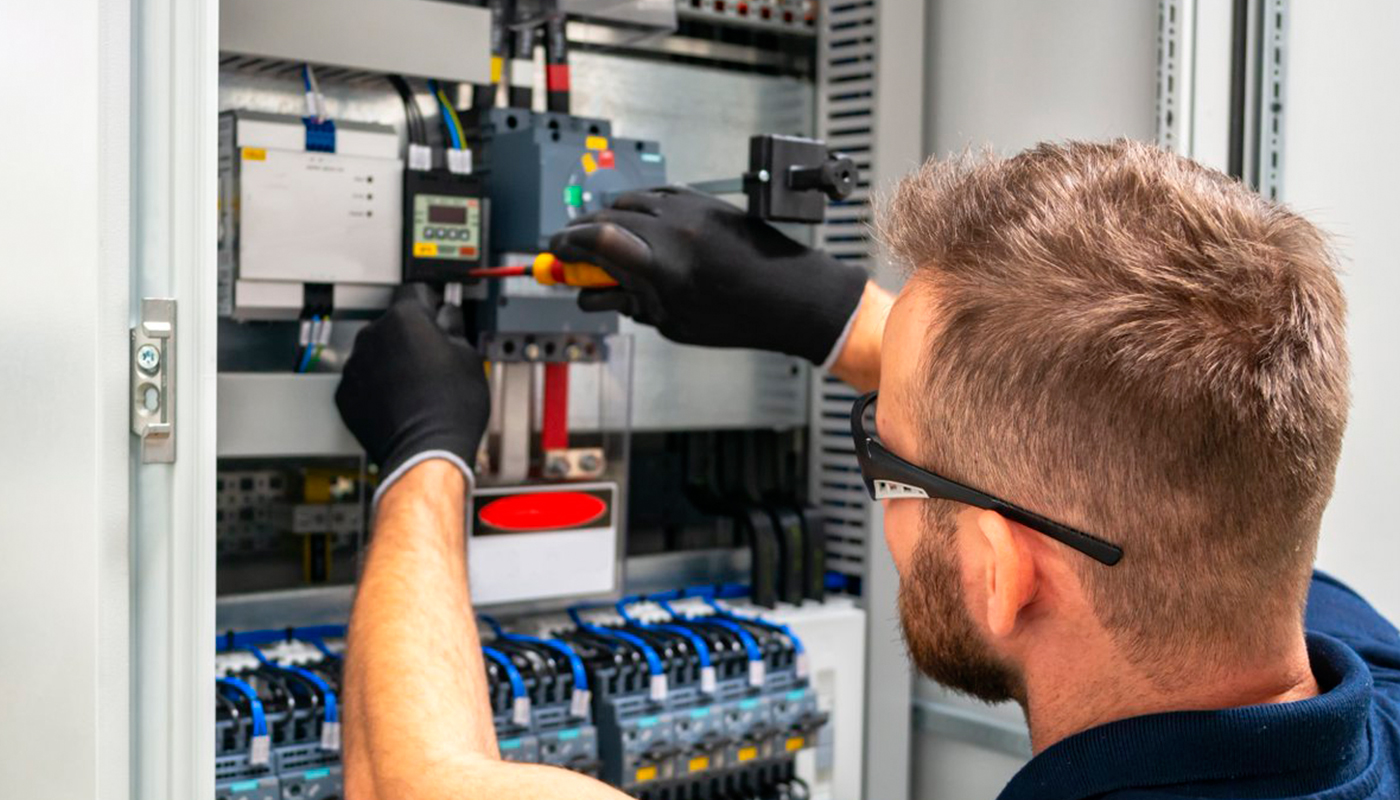 We use only professional equipment and tools, original spare parts, and high-quality consumables. Our technicians have 20 years of experience working with all types of household appliances from well-known brands. Specialists constantly improve their skills to provide you with high-quality services.
Frequently Asked Questions
Do you have any questions you would like to ask us? We recommend reading the answers to the most frequently asked questions first. If you don't find the information you need here, give us a call.