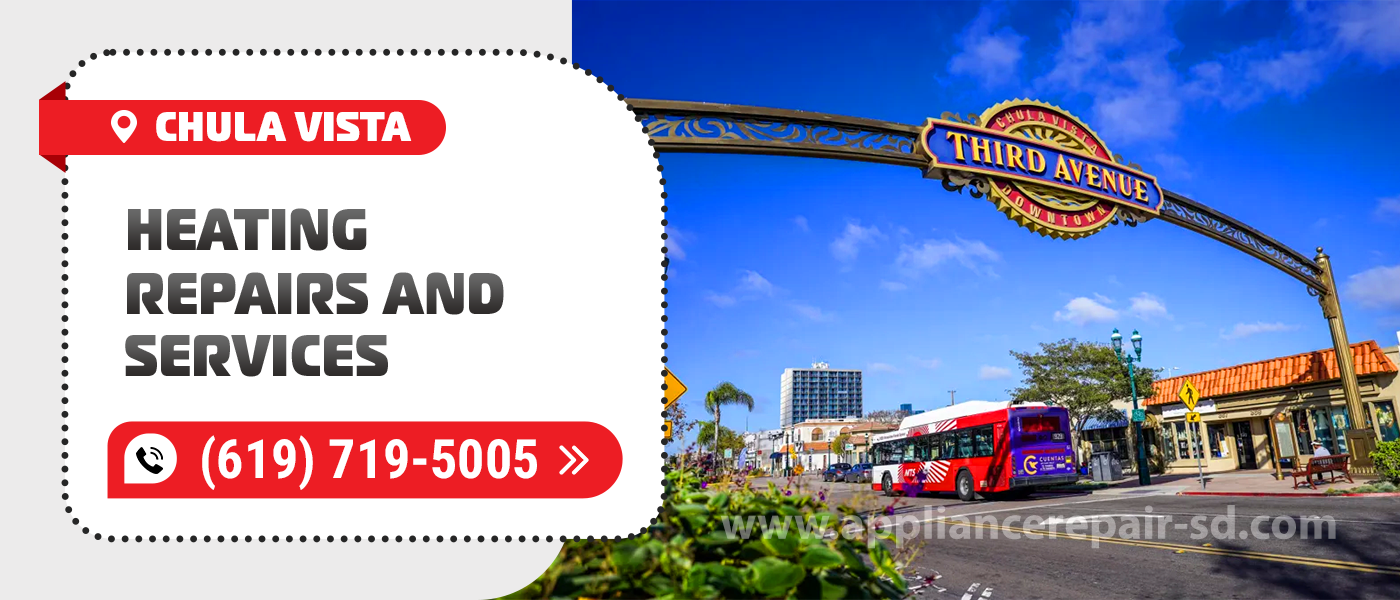 Heating Repair in Chula Vista
Heaters are not just bringing us comfort, but care for us not having issues with our health. That is why these units are essential appliances during cold periods. If you want your heater to serve you properly every time you need it, you should take care of it. It means regular maintenance and timely fixing. For any of those tasks, Appliance Service Center offers the most effective and quickest solutions. Since 2001, we offer all types of services at the most affordable prices. Our team provides any Heating Repair in Chula Vista, CA at the highest quality level!
We never want you to feel cold, so offer the quickest Chula Vista Heating Repair. We finish over 90% of tasks the same day you apply. As our local office is open round the clock and we have great management, we never waste time. If you need us urgently, we gladly offer you the quickest possible arrival. For emergencies, we rush to you within 15 minutes after you apply for just a little additional payment.
We adjust not only to any timing but also to any budget. We set the most favorable prices for any Heating Repair in Chula Vista, CA. We do not overcharge or trick you and do not proceed with work that is not cost-effective. With us, you pay only a fair and adequate price for the most effective and durable result. Plus, we offer discounts for returning clients, seniors, and veterans. You pay $25 less for online booking too.
To find out the approximate cost of the needed work, feel free to contact us anytime. We offer free consultations and diagnostics to provide you with any information. It also helps quickly clarify the situation. After a quick talk, we quickly detect the most effective Chula Vista Heating Repairs for your case. It also may appear that we can help you solve the issue with simple instructions by phone. And in some cases, we have to recommend you a replacement. It happens if the cost of work is too high, or the unit is beyond repair.
There are many different troubles you can face with your heater. Here are the most common of them.
You cannot adjust the needed temperature or mode.

The information screen, control panel, touchpads, buttons, knobs, switches, or remote-control malfunction.

The appliance heats the room not enough, too slowly, or not evenly.

You cannot turn the unit on or off, or it shuts off itself or goes on and off repeatedly.

The air is not going out of the heating vents, or the airflow is too weak.

The condensate drains, flame sensor, ignition, duct, damper, flue pipe, evaporator or condenser coils, air handles, burner, outdoor unit, vents, or filters are blocked with grease or dust.

The air, which goes out of the heater, smells filthy or is too humid.

The appliance produces a burning, electrical, or gas smell.

Reversing or gas valves, pilot lights, wiring, plug, sensors, belts, bearings, leveling feet, knobs, buttons, switches, ducts, or other parts are damaged and require replacement.

The electricity or gas supply is disturbed.

The ductwork is leaking.

The water drops are condensing under the unit or dripping outside.

The unit produces loud noises, like buzzing, thumping, hooting, clicking, ticking, grinding, squealing, popping, or vibrating.

The fan motor, heat pump, limit switch, compressor contactor, thermostat, or other hardware is faulty.
We are always looking for the most effective solutions. A valuable role for that is in the proper choice of spare parts. We have a huge variety of original and alternative details, so pick perfectly suitable ones for each unit. With the use of top-rank professional equipment, tools, and materials, we reach the most durable and solid results. Our team conducts each Heating Repair in Chula Vista, CA precisely and accurately, reaching the highest quality always. Thus, we confidently back up our labor and the parts we use with a long-term guarantee.
Our team has over 20 years of experience in reanimating commercial and household heaters of all types, brands, and models. Their skills and knowledge are outstanding. They know everything about heaters and raise their qualification all the time. We regularly get licenses from manufacturers to stay up to date with all the latest technologies too. It lets us offer the most proficient Chula Vista Heating Repair even for luxury and the newest items. If we tackle the problem, you should not doubt getting the highest quality result.
The best proof of all the positive features we mention is the opinion of our customers. They are absolutely happy for applying to us for Heating Repair in Chula Vista, CA! As we provide brilliant results in the most comfortable conditions, clients return to us again. They confidently recommend us to friends and leave tons of 5-star reviews on the net. The same is the reason why we successfully withstand competition with other service centers for over 20 years so far.
The friendliest attitude, the most favorable prices, flawless quality, and the highest speed – that is what you get with us! Appliance Service Center always offers the best solutions for all clients. And to get that, you only need to call us or place an online application. Our team is always ready to provide you with the most reliable and effective Chula Vista Heating Repair and Service.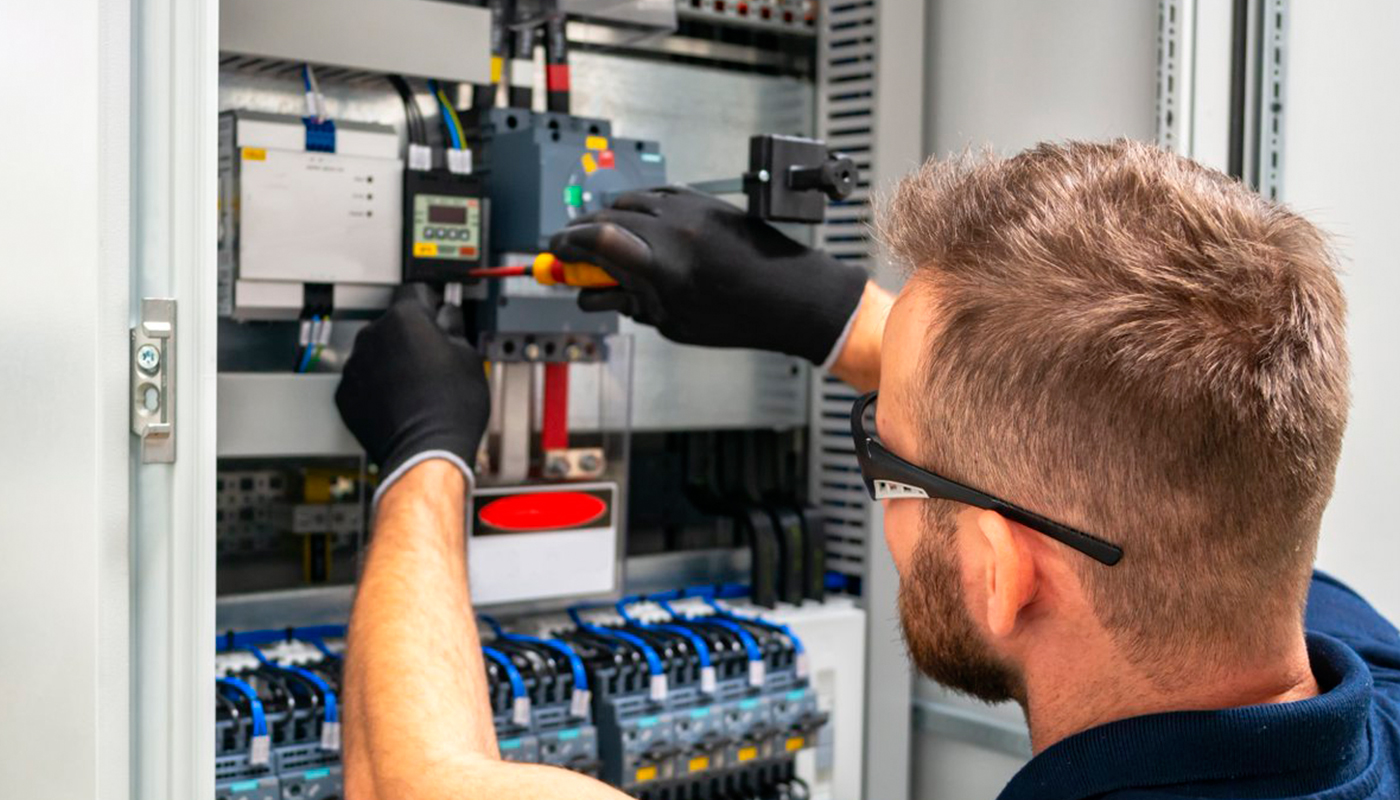 We use only professional equipment and tools, original spare parts, and high-quality consumables. Our technicians have 20 years of experience working with all types of household appliances from well-known brands. Specialists constantly improve their skills to provide you with high-quality services.
Frequently Asked Questions
Do you have any questions you would like to ask us? We recommend reading the answers to the most frequently asked questions first. If you don't find the information you need here, give us a call.