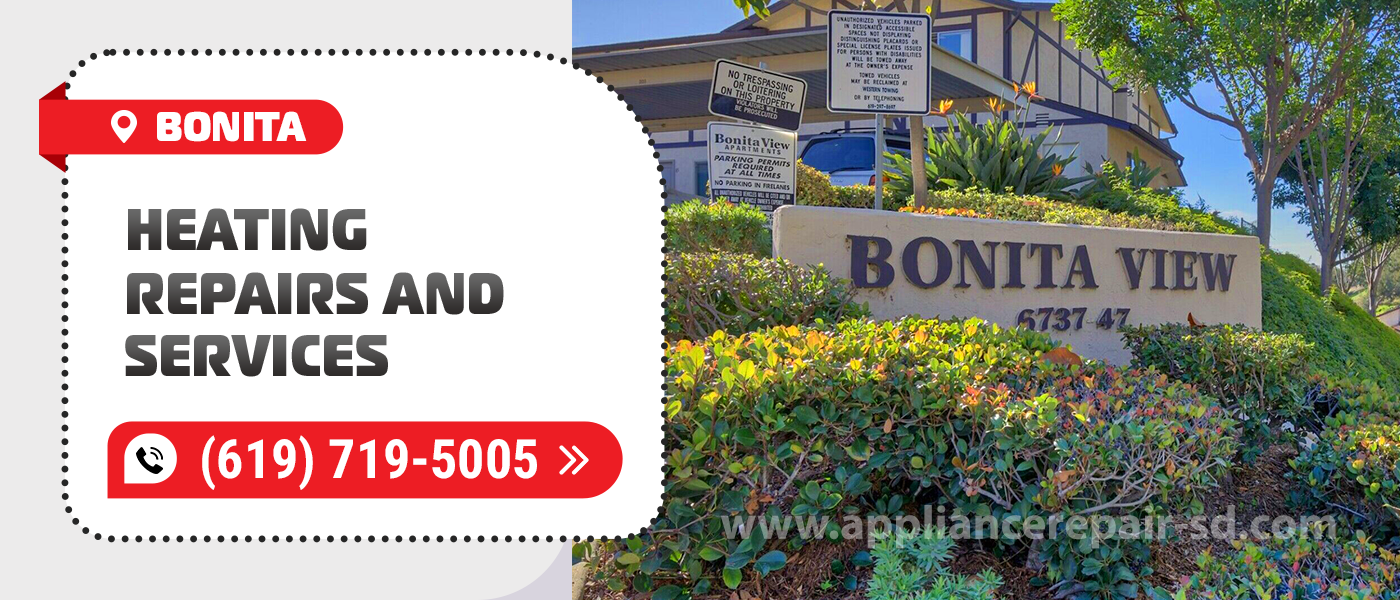 Regardless of our preferences, people cannot feel good when it is too cold. Heating systems and appliances help us to get comfortable in public places, houses, and at work. The same as other electronics, these units may suffer from time, voltage surges, wrong storing or exploitation, and so on. To fix or avoid unpleasant situations, feel free to apply to Appliance Service Center. With over 20 years of experience, we know everything about these appliances! We provide the best Heating Repair in Bonita, CA at the fairest price, shortest terms, and the highest quality.
The most often reason to apply for Bonita Heating Repair is that the unit is not working properly after downtime. And mostly, people find it out when want to use it for warming up the room. Thus, they need it back to normal quickly. And our company never makes you wait long for the result. We have a department in your area, which is 24/7 open. Thus, even if an urgency happened and you need us during non-working days or hours, we are available. For a little additional payment, our technician rushes to your address immediately! And normal cases usually do not take more than a day to complete.
You can also get a consultation or diagnostic before applying for the repair. Those are free options but really useful for clarifying the situation. Just tell us what happens with your item and our specialists quickly find out the reason for the breakage. This way, we can also announce the approximate cost of the needed Heating Repair in Bonita, CA beforehand. If we detect that it is not cost-effective, we honestly let you know. And in cases with minor issues, we sometimes can just instruct you by phone and eliminate the problem in minutes. We find the most effective solution for any situation!
To find out, what is wrong, and how to fix it, just explain to us what malfunctions you notice. The most common troubles with heaters are…
The appliance turns off itself or trips the power.

You cannot turn the heater on.

It does not heat the room.

It heats the room not enough, too slowly, or unevenly.

The airflow from the vents is too poor or absent.

The fan motor, heat pump, limit switch, thermostat, compressor contactor, or other detail malfunctions.

The unit is producing a burning, electrical, filthy, or gas smell.

The ductwork is leaking, obstructed, or damaged.

The control panel, buttons, knobs, touchpads, or information screen do not work properly, so you cannot change any settings to the needed level.

It makes the air around more humid.

The item is vibrating, buzzing, humming, clicking, or making other weird sounds.

The ignition control or pilot light is dysfunctional.

A safety valve, reversing valve, sensors, bearings, belts, controllers, or other parts are damaged.

The technical liquid or water is leaking, dripping, or condensing under the unit.

The flame sensors, coils, heating elements, burners, dampers, vents, air handles, HVAC filters, condensate drains, flue pipes, outdoor units, or ignitions should be cleaned, checked, or replaced.
We eliminate these and other troubles at the most favorable prices. Our company offers the most affordable Bonita Heating Repairs. Plus, you get $25 off for booking online! Returning clients have a 15% discount and veterans and seniors pay $30 less. We inform you clearly about all the expenses and the condition of your appliance. This, you never pay for the work which is senseless or disadvantageous.
We guarantee the highest quality and durability of each Heating Repair in Bonita, CA we complete. It is solidified with a long-term warranty as we are confident in the flawless responsibility and qualification of our team. Each of them has perfectly refined skills and constantly growing knowledge. They have regular training and get licenses from manufacturers for working with luxury and the latest items. It means that we can provide proper services to all models of heaters of any brand. Regardless of if the item is old or new, budget or expensive, commercial or household, we deal with them all!
When our specialists arrive at your place, they are prepared for anything! We provide our team with the best professional equipment, tools, and materials for any type of Bonita Heating Repair. For complex and large units, we send a team of technicians to help you more effectively. To reach smooth functioning without tottering and squeaking, we have a great choice of original spare parts and top-notch alternatives. It also helps in the most precise and fluent completion of any task. When we finish work, your item performs like a brand-new one, and your room remains clean!
The best proof of brilliant quality, comfortable cooperation, and responsible attitude of the company is the opinion of clients. Since 2001, we have served tons of appliances and gained the trust of hundreds of customers. They are absolutely happy about the Heating Repair in Bonita, CA we conducted, so recommend us to others. Thus, you can see tons of positive reviews on our Google page.
Call us or place an online application at any moment. Being a fully client-oriented company, Appliance Service Center adjusts to all your requirements! We offer the best prices, the highest speed, and brilliant quality for each order. With us, you always get the best Bonita Heating Repair and Service!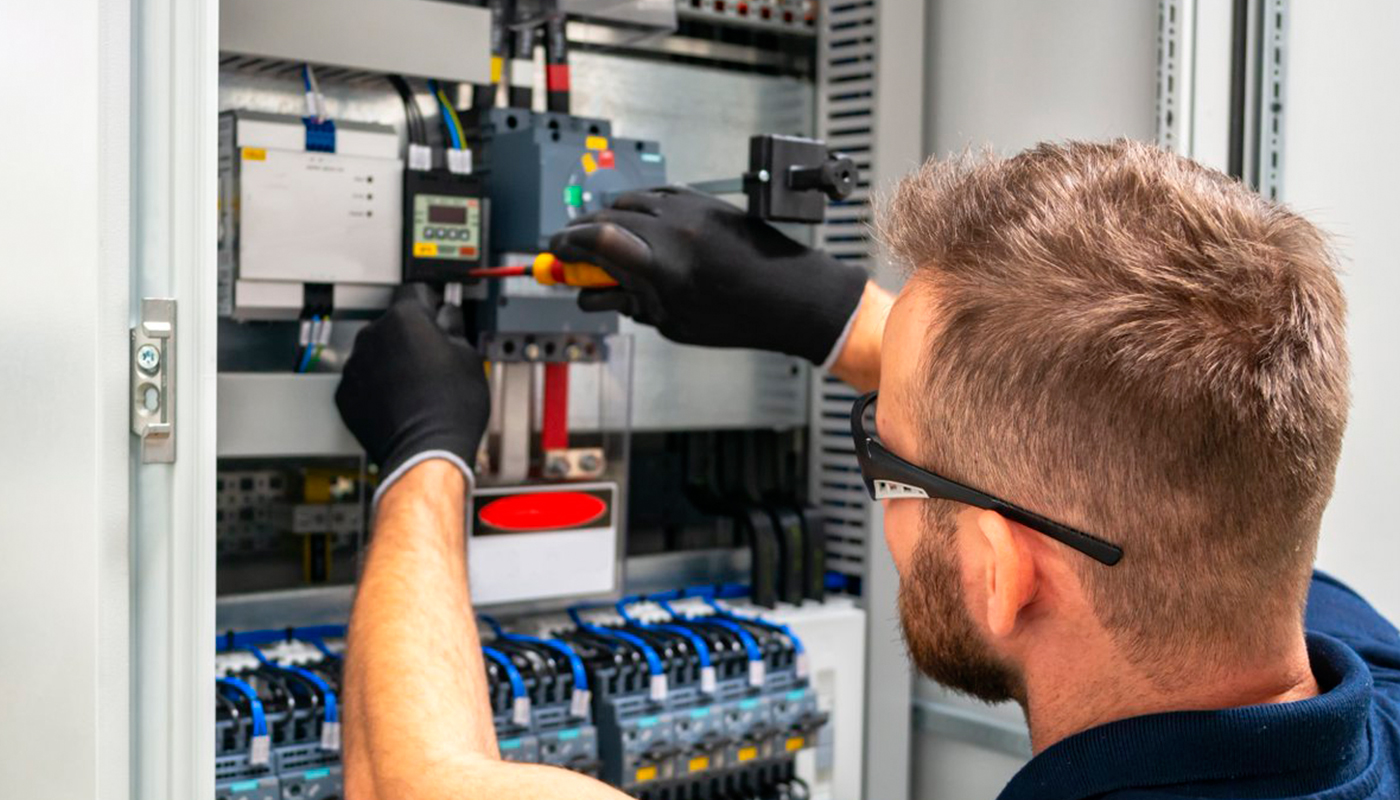 We use only professional equipment and tools, original spare parts, and high-quality consumables. Our technicians have 20 years of experience working with all types of household appliances from well-known brands. Specialists constantly improve their skills to provide you with high-quality services.
Frequently Asked Questions
Do you have any questions you would like to ask us? We recommend reading the answers to the most frequently asked questions first. If you don't find the information you need here, give us a call.