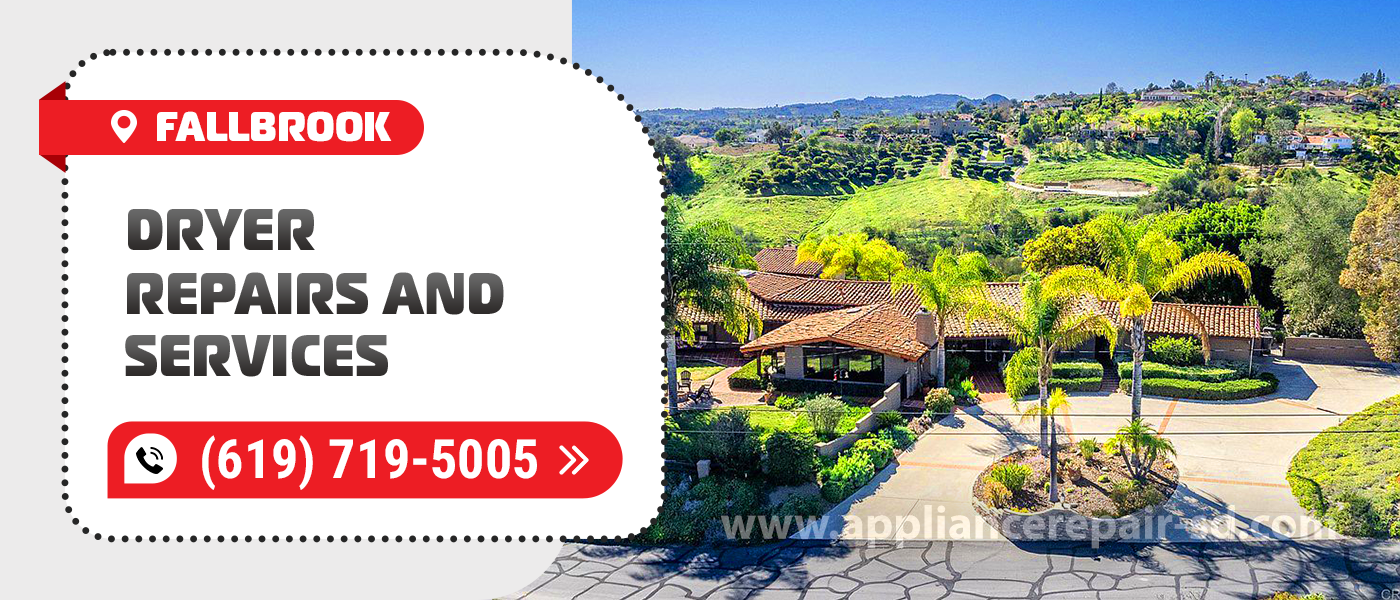 Dryer Repair in Fallbrook
A dryer at home, in a laundromat, or hotel is a great timesaving assistant. And if it starts working worse or totally fails, its owner never wants to hang clothes around and wait long. And no need to do that, as you can just apply to Appliance Service Center. We provide the most effective checkup, maintenance, and fixing services at the best price. With us, you get the most high-quality Dryer Repair in Fallbrook, CA in the shortest terms.
Your dryer requires attention not only when it stops working or drying. A whole range of other issues decrease the effectiveness of your item and may cause more serious breakage. Here is the list of the most widespread troubles with dryers.
Touchpads, knobs, or buttons do not react.

You get an error message on the information screen, or it is blank.

The control panel malfunctions and requires recalibration.

The dryer runs non-stop, goes on and off, cannot start or complete drying, or does not turn on/off at all.

The appliance is not drying clothes at all or dries them improperly or unevenly.

The heating element, thermal resistor, high-limit or cycling thermostat, fuse or circuit breakers, igniter, timer, sensors, motor, fan, or other hardware is dysfunctional.

The drum is not spinning.

The tub is misplaced or cracked.

The door is not latching, closing, or opening properly as it has damaged joints, hinges, springs, interlocks, latches, lid switches, or gaskets.

Broken surfaces or door glass.

The exhaust vent, moisture sensor strips, hose, pipes, lint filter, or duct are obstructed.

Tube and clothes have a filthy odor.

The appliance produces a burning, gas, or electricity smell.

While the dryer is working, it is vibrating or producing indistinctive noises (clicking, knocking, gurgling, popping, squealing, buzzing, humming, thumping, rumbling, etc.).

It is not heating.

Troubles with gas or electricity supply.

Some details are damaged, lost, or worn off and require replacement (wire, plug, bearings, belts, leveling feet, fan blades, baffles, flaps, glides, drum support rollers, blower wheel, start switch, gas valve, buttons, knobs, handles, etc.).

The body of the dryer gets extremely hot while it is on.

Software issues (the control module malfunctions, the screen shows an error, or the indicator is blinking red).

The controllers do not respond.

The lamps are burned out or flickering.

It was installed wrong.
If you are facing any of those or other wrong behavior in your appliance, just call us. Our specialists quickly understand how serious the issue is and how to eliminate it. If we can instruct you by phone and it is a quick and safe solution, we gladly help! Consultation is free, so you only profit by calling us. A remote diagnostic is free too if you apply to us for Fallbrook Dryer Repair. We announce the approximate cost beforehand, as our team quickly finds the solution even by phone. In those cases, when the repair is not recommended, we clearly inform you.
The situation when we advise a replacement means that your dryer is beyond repair, or the work is not cost-effective. We do not offer you irrational solutions, as we care for your time and money. With us, you get only the most efficient Dryer Repair in Fallbrook, CA at the most affordable price. And it is even more pleasant with the discounts we have for you! It is 15% for returning clients, $25 for booking online, and $30 for veterans and seniors. We have the fairest prices as always clearly report all the expenses for fixing your dryer.
The price of work depends much on the needed spare parts. We have a huge choice of them in stock, so pick the most suitable for any budget and appliance. Perfectly fitting details mean smooth and proper functioning of your appliance for a long. We also use the best professional tools and materials for the most precise and effective Fallbrook Dryer Repairs. Our specialists conduct all procedures neat and dustless, so you do not have to clean your room after. And, what goes without saying, our work is always flawless and on the highest quality level.
We are in charge of each action and word. Thus, we provide a long term-guarantee for everything we do. It is 90 days for labor, and 1 year for details. 
As our technicians are professionals with over 20 years of experience, we are always sure in reaching brilliant results. Our team fluently and swiftly deals with issues of any complexity. They reanimate household and commercial dryers of all brands and models. We also offer the most efficient Dryer Repair in Fallbrook, CA for luxury and the latest items. Our technicians have licenses for dealing with any of them and undergo regular training, so stay up-to-date and highly qualified.
The highest quality of work is one of the main reasons why our clients trust us. They also appreciate our friendly attitude and customer focus, which make it pleasant to apply to us again. Thus, our customers recommend our Fallbrook Dryer Repair to others and return to us again with other issues. They also share their positive opinion about our services on the net. It is the best appraisal and motivation for us!
We are developing all the time to provide you with the most comfortable conditions. Our company has lots of local branches, perfect management, and logistics. Thus, we offer the quickest Dryer Repair in Fallbrook, CA, paying attention to your requirements. Our specialists arrive at your address at any moment you need. In over 90% of orders, your appliance runs like a brand-new one the same day you apply. And we are ready to help even in urgent cases on days off or after hours. For a small emergency fee, we rush to your address immediately!
Appliance Service Center cares for the proper and durable performance of your electronics. Our team reaches perfect results in everything they do. You can be sure that by applying to us, you pick a reliable company. We provide the most high-quality Fallbrook Dryer Repair and Service at the most reasonable prices and shortest terms. Just call us or fill in the contact form on our website. With us, your dryer will run like a clock soon again!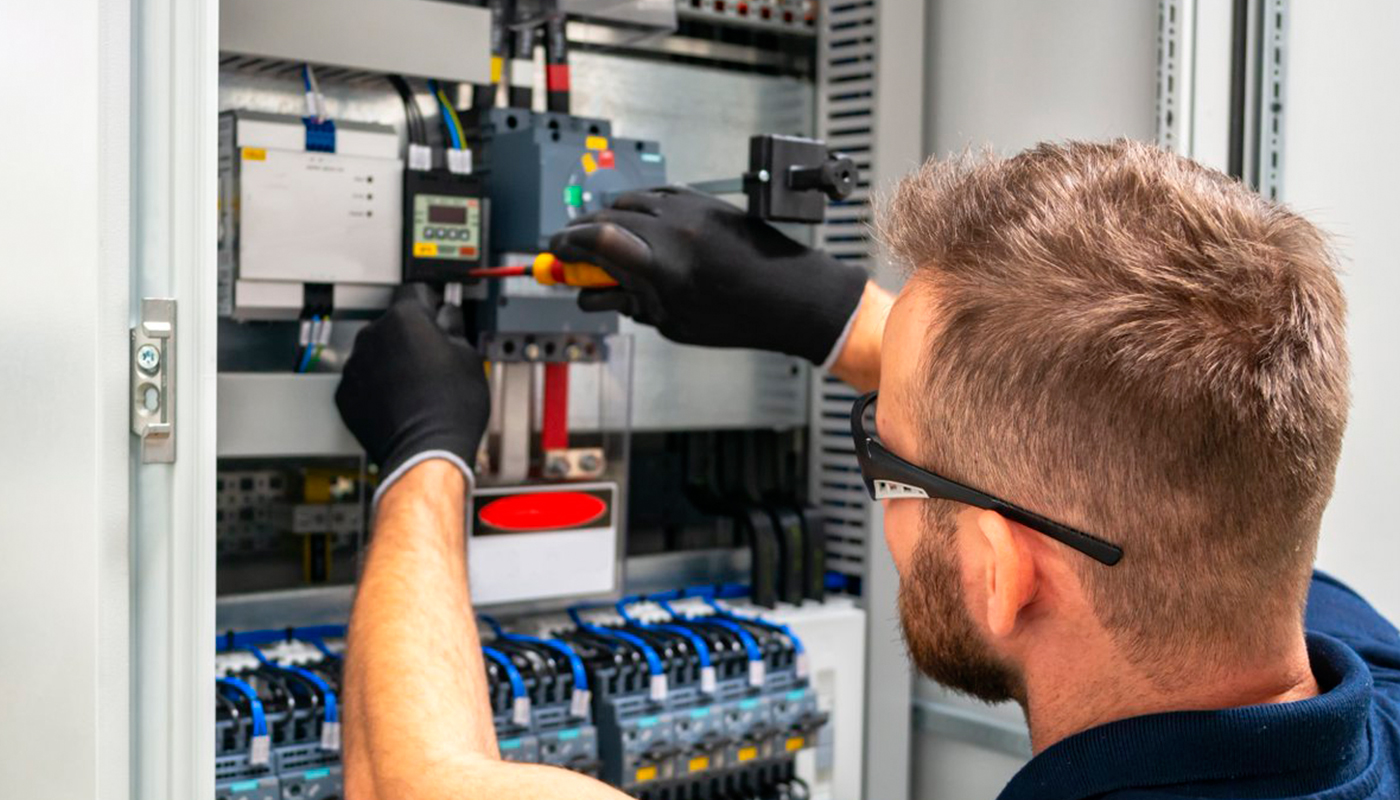 We use only professional equipment and tools, original spare parts, and high-quality consumables. Our technicians have 20 years of experience working with all types of household appliances from well-known brands. Specialists constantly improve their skills to provide you with high-quality services.
Frequently Asked Questions
Do you have any questions you would like to ask us? We recommend reading the answers to the most frequently asked questions first. If you don't find the information you need here, give us a call.