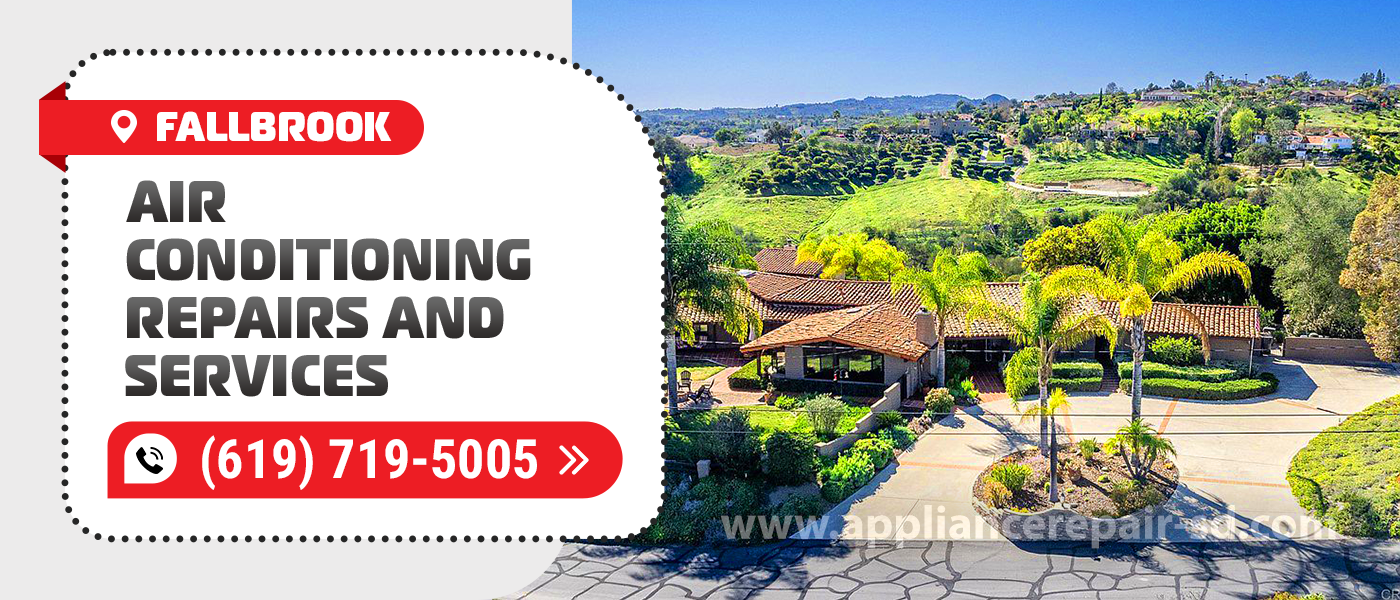 Air Conditioning Repair in Fallbrook
To create the most comfortable surroundings in any house or workplace, people mostly use air conditioners. These items help us feel better regardless of the weather outside, but only if we properly care for them. Without regular cleaning or because of other reasons, the AC starts working worse, and that is not surprising. But what can really surprise you is the quality, speed, and price of the solutions that Appliance Service Center offers. We provide the swiftest, the most solid, and fair-priced Air Conditioning Repair in Fallbrook, CA!
AC consists of many parts, and each of them should be in working condition to ensure proper functioning. Thus, when any of them is faulty, it is not always easy to find the reason for a malfunction quickly. But our technicians can do it even without touching your appliance! We offer a remote diagnostic to clarify the situation and the approximate cost of the needed Fallbrook Air Conditioning Repair. You can also request a free consultation and get any information about our services and proper care for your item.
The range of issues that happen to conditioners is pretty wide. And you should not ignore any cases when your appliance behaves not the way it usually does. Here is the list of the most common troubles that happen to air conditioners.
The AC does not react to the remote control, and you cannot even turn it on or off.

It turns on but the indicator is blinking red, or the unit gives out no airflow.

It does not change the conditions in the room at all.

The conditioner cools or heats too weakly, too much, not evenly, or too slowly.

The control module requires recalibration.

You cannot change the temperature, mode, or other settings.

The outdoor unit is blocked with leaves, sticks, or dirt, or has its fan damaged/not turning.

The refrigerating liquid or water is leaking or dripping.

The register, safety switches, contactors, belts, bearings, thermostat batteries, fuses, fan blades, relay switch, power switch, ductwork, buttons, or other details require replacement.

The LED indicators are burned out.

The AC is vibrating, hooting, popping, squealing, squeaking, rattling, pinging, clicking, knocking, humming, buzzing, grinding, or making other awkward noises.

The item produces a burning or electrical smell.

It makes the air humid or smelly.

The unit is going on and off repeatedly or working non-stop.

The start capacitor, condensate pump, fan, condenser, compressor, motor, thermometer, control board, or thermostat is faulty.

Worn-off wiring causes issues with the electricity supply.

Filters, condenser drainpipes, condensate pump reservoirs, or coils require cleaning from debris, dirt, or dust.

Wrong installation, moving, or accidental hitting.
Our team resolves those and other issues effectively for over 20 years so far. Regardless of the brand and model of your AC, we make it back to normal swiftly. Our specialists have perfectly honed skills and outstanding knowledge on the topic. And together with the best professional tools and materials, it leads to the most durable and solid results of work. Our team is licensed and highly qualified. Thus, we conduct the best Air Conditioning Repair in Fallbrook, CA to luxury and the latest items too.
There are no doubts about the professionalism of our technicians and the highest quality of our Fallbrook Air Conditioning Repairs. And to make you calm about it too, we provide a long-term guarantee for all orders. It is 90 days for our labor and 1 year for the details we use. We carefully pick the most suitable parts for any appliance to ensure the best fitting and smooth performance. For that, we stock a vast variety of original and alternative details from the best manufacturers. We use the best matches for any commercial and household AC, including the oldest or rarest ones.
In some complex situations, the cost of the needed details is higher than the cost of a new item. In such cases, we honestly recommend you get a replacement. We do not offer you useless or not cost-effective services. With us, you get only the most efficient Air Conditioning Repair in Fallbrook, CA at the most reasonable price. Our rates are favorable for everyone, as we also have a system of discounts. The returning clients get 15% off, seniors and veterans – $30 off, and for online booking the price is $25 lower.
Our clients appreciate our attitude and professionalism the most. They are happy about the best conditions we offer and the most reliable Fallbrook Air Conditioning Repair we provide. Thus, our customers come back to us to eliminate issues with other electronics too. They recommend us to friends and post numerous 5-star reviews on the net. Their trust is our main achievement and the reason why we successfully withstand competition with other companies since 2001.
Another distinctive feature we have is the quickest completion of tasks of any complexity. Having local branches in many areas, including Fallbrook, we do not waste time on the road. With the most responsible attitude and perfectly customized management, our team easily adjusts to any schedule you need. In an absolute majority of orders, we make your air conditioner back to normal the same day you apply. For a little additional payment, you can request an urgent Air Conditioning Repair in Fallbrook, CA. Then, the specialist arrives at your place at the soonest possible moment. 
Appliance Service Center is a reliable company that cares for your comfort and makes your electronics always perform perfectly. Our friendly team has brilliant knowledge and skills and conducts each procedure at the highest quality level. All you need to do is just call us or place an online application. We make any issues vanish in the shortest terms and at the most affordable price. By applying to us, you get the best Fallbrook Air Conditioning Repair and Service!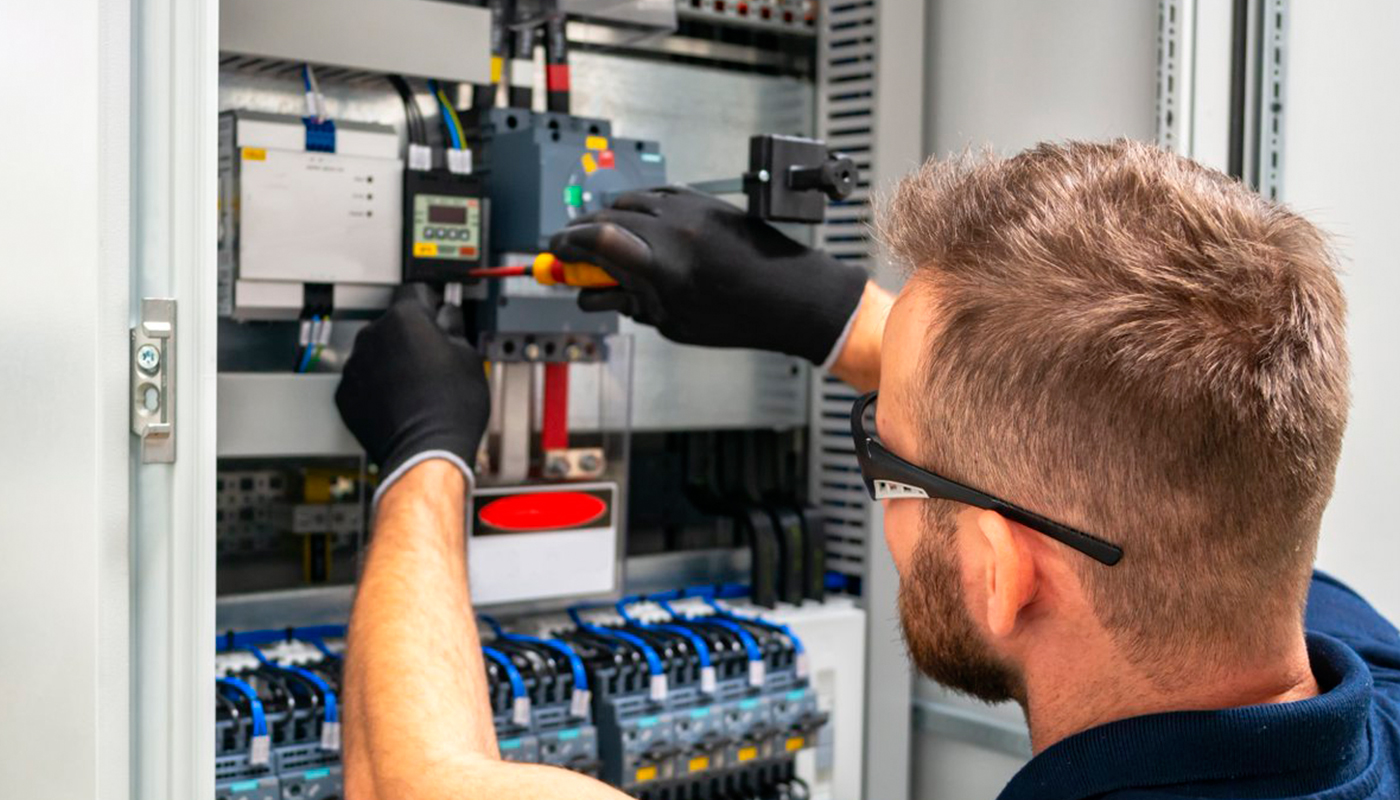 We use only professional equipment and tools, original spare parts, and high-quality consumables. Our technicians have 20 years of experience working with all types of household appliances from well-known brands. Specialists constantly improve their skills to provide you with high-quality services.
Frequently Asked Questions
Do you have any questions you would like to ask us? We recommend reading the answers to the most frequently asked questions first. If you don't find the information you need here, give us a call.