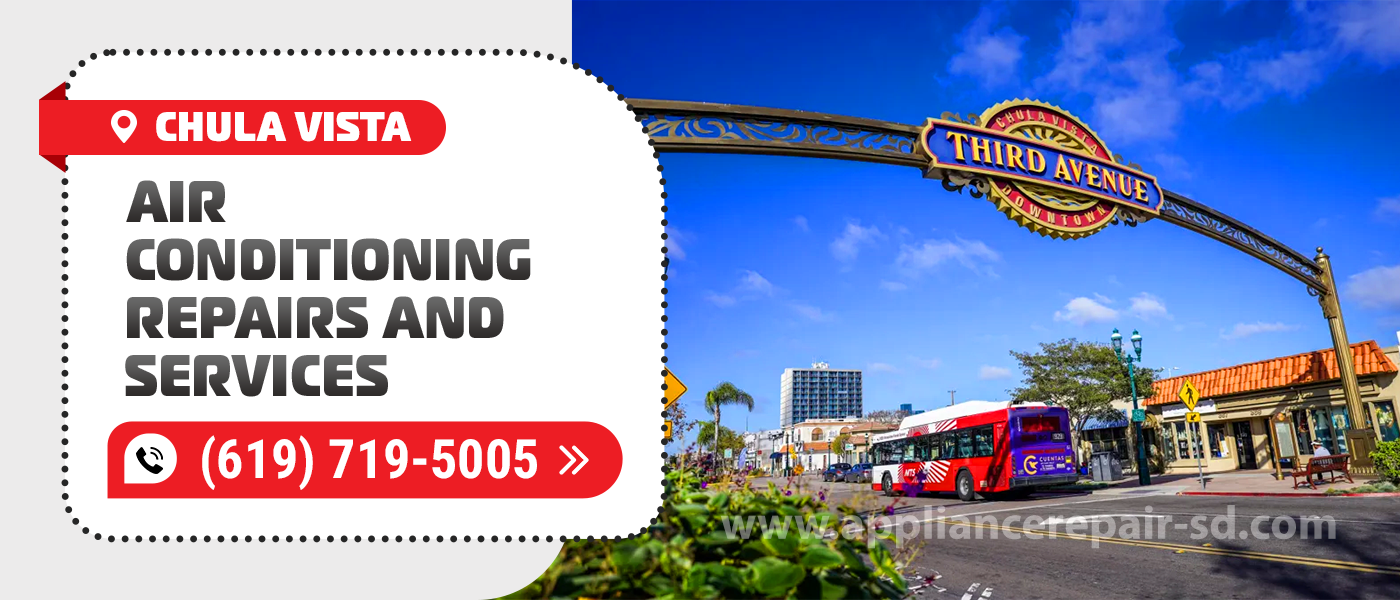 Air Conditioning Repair in Chula Vista
When the summer is steaming hot, most people feel uncomfortable, less active, and overall unpleasant. For resolving this issue, almost every house, office, and public place has an air conditioner. But it often happens that after downtime and without proper care, this unit stops working as it should. To avoid or eliminate such troubles, the best idea is to apply to Appliance Service Center. We conduct all types of services at the most favorable prices. With us, you get the swiftest Air Conditioning Repair in Chula Vista, CA of the highest quality.
We recommend you take proper and regular care of your AC. This unit requires refilling and cleaning to function correctly for a long. Thus, the chance of breakage gets much lower. And if you want to avoid or fix any issues with your unit, the best idea is to call us. 
Our company provides free consultations and remote diagnostics. They are a great way to clarify the condition of your AC. Thus, we can quickly find the best solution and announce its approximate cost. And if it appears that your unit is beyond repair or it is not cost-effective, we honestly let you know. With us, you get only efficient and long-lasting Chula Vista Air Conditioning Repair.
Whatever solution we pick, it is always the most rational way out. Thus, in some cases, we can help you eliminate the issue with simple instructions by phone. And that is free for you! If we arrive and indicate that the best solution is to get a replacement, we only take a Service Fee. But those are rare cases, as we can cope with everything. And we always offer the most fair-priced and affordable Air Conditioning Repair in Chula Vista, CA. We clearly inform you about all the expenses, so you never face any hidden fees. Plus, we have discounts for seniors, veterans, and returning clients, and for booking online.
You should not worry if your AC is rare or old. Our experienced technicians know what to do with all models of any brand of this unit. They also are up to date with all the latest technologies, as they have regular training and get licenses from manufacturers. It lets conduct the most precise and effective Chula Vista Air Conditioning Repairs even to the newest and luxury items. Reanimating various commercial and household AC for over 20 years, our team gained much precious experience. Their knowledge and skills are incredible and get even better all the time!
Our team perfectly resolves all issues with electronics. Talking about air conditioners, the most widespread issues you can face are…
The appliance turns on and off repeatedly, shuts off itself, or does not turn on or off at all.

It turns on but does not cool or heat the air.

The indicator is red, blinking, or not glowing at all.

Thermostat batteries, safety switches, blower belts, wires, isolation, plug, bearings, ductwork, contractors, or other details are worn-off or damaged.

The unit does not respond to the remote control.

The screen, timers, controllers, or control panel malfunctions, so you can't set the needed temperature, time, or mode.

The air is not coming out of the register.

The AC heats or cools the room unevenly or makes the air too wet or smelly.

The fan in the outdoor unit, blown fuse, motor, thermostat, thermometer, compressor, condenser, condensate pump, start capacitor, relay switch, power switch, or other part is functioning wrong.

The refrigerant coolant or water is leaking, dripping, or condensing under the unit.

The conditioner was installed wrong, moved, or bumped.

The appliance is buzzing, grinding, bubbling, gurgling, squealing, thumping, pinging, popping, rattling, hooting, or making other awkward sounds.

The item produces filthy, electrical, or burning odor.

You have not cleaned its filters, condensate pump reservoir, filters, coils, drainpipe, and evaporator.
Each Air Conditioning Repair in Chula Vista, CA we conduct has the highest quality. Our team knows all the subtleties of the structure and functioning of these appliances. Thus, they always know what to do and can pick the best replacements when it is needed. We have a vast choice of original and alternative spare parts in stock. So, we can pick the most suitable ones for any device. With the use of top-rank professional tools and equipment, the result of work is always neat, accurate, and solid. We back up all our work with a long-term guarantee. You can be sure that your AC will run like a clock for a long, and we are responsible for it!
We always care for offering you the most comfortable conditions. Thus, we can adjust to your budget and timing. Our local department is open round the clock. That is why we can provide all clients with the quickest Chula Vista Air Conditioning Repair. In an absolute majority of cases, we finish your task within a single day! For a little extra payment, we can also provide you with an urgent arrival. In such a case, our technician departs at the needed address immediately! We are available for you even during days off and non-working hours.
All those features are the reasons why our company successfully withstands competition since 2001. Our clients return to us for other tasks and recommend us to friends. They know that we always show the best results and offer the most suitable conditions. You can see many positive reviews on the net about Air Conditioning Repair in Chula Vista, CA we conduct. Our team consists of the most polite and skilled specialists, so you and your appliance will get the best attitude!
If you are looking for the most reliable service provider, Appliance Service Center is your choice. We know everything about air conditioners perfectly. Thus, we can find the most effective solution for any situation. With us, you get the most high-quality Chula Vista Air Conditioner Repair and Service! And we complete all tasks in the shortest terms and at the best prices. You can anytime contact us through a phone call or the form on our website.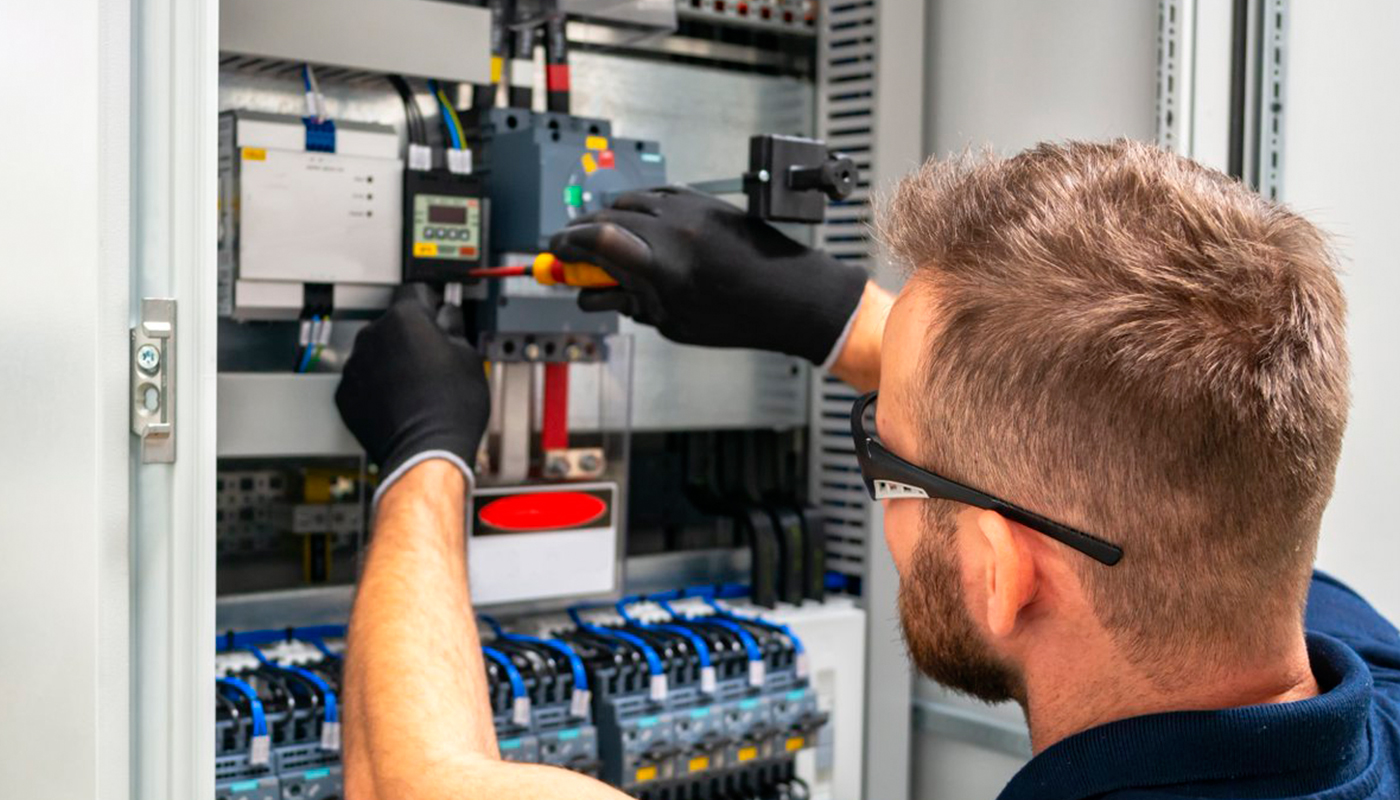 We use only professional equipment and tools, original spare parts, and high-quality consumables. Our technicians have 20 years of experience working with all types of household appliances from well-known brands. Specialists constantly improve their skills to provide you with high-quality services.
Frequently Asked Questions
Do you have any questions you would like to ask us? We recommend reading the answers to the most frequently asked questions first. If you don't find the information you need here, give us a call.