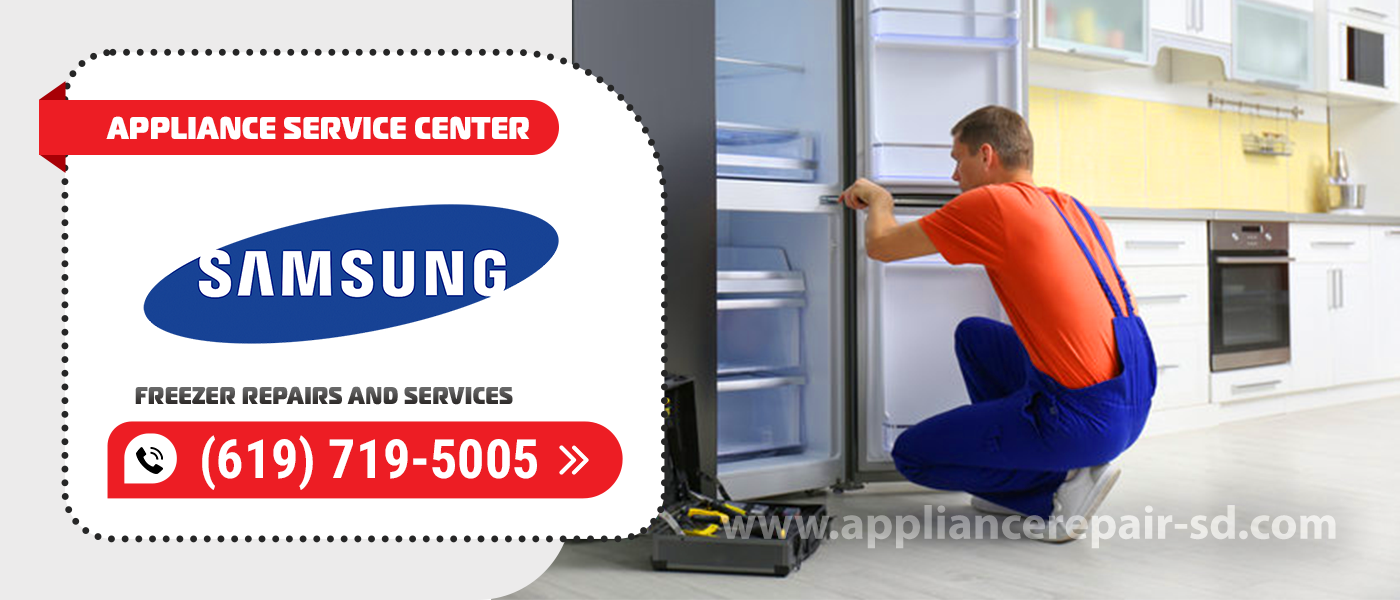 If your Samsung freezer is out of order and needs professional repair. All you have to do is contact the Appliance Service Center. For over 20 years, we've been doing quality, specialized Samsung Freezer Repair in San Diego County. Over the years, we have thoroughly studied all kinds of appliances. We know how it's built, and we know exactly how to fix breakdowns.
What are the most common breakdowns encountered by our experts
Failure of electronic control unit.

Freezer thermostat damage.

Refrigerant (Freon) leakage.

Motor-compressor cannot start.

Replacement of freezer door rubber.

Faulty temperature or air sensors.
In addition to the basic malfunctions of freezer units, there are often other problems. For example, heating of the case, the appearance of "coat" in the chamber, failure of indicators, water accumulation, the smell of burning plastic and many other problems. But regardless of the complexity of the breakdown, our masters at Samsung Freezer Repair and Service.
Preventive measures to extend the life of your freezer
Every technician will tell you that a breakdown is better prevented than repaired later. 
Defrost the freezer once every year or six months. 

Do not leave the doors open too long. This disturbs the temperature regime and leads to rapid wear and tear of the compressor.

Carefully check the condition of the seals – as soon as you notice a breakdown, contact a technician immediately.

The freezer should never be overloaded with food. Stack all the contents evenly.

Buy appliances that are suitable for your needs. For example, household options are not suitable for industrial use.
But if your appliances do fail, trust Samsung Freezer Repairs to professionals.
What we offer our customers
We don't charge for diagnostics when you do Samsung Freezer Repair and Service with us.
A professional approach to all of our work
Our staff has many years of experience – more than 20 years. Masters regularly improve their skills and experience internships in factories that produce equipment. 
Convenient work schedule.
Our service center is open seven days a week. After all, the technique does not ask you when it is better to break. 
Repair appliances at home.
Our masters at Samsung Freezer Repair are true professionals. Repair in 90% of cases they carry out on the spot and within one day.
Specialized workshop for complex repairs.
Our master, after on-site diagnostics, will tell you the repair plan. And if the repair is advisable in the workshop, using specialized equipment, the technician will tell you so. Our technician will do the disassembly himself. Fill out all the necessary paperwork and take your equipment to our service, for Samsung Freezer Repairs and Services. After the repair will bring it back.
Own warehouse of spare parts.
We fix faster and cheaper because we have our own parts warehouse. Cheaper because we work directly with appliance manufacturers. Faster, since you don't have to wait weeks for parts. We have a stock of the most commonly used parts. 
But most importantly, original components are the key to quality Samsung Freezer Repair. After all, they last longer when handled with care. And they are ideal for repairs.
Undoubtedly you can try to repair the freezer yourself. But we do not recommend making repairs of this equipment by your own hands, because often such repairs lead to more problems. It is better to entrust the repair to qualified specialists.
It is not necessary to waste precious time in thinking, it is enough to turn to the professionals of their business. Appliance Service Center has been repairing various home appliances for a long time. The experienced craftsmen at Samsung Freezer Repair and Service will determine the breakdown quickly and efficiently. And also promptly, and most importantly, qualitatively fix it. Save time for yourself and your family.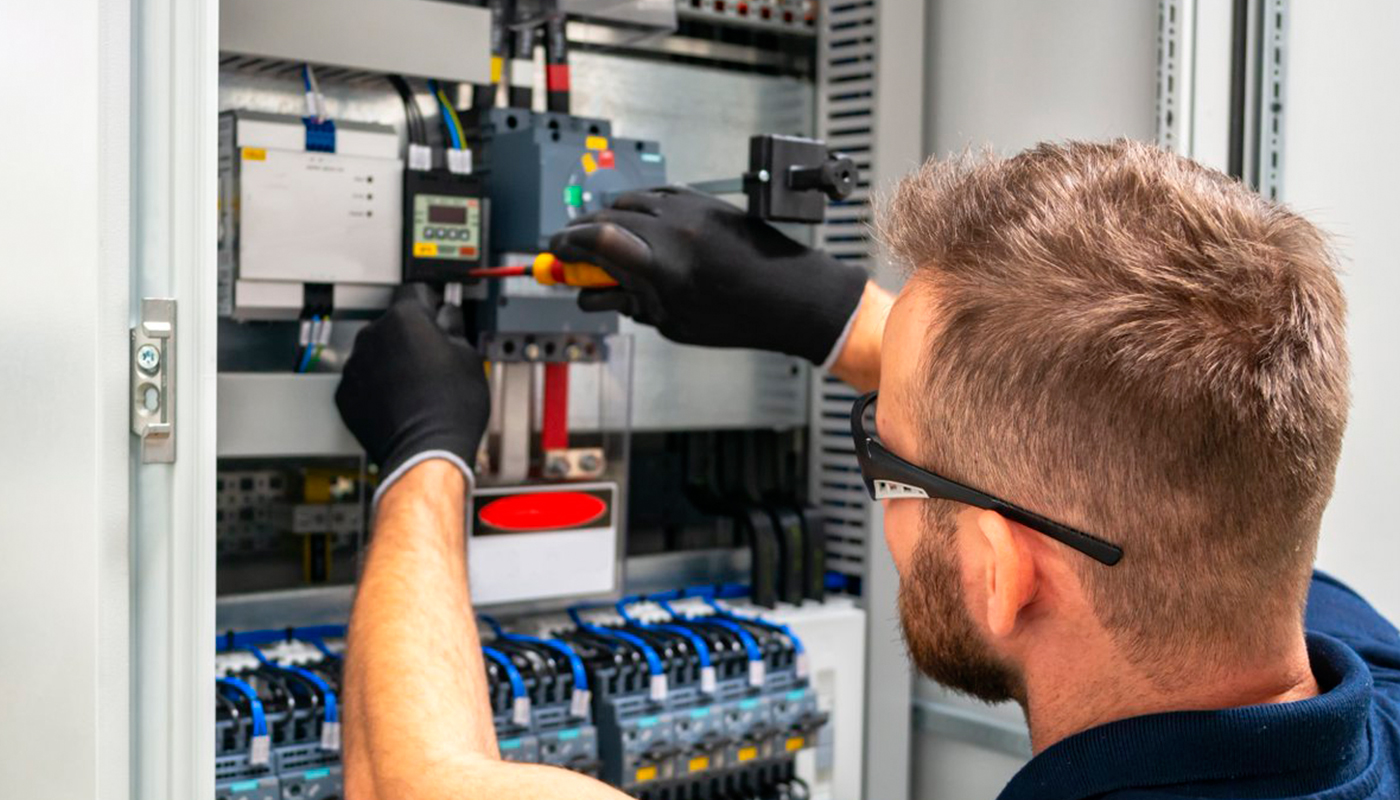 We use only professional equipment and tools, original spare parts, and high-quality consumables. Our technicians have 20 years of experience working with all types of household appliances from well-known brands. Specialists constantly improve their skills to provide you with high-quality services.
Frequently Asked Questions
Do you have questions that require a qualified freezer repair and service specialist to answer? Then come to us – call us, write to us, or find the answer on our site.
If the temperature in your freezer has dropped – there could be a number of reasons for this. The most likely ones are a broken thermostat or a broken temperature sensor. The freezer runs constantly and does not turn off, and thus the temperature drops below the set temperature, but the most dangerous thing is that it can lead to compressor failure. If you notice temperature deviations, contact a Samsung Freezer Repair technician and he or she will fix the breakdown.
The first sign may be that your refrigerator won't turn on at all, is silent, and doesn't make a single sound. Only a Samsung Freezer Repair technician can determine that it is the thermostat that is broken, as this symptom is also typical of a broken compressor. 
If the electronic module is broken, the unit simply will not turn on. Or the freezer switches on and off arbitrarily, without any pattern. At this time the display of the freezer blinks, the relay may make clicks, and the LEDs also blink chaotically. Accurate diagnosis and Samsung Freezer Repair by our specialists will bring your appliances back to life.