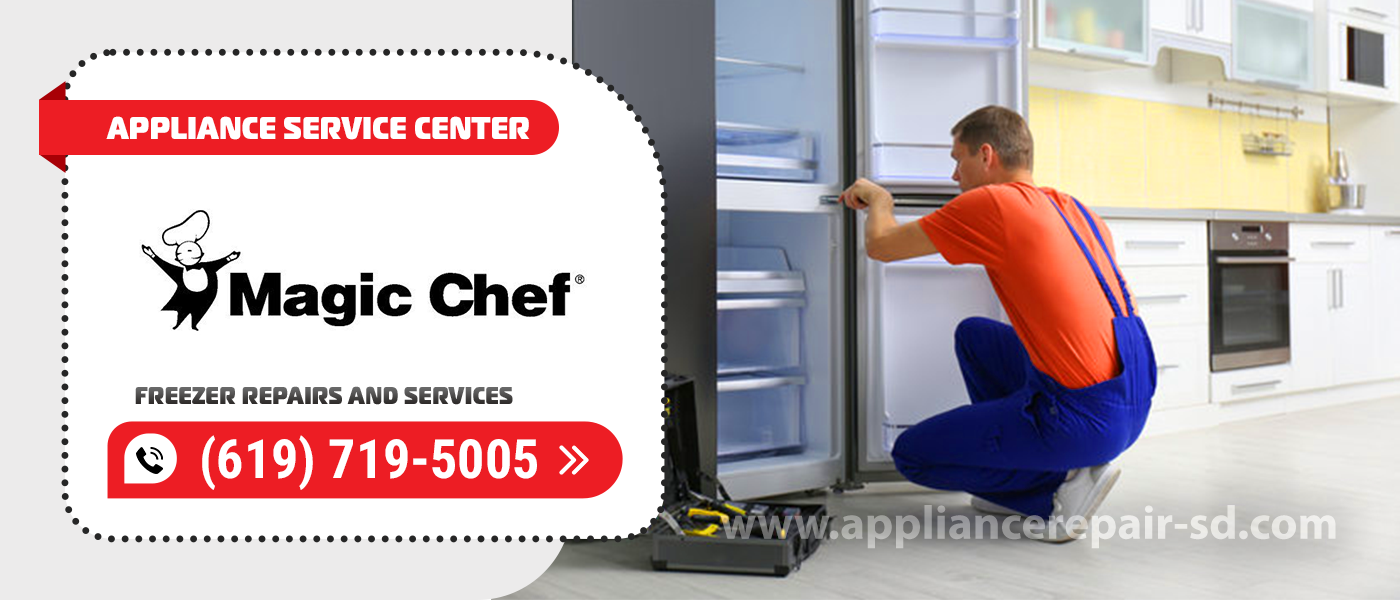 Magic Chef Freezer Repair
Failure of a Magic Chef freezer is fraught with consequences and losses. But there's no need to get upset or worry. Appliance Service Center knows firsthand what to do in such cases. We've been professionally repairing appliances for over 20 years. Our technicians can perform Magic Chef Freezer Repair in San Diego County to the highest standards. With a quality guarantee and reliability for years to come.
Causes of freezer failure
Often the cause of Magic Chef Freezer Repair and Service is a lack of compliance with the product's operating procedures. The main mistakes of the owners of the equipment, which lead to the repair of equipment:
Violation of the operation mode. Each freezer is capable of freezing a certain amount of food in a given period of time. If you do not comply with the manufacturer's recommendations in this matter – it can fail.

Dirt and dust on the radiator, condenser or air filter. Also installing freezers too close to walls and other appliances. All of this cause the system to overheat and fail.

Ice formation on the temperature sensor, on the dehumidifier, and in the vent. This appears when the chamber is heavily loaded, long operation without preventive maintenance.

Mechanical damage. 

Wear and tear of parts over time.
Common types of breakdowns
Compressor failure.

Leaks in the compressor casing. The cause may be deterioration of the seals or damage to the door/cover of the freezer compartment.

Failure of temperature sensor or controller.

Defective filter drier.

Refrigerant leakage or clogging. 
All of the possible breakdowns that can plague your appliance can be easily fixed by our Magic Chef Freezer Repairs technicians. 
But it's best to prevent a breakdown. In order to identify breakdowns sooner, routine maintenance should be performed on your appliances. A competent Magic Chef Freezer Repair and Service technician will be able to identify the signs of serious breakdowns ahead of time. 
We are the choice for many reasons
We provide urgent

Magic Chef Freezer Repair.

In most cases, our technician will come and do all the work the day you call. In 90% of cases, one day is enough for us to do the repair.

Licensed technicians fix breakdowns of any degree of complexity. We are able to bring back to life the simplest to the newest equipment. That is why we have years of experience and modern equipment. Our specialists regularly improve their professionalism by regularly attending training sessions at the manufacturers' factories. 

If a breakdown requires a complex repair, we have a specialized workshop. It is equipped with modern diagnostic equipment and

Magic Chef Freezer Repairs and Services

.

We work only with original parts from the manufacturer. Original parts are also the key to quality repairs. After all, they last longer when used with care, and they are perfect for repairs.

Quality of repair. Our masters try to do the work as fast as possible without damage in quality. Our professionalism is confirmed by reviews of grateful clients. Who not only leave positive comments but also recommend us to their friends and acquaintances.

On completion of the repair work, our technician provides an act of work and a warranty card for three months. But the warranty is only for your peace of mind. After all, we know how to reliably repair your technique. 

Among other things, our specialists will advise you how to prevent possible breakdowns and recommend preventive measures. It is important for us to make you satisfied with the quality of our work!
How to place an order
You need to contact us in any convenient way – make an application on the site or just call! Then our manager will contact you to clarify the nature of the breakage, the terms of your equipment and model. And also, will agree on a convenient time for you to come to our specialist Magic Chef Freezer Repair. This will allow our technician to arrive on the call with all the necessary equipment and parts for repair.
When your freezer malfunctions, don't listen to your friends' advice or seek out technicians with questionable experience and skills. Appliance Service Center is a company which has been professionally repairing household and commercial appliances for 20 years. All you have to do is call in a Magic Chef Freezer Repair and Service technician. And in no time at all, your appliances will be back in their usual working condition.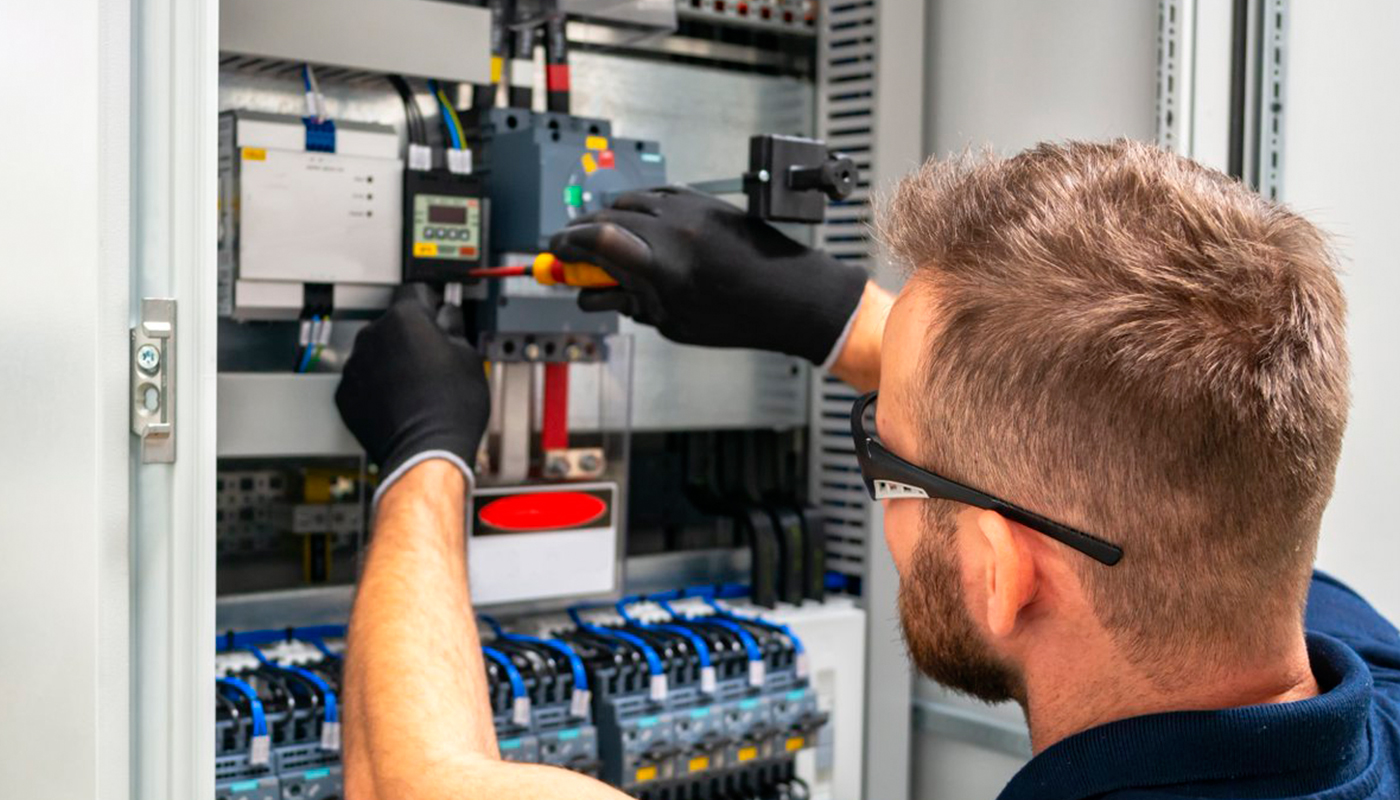 We use only professional equipment and tools, original spare parts, and high-quality consumables. Our technicians have 20 years of experience working with all types of household appliances from well-known brands. Specialists constantly improve their skills to provide you with high-quality services.
Frequently Asked Questions
Your questions are our answers. Everything we know about freezer operation, maintenance and repair – we'll tell you and even show you.
Among the main reasons why the freezer may not turn on is the failure of the compressor motor and the electronic control board. It can be caused both by long work of the element at the increased power, and natural wear and tear of details. It is also necessary to mention freon leakage. Refrigerant topping up and full sealing of the system by Magic Chef Freezer Repair specialists can help fix the situation. 
There are a few rules of thumb that you can follow to keep your equipment running steadily for a long time and avoid Magic Chef Freezer Repair. Take care to install the equipment properly, with good air circulation. Defrost regularly and disinfect and wet clean. Do not overload the unit with excessive amounts of food by following the stacking instructions. Follow the manufacturer's operating instructions. 
Breakdowns are best prevented. It's cost-effective by all accounts and less troublesome than a major Magic Chef Freezer Repair. In order to identify breakdowns sooner, you should have routine maintenance performed on your appliances. A competent technician will check all vulnerable parts of your freezer and recognize signs of future serious breakdowns ahead of time.