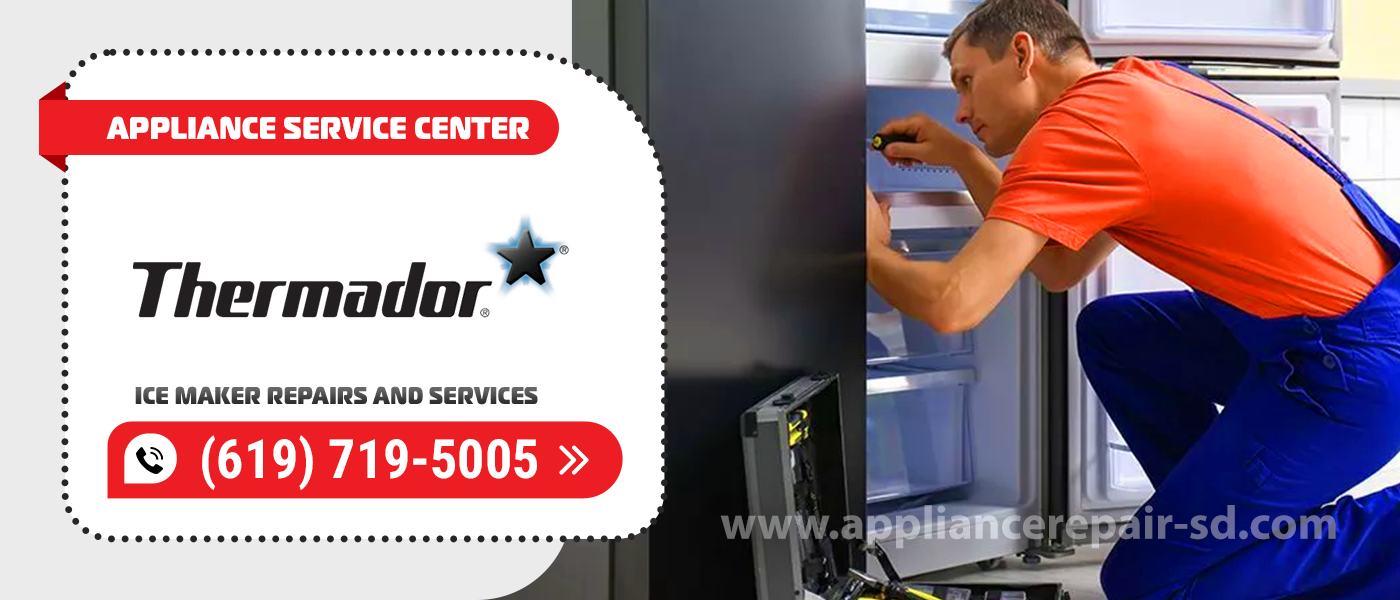 Thermador Ice Maker Repair
Appliance Service Center has been providing quality ice maker repair services since 2001.  You can hear about our professionalism from each of our customers, who have repeatedly recommended us to their friends and acquaintances. For faulty repairs, we recommend that you contact Thermador Ice Maker Repair in San Diego County. We will quickly diagnose and repair your ice maker. 
As of late, ice makers have become an integral part of most catering establishments (cafes, bars, restaurants, and more). Their main advantage is their ability to make large quantities of ice cubes quickly. But like any technique, an ice maker can break down. Breakdown can come from improper use, poor quality repairs and much more. 
The main faults with which our masters come across
Water leaking from the ice maker. 

Constant noise, whistling.

Voltage on the body of the ice maker.

No ice at all or irregularly shaped cubes.

Production cycle lasts longer than 30 minutes.

Evaporator does not freeze. 

Non-transparent ice cubes.

Ice freezes in one piece.

Intake lid is ajar with ice cubes.

Water in the ice maker's bin, melted ice floats in the water.
It's not hard for our company's specialists to find ice maker breakdowns, they will easily perform Thermador Ice Maker Repair and Service. 
Advantages of Appliance Service Center 
We are 100% sure of the quality of the parts we provide. We officially cooperate with the companies producing the original parts. After all, we understand that for quality Thermador Ice Maker Repairs you have to not only find and fix the problem correctly. But at the same time use premium materials.
Before starting the job, our technicians always tell you the upfront cost of ice maker repair. If the part is repairable when the breakage is fixed, we will definitely fix it. If it's not repairable, we'll replace it. Since we cooperate with the manufacturers of the component parts, the price for them is much lower. The specialists always charge for their work exactly as much as it costs. That's why the prices for Thermador Ice Maker Repair and Service always match their complexity.
On our website, you will be able to leave a request at any time that is convenient for you. The operators at Appliance Service Center will get back to you as soon as possible and help you out. They are on call 24/7, ready to help call a technician at any time of day or night in case of a critical situation.
At the end of the repair work, you get a warranty on the work we've done. But we are sure that you won't need it, because our specialists always make quality repairs. Thermador Ice Maker Repair technicians will be happy to answer all of your questions about the rules of operation and more.
You don't have to worry about getting your ice maker to the service center. We do most of the work on-site. But if you need to take it to the office, we will pick it up ourselves, fix the breakdown and deliver it back.
You can safely trust the quality of our services. All of the technicians at Thermador Ice Maker Repairs and Services have completed more than one course that gives them the ability to officially repair ice makers. And every six months they take a refresher course.
We provide fast and high-quality ice maker diagnostics. The Appliance Service Center recommends this procedure once every three months. Diagnostics performed on time will help avoid serious breakdowns and costly Thermador Ice Maker Repair.
Appliance Service Center main aspiration is happy customers. We take care of each breakage as if it was our own. Our company is known for its professionalism, respectful customer service, not overpriced services and much more. We always take responsibility for the Thermador Ice Maker Repair and Service produced, giving you a warranty.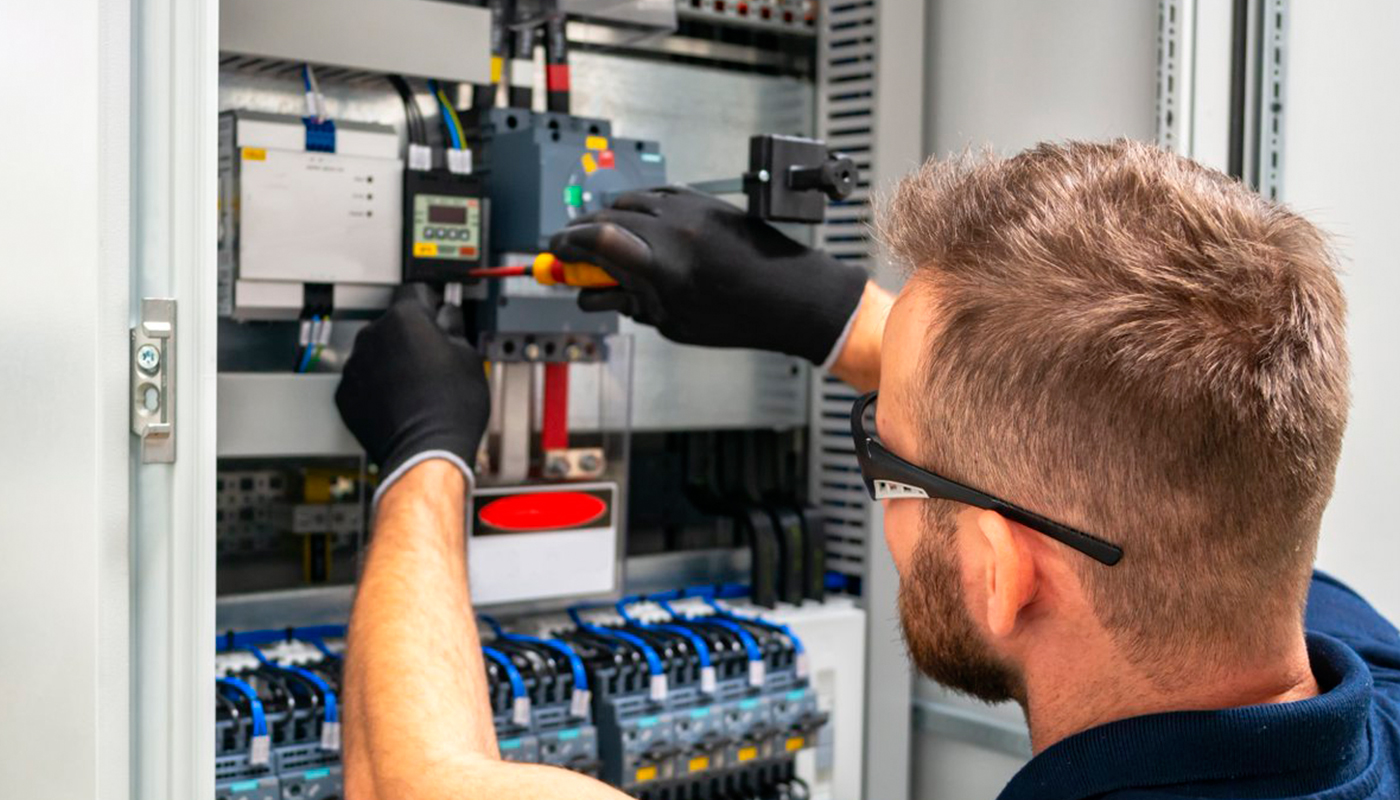 We use only professional equipment and tools, original spare parts, and high-quality consumables. Our technicians have 20 years of experience working with all types of household appliances from well-known brands. Specialists constantly improve their skills to provide you with high-quality services.
Frequently Asked Questions
Do you have questions about ice maker repair? Before contacting our operator, we advise you to look through the frequently asked questions of our company's customers.
There are several possible causes of ice maker motor failure. Here are some of them:
Overloading of the motor.

Overheating of the motor.

Poor quality of supply voltage.

Worn or damaged components.
It is important to note that repairing and fixing ice maker motor breakdowns is a complicated procedure, so contact a Thermador Ice Maker Repair service center. 
Yes, our ice maker repair company provides emergency Thermador Ice Maker Repair services in case of breakdown after hours or on weekends. We understand that breakdowns can occur suddenly and require immediate intervention. That's why we try to be available to our customers at all times.
Here are a little ice maker maintenance tips to help prevent situations where Thermador Ice Maker Repair is needed:
Regular cleaning and maintenance.

Maintain an adequate flow of fresh water.

Maintain optimum temperature.

Clean and maintain the evaporator.

Use ice correctly.