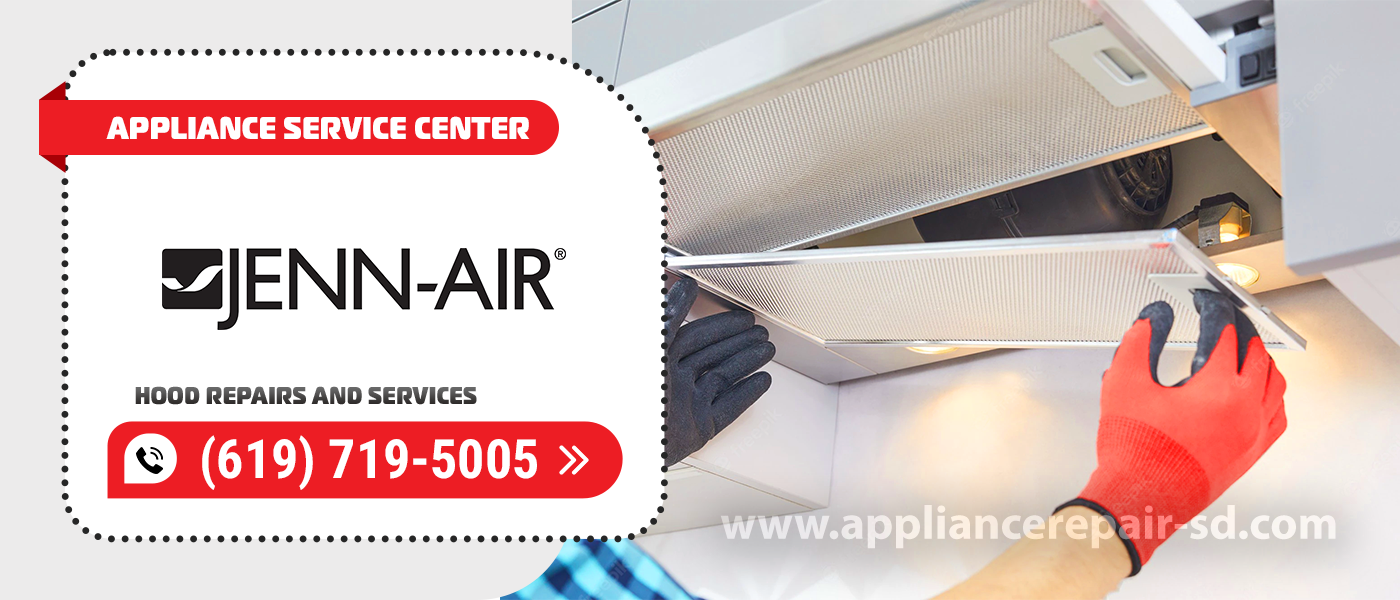 It's hard to imagine a modern kitchen without a cooker hood. A Jenn-Air kitchen hood has saved more than one home from unpleasant cooking smells. But what should you do if your cooker hood fails? There are two ways out – buy a new one or go to a service center for repair. The first option is not a solution, and it is quite expensive. But Appliance Service Center will readily provide you with prompt and professional Jenn-Air Hood Repair in San Diego County.
Causes of kitchen hood breakdowns
Untimely cleaning of the grease trap filter. You should clean it at least once every 3 weeks if you cook for the average family on a daily basis. 

The charcoal filter, if present, should be completely replaced every six months. Modern models have an LED indicator that will tell you when the filter needs to be replaced. 

A clogged ventilation system can put a great strain on the operation of the hood. Ideally, there should be a natural draft in the ventilation duct.

Operating the hood under direct fire from burners can also quickly damage the system.

The cooker hood must be switched on at all times; a heavy stream of vapor can rapidly damage the cooker hood motor if it is out of order. 
Causes like these can easily destroy the appliance itself, the motor and the electronics. Contact a specialist Jenn-Air Hood Repair and Service, because to fix the breakdown or to clean, you need to immediately if you notice that something is wrong. After all, further use can further aggravate the work of individual elements of the hood. For example, the motor can get stuck with grease and stop, after which it will simply burn out.
The most common breakdowns of hoods
Hood has poor air extraction.

Hood does not work at all.

The cooker hood works, but it removes odors from the kitchen very poorly.

The cooker hood works but makes a lot of noise.

Hood does not switch speeds.

Back draft of the appliance.

Panel sensor does not work.

Appliance backlight does not work.
If you've encountered a similar breakdown or have another problem, call us. Our Jenn-Air Hood Repairs technician will accurately diagnose and repair all breakdowns promptly.
We are chosen for many reasons
We provide urgent

Jenn-Air Hood Repair and Service

. In most cases, our technician will come and do all the work on the day of call. We only need one day for repairs in 90% of cases.

Licensed technicians fix breakdowns of any degree of complexity. We are able to bring back to life the simplest to the newest equipment. That is why we have years of experience and modern equipment. Our specialists regularly improve their professionalism by regularly attending training sessions at the manufacturers' factories. 

If a breakdown requires a complex repair, we have a specialized workshop. It is equipped with modern equipment for diagnostics and

Jenn-Air Hood Repair.

We work only with original parts from the manufacturer. Original parts are also a guarantee of quality repair. After all, they last longer when used with care, and they are perfect for repairs.

Jenn-Air Hood Repairs and Services

quality. Our technicians try to get their work done as quickly as possible, without sacrificing quality. Testimonials from grateful customers speak for our professionalism. Who not only leave positive comments, but also recommend us to their friends and acquaintances.

On completion of the repair work, our technician provides an act of work and a warranty card for three months. But the warranty is only for your peace of mind. After all, we know how to perform

Jenn-Air Hood Repair

reliably. 

Among other things, craftsmen will tell you how to prevent possible breakdowns and advise preventive measures. It is important to us that you are satisfied with the quality of our work!
Hood Repair basic recommendations
Keep an eye on the filters so that they do not get clogged. Modern, high-quality models have a "pollution" indicator light with a light bulb or buzzer. 

Do not use the cooker hood under open flame without any cookware. 

Visually inspect the motor for grease buildup. 

When installing the hood, maintain a certain height of the hood from the hob surface.
If you contact the Appliance Service Center, you can be sure of the quality of the services provided. Over the years, we have earned the trust of our customers. Our experienced Jenn-Air Hood Repair and Service technicians will identify the problem and find a quick fix. We also offer routine maintenance on any home appliance to extend the life of your appliances.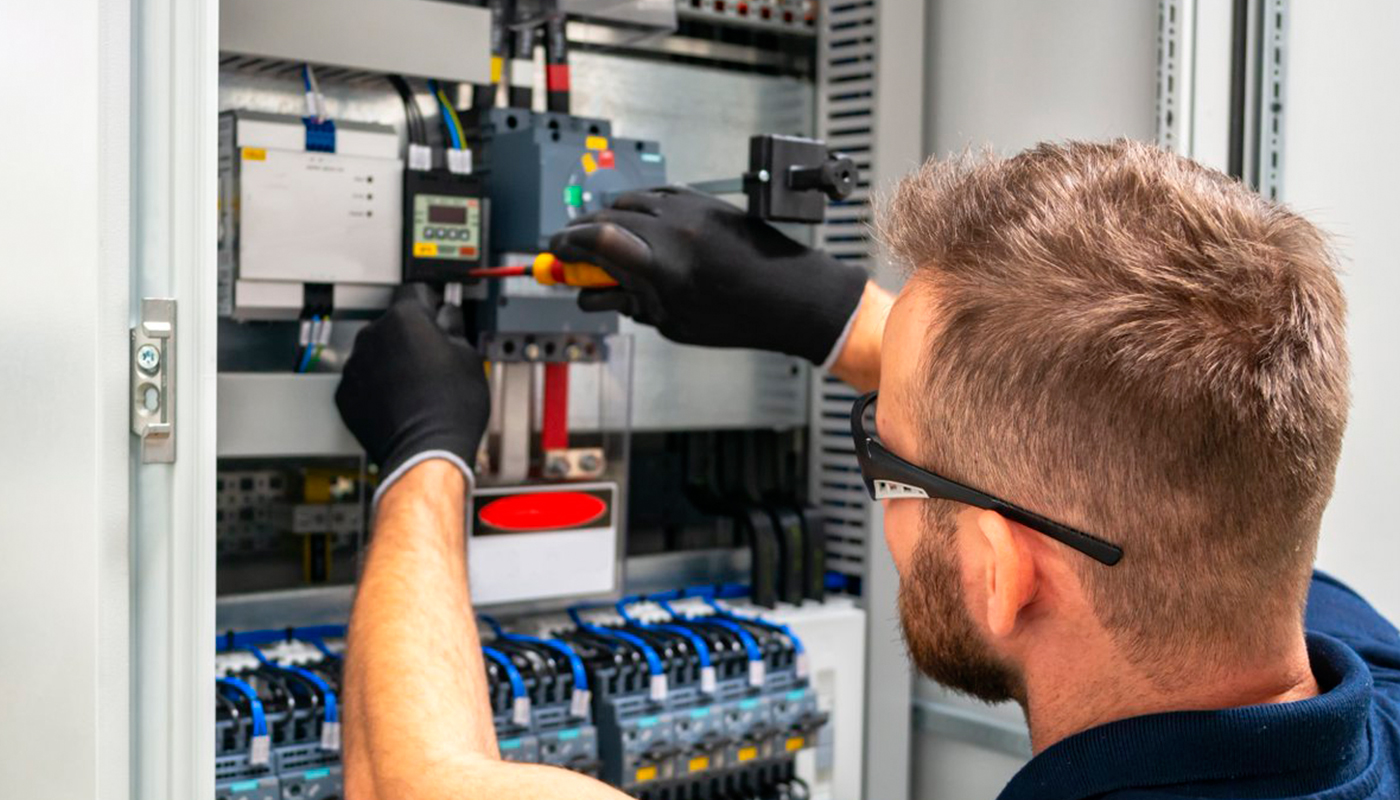 We use only professional equipment and tools, original spare parts, and high-quality consumables. Our technicians have 20 years of experience working with all types of household appliances from well-known brands. Specialists constantly improve their skills to provide you with high-quality services.
Frequently Asked Questions
Do you have questions about kitchen hood repair? Before you contact our operator, we suggest you look at the frequently asked questions that our company's customers ask.
Regular preventive maintenance and maintenance is recommended to improve the efficiency of your kitchen hood and prevent problems. Here are a few recommendations for hood preventive maintenance:
Cleaning the filters.

Cleaning the fan and ducts.

Checking the electrical connections.

Checking the installation.

Regular performance checks.
You can contact our company to make an appointment for Jenn-Air Hood Repair or for more information in the following ways:
Phone.

Email.

Online form.

In-person visit.
We strive to be available to our customers and provide prompt assistance. Feel free to contact us for a repair appointment or more information.
If you're having a problem with uneven suction or lack of efficiency in your kitchen hood, here are some steps you can take for Jenn-Air Hood Repair:
Check and clean the filters.

Check the air ducts and ventilation.

Check the power and settings of the hood.

Check the condition of the fan.

Check installation and tightness.