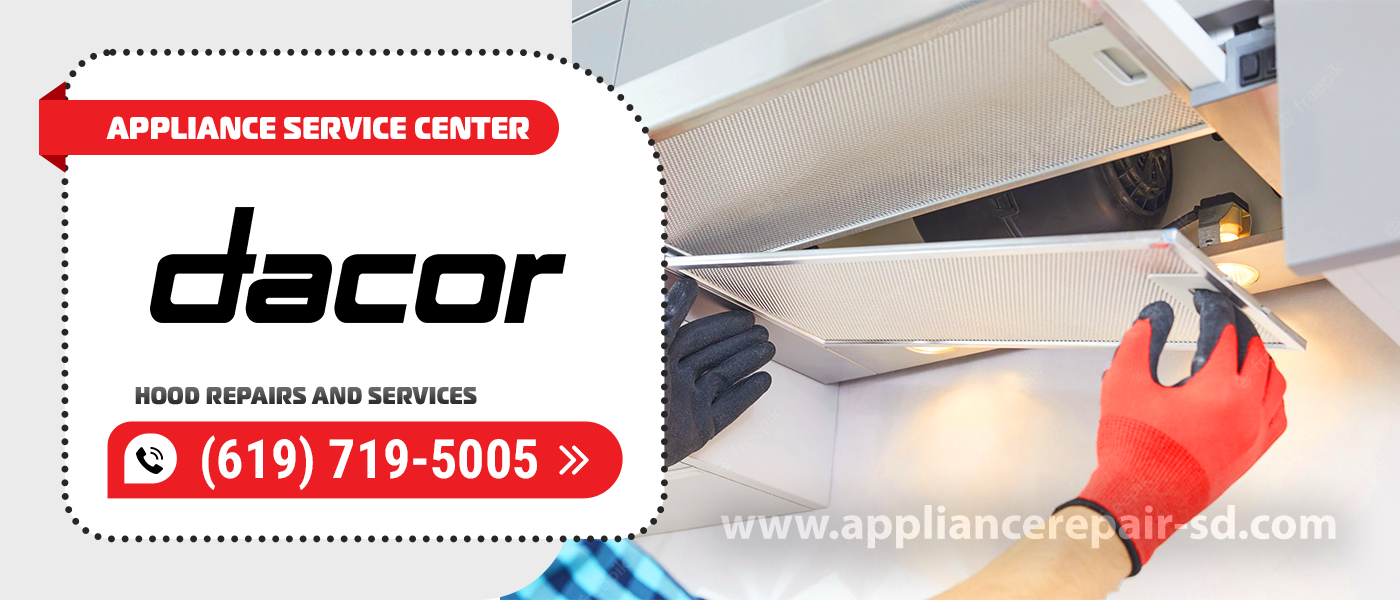 If you happen to have a kitchen hood that stops working, drafts poorly, makes noise, and doesn't perform its functions, then it's urgent that it be repaired. In this case, contact the Appliance Service Center. Breakdown of such a device is usually difficult because the fundamental design of hoods has a rather complicated structure. Our company provides quality Dacor Hood Repair in San Diego County.
Our company has been working on refrigeration repair since 2001. Our Dacor Hood Repair and Service technicians have over 20 years of experience.
Causes of a soon-to-be-failed hood
Untimely cleaning of the grease trap filter. Clean it at least every 3 weeks if you cook for an average family daily.

The charcoal filter, if available, should be completely replaced every six months, but it is usually placed where the hood has a recirculation version of the output of the trapped steam. The modern models have an LED indicator to inform you when the filter needs replacing.

Operating the hood under direct fire from burners can also quickly damage the system.

A clogged ventilation system can put a lot of strain on the operation of the hood.

Ideally, there should be a natural draft in the ventilation duct.

It is important to remember to turn on the hood, as a strong stream of greasy steam can quickly ruin a hood's motor if it is out of service at the time. Our experienced

Dacor Hood Repairs

technicians will quickly diagnose this problem.
Causes like this can easily take out the unit itself, the motor, and the electronics. Repair or at least cleaning must be done immediately if you notice anything wrong, because further use can further aggravate the work of individual elements of the hood, for example the motor may stick with grease and stop, after which it will simply burn out.
Main recommendations
Keep an eye on the filters to prevent them from clogging. In modern and high-quality models there is a "pollution" indicator in the form of a light bulb or buzzer.

 Do not allow the hood to operate under open flame or without cookware.

 Inspect the motor for grease build-up.
Main malfunctions and causes of damage
Weak draft
Steam is pulling less efficiently, the first thing to do is to check the filters, especially the grease trap filter, they might be clogged and hinder the escape of steam. You can check this by turning on the hood without filters. The filters should be cleaned and washed with special grease removers.
Bad drafts can also be due to other, less common reasons. Perhaps the ventilation duct at home is clogged with something. If you can't fix the problem yourself, call Dacor Hood Repair and Service.
Hood lighting doesn't work
The lighting system in most hoods is not complicated. You should start by inspecting the bulb itself and the socket contacts. Insert a known good bulb and immediately verify that the bulb itself is in good working order.
If there are no faults, make sure that the extractor motor is working, if not, start from the socket and inspect all circuits and the switch panel (buttons). You can check the contact pads with a screwdriver, a tester, or an indicator light. Our Dacor Hood Repair technicians will fix the problem.
It makes a lot of noise when it's running
Most cheap, low-quality hoods make a lot of noise because of the poor assembly of the unit. Even a small backlash and backlash during motor operation, can create a lot of vibration, buzzing and knocking. Over time, even in a good model, mounts come off and mechanisms are disturbed due to wear and tear. Contact our service center, Dacor Hood Repairs and Services technicians will quickly fix the problem.
The hood doesn't work at all
In such cases, the fan doesn't work, and the backlight doesn't turn on. Of course, you must check the source, make sure there is voltage in the socket and then check all the circuits in series with a multimeter. It is necessary to make sure that there is voltage at the sites of the board or the switch, possibly a wire burned out or a fuse, usually a fuse. Failure associated with the complete failure of the hood, will fix the master Dacor Hood Repair.
Hood repairs are just like any other appliance. The main breakdowns come from broken wires and connection contacts. Motor windings often burn from jammed bearings and moving parts due to aggressive grease.
Electronic control board tracks can flake off, capacitors can swell, or wires can simply break off. All of the above and many other hood failures can easily be fixed by an Appliance Service Center technician. Contact only the experienced technicians at Dacor Hood Repair and Service. Our professionals will quickly find the breakdowns in your hood and fix them.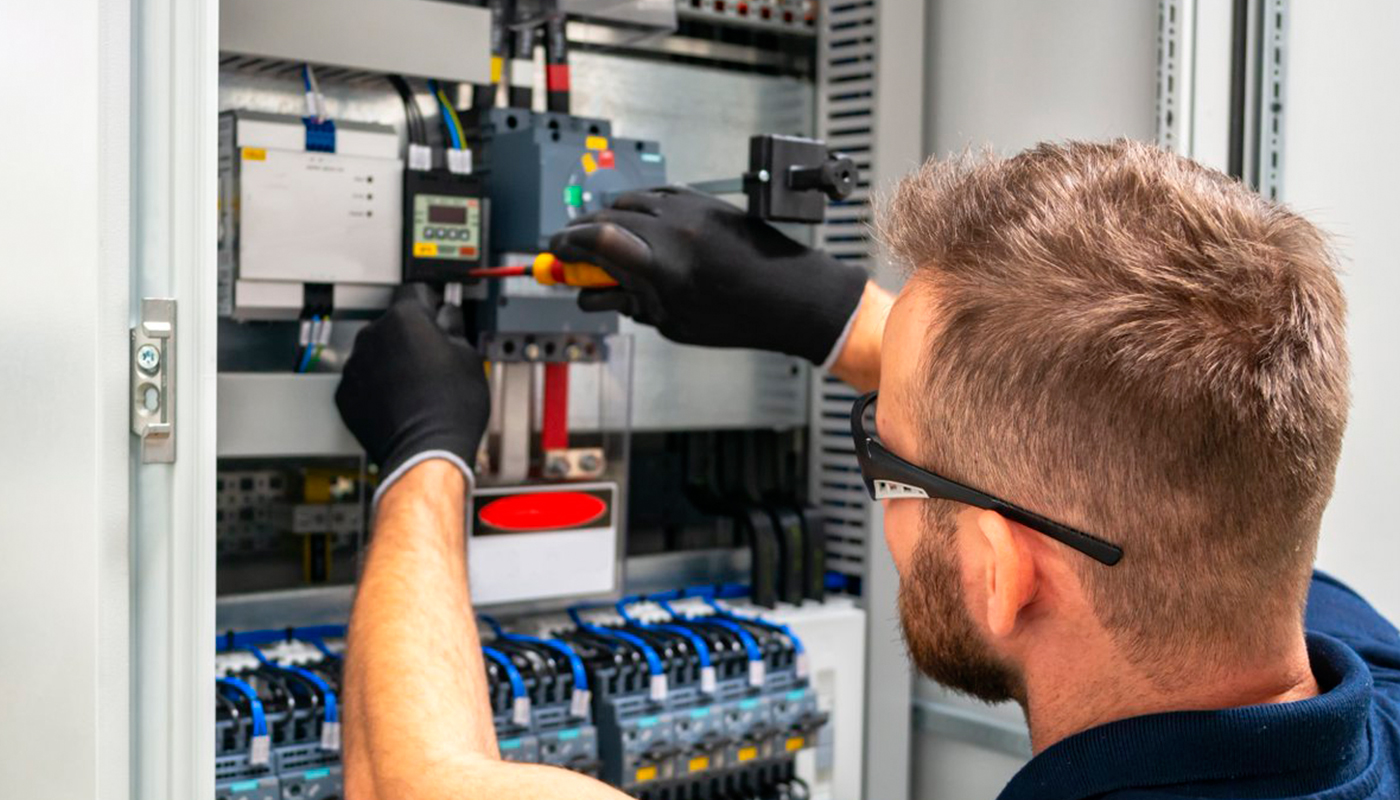 We use only professional equipment and tools, original spare parts, and high-quality consumables. Our technicians have 20 years of experience working with all types of household appliances from well-known brands. Specialists constantly improve their skills to provide you with high-quality services.
Frequently Asked Questions
Do you have questions about kitchen hood repair? Before you contact our operator, we advise you to look at the frequently asked questions that our company's customers ask.
Proper installation of a kitchen hood requires the following steps:
Choosing an installation location.

Measuring and marking.

Mounting the brackets.

Connecting the ventilation.

Connecting the power supply.

Hood installation.

Testing and adjustment.
As a Dacor Hood Repair company, we follow a specific procedure for estimating repair costs. Here are the general steps we take:
Inspection and diagnosis.

Identification of problems and necessary work.

Estimating the cost of the work.

Providing an estimate.
It is important to note that each situation can be unique, and repair costs can vary depending on the nature of the problem, hood model, and other factors. That's why our team tries to be transparent and provide customers with the most accurate estimate for hood repair.
If you're having problems with foul odors that aren't being removed when your hood is running, here are a few recommendations that can help with Dacor Hood Repair:
Check and clean the filters.

Clean the hood.

Check the ventilation.

Use an activated charcoal filter.

Check for air leaks.

Avoid cooking with an open flame.