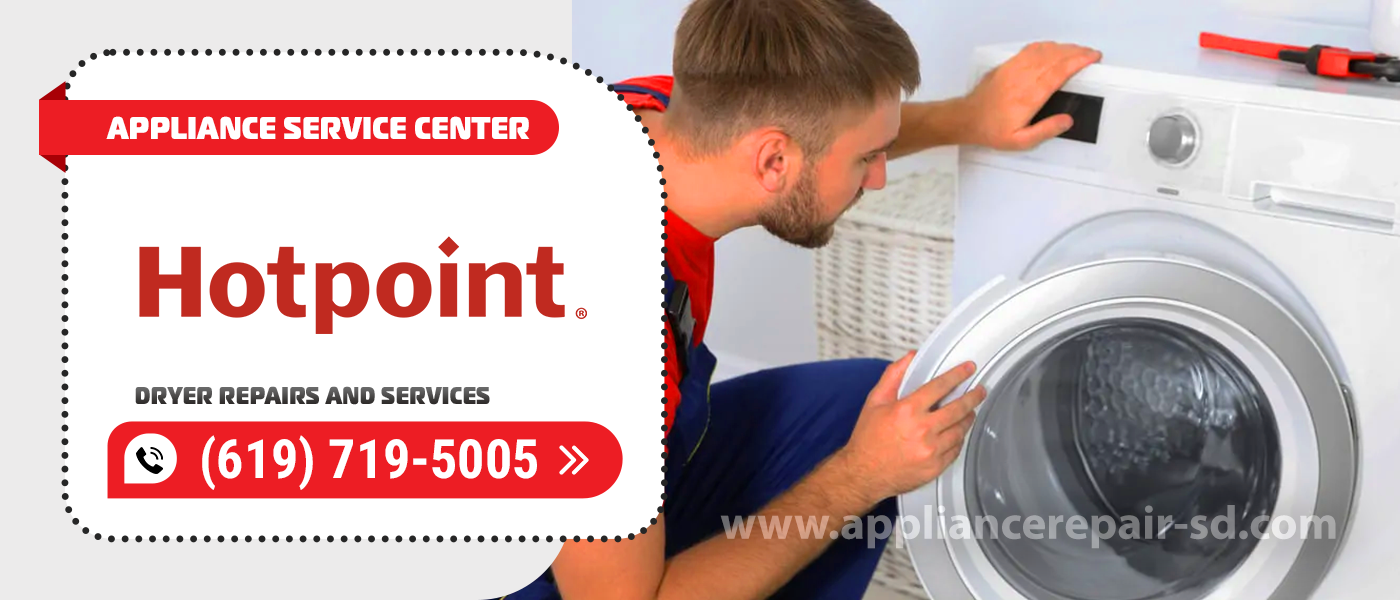 The dryer has been part of many homes for a long time now. Once you feel the comfort, you don't want to give it up. But what to do if a Hotpoint dryer breaks down? There is nothing to worry about. Appliance Service Center is the right company to help you solve all your problems with your appliances. For over 20 years, Americans have been ordering Hotpoint Dryer Repair in San Diego County from us. And they know what they're doing, because we have true professionals on staff.
We often repair the following breakdowns
Central control board malfunctions.

Burned out motor.

Worn out electric motor bearings.

Breakage of water drainage system.

Breakage of heating element (heating element element).

Appearance of the leak.
Also, often there are cases when it is necessary to replace the various handles, holders, buttons and rubbers. But this is a serious breakdown, which requires the intervention of a master specializing in Hotpoint Dryer Repair and Service.
If the drum of the washing machine worked with a systematic overloading of weight, it leads to a breakage of belts, damage to the axes of rotation, premature wear of shock absorbers and depressurization. When these breakdowns occur, the machine is very rattly and vibrates strongly.
It often happens that the machine stops turning on. The cause of this malfunction may be a broken control box, button or socket. Before you proceed to Hotpoint Dryer Repairs, it is worth making sure that the electrical wiring is in good working order.
How we work
Our manager will call you back. He will specify the nature of the breakage, the model of your dryer, the period of operation, and specify a convenient time for you to arrive. This will allow the master to come to the site already equipped with everything you need for diagnosis and repair Hotpoint Dryer Repair and Service. For any questions, please contact our call center from 09:00 am to 21:00 pm, including weekends!
Our Hotpoint Dryer Repair technicians have the latest diagnostic equipment and are fluent in everything. 
Our company is known for prompt and quality repairs. We have everything you need for that. Our own warehouse with original parts, modern equipment, and a staff of professional technicians with 20 years of experience. Repair in 90% of cases takes one day. And your comfort reigns again in your home!
Quality control of the work.
Our Hotpoint Dryer Repairs and Services technician will not leave until he or she is satisfied that your appliance is in working order.
We provide a three-month warranty.
Upon completion of all work, our technician will provide a 90-day warranty card. This is more for your peace of mind. After all, we know how to repair appliances, so they don't break down again.
Our advantages
Urgent diagnostics. Within a day, our specialists will determine the cause.

Reasonable price. Thanks to direct deliveries of parts, we are able to keep prices to a minimum.

Quality. All work performed and replaced parts warranty 90 days.
Undoubtedly you can try to repair the dryer itself. But we do not recommend making repairs of this equipment with your own hands, as often such repairs lead to even more problems. It concerns the repair of the central board. It is better to trust Hotpoint Dryer Repair to qualified professionals who will repair your appliance properly and reliably.
If you discover any malfunction – contact us! And you're guaranteed prompt and quality repair of your washing machine of any make and model.
Clients choose us!
Appliance Service Center is the real professionals. We care about our name and your appliances as if they were our own. Our craftsmen will perform Hotpoint Dryer Repair and Service promptly and efficiently. And upon completion of their work will advise on all matters of interest to you. And advise how you can avoid breakdowns in the future. After all, the best breakdown is the one that can be prevented.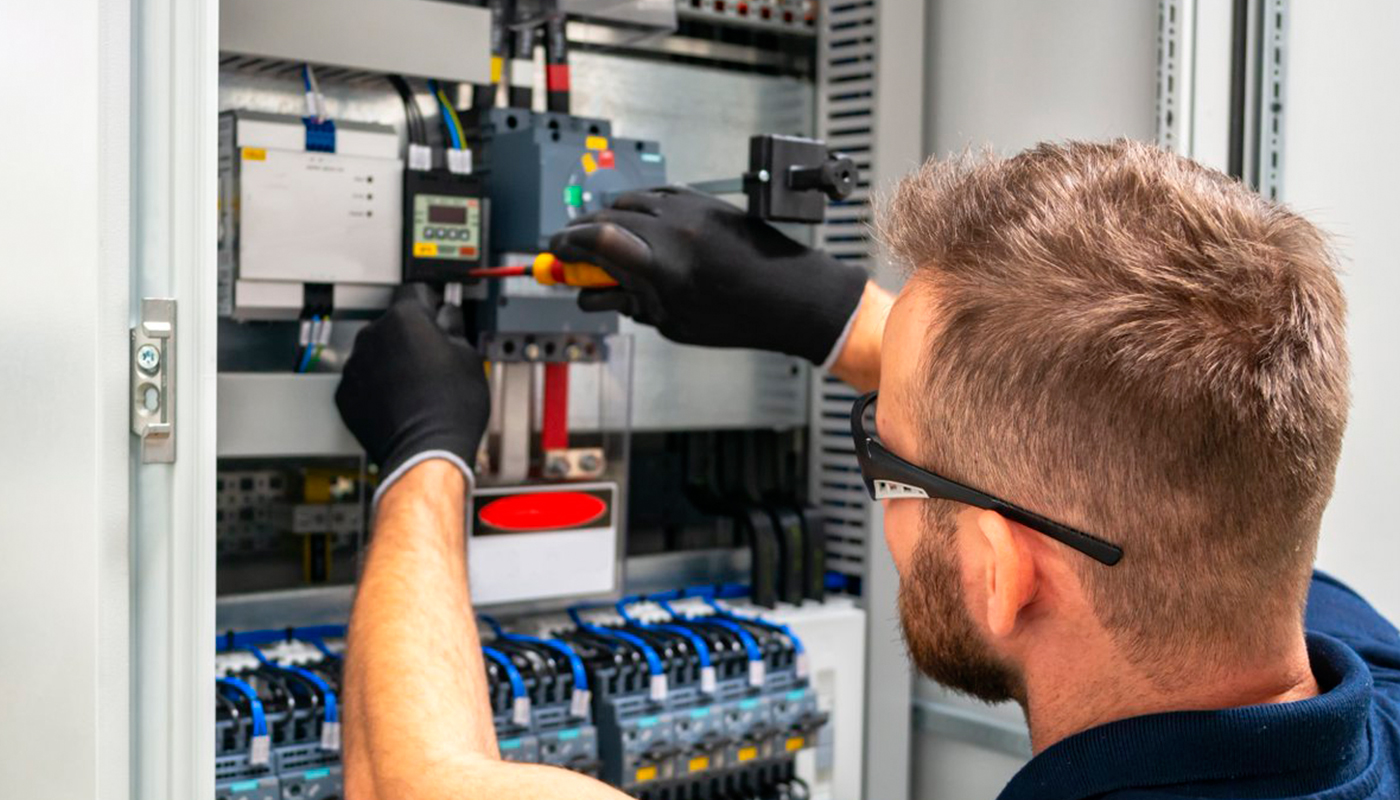 We use only professional equipment and tools, original spare parts, and high-quality consumables. Our technicians have 20 years of experience working with all types of household appliances from well-known brands. Specialists constantly improve their skills to provide you with high-quality services.
Frequently Asked Questions
The most asked questions and answers by professional experts with years of experience with home appliances.
An electric motor rotates a drum filled with clothes, while also driving a fan that blows a stream of hot air through the drum. A heating element heats the air, and a thermostat maintains the desired temperature. Water evaporates from the clothes by circulating hot air. A well-functioning process is built on the reliable interaction of several nodes. A breakdown in one of them requires a professional Hotpoint Dryer Repair.
Note that the lint filter should be cleaned after every use of the dryer. This is recommended by all Hotpoint Dryer Repair experts. Also, appliance manufacturers advise using a proven cleaner for your appliance. This will keep your items in proper appearance.
It is extremely important to take care of your dryer! Any malfunctions in your machine can directly affect the drying quality and appearance of your clothes. Some malfunctions can even result in damage to your clothes. Not to mention, timely maintenance and early Hotpoint Dryer Repair, will avoid serious problems with your tech.