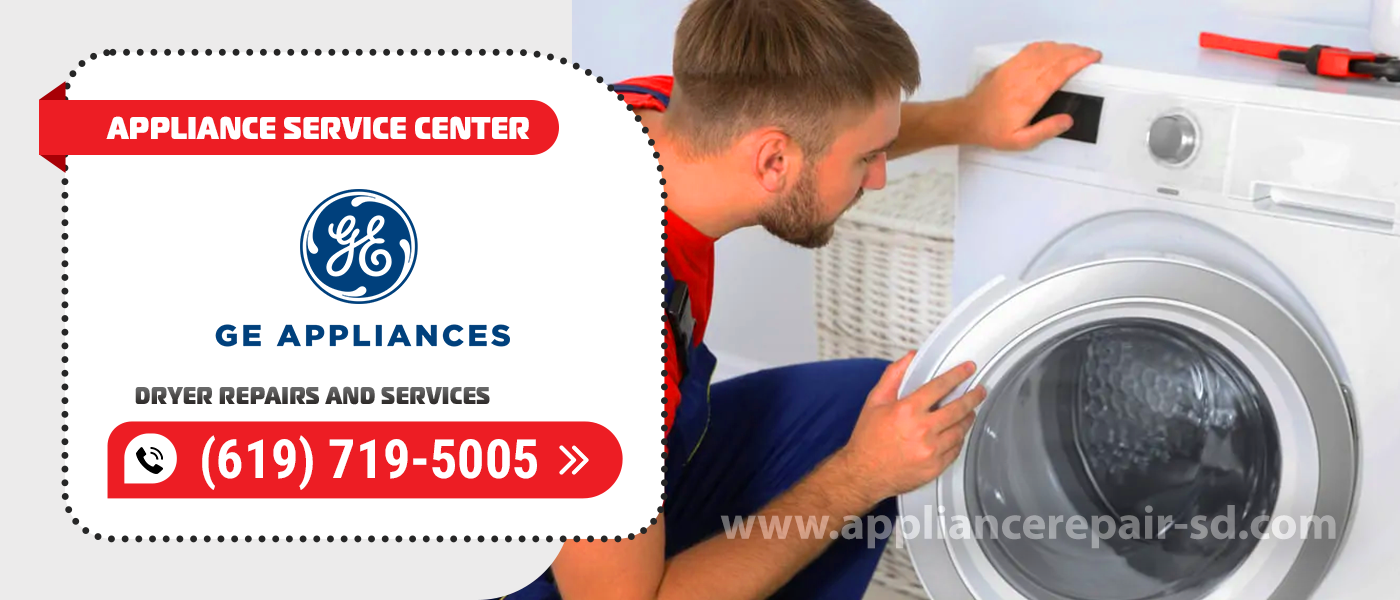 Life of a modern man is already hard to imagine without our beloved modern devices. And its failure brings us a lot of inconvenience, so you need a quick solution to such problems. Appliance Service Center repairs and maintains GE brand household and professional dryers in the shortest possible time at an affordable price. Our technicians can fix even the most complicated breakdown, all you need to do is order GE Dryer Repair in San Diego County from our company.
We service and repair dryers of all well-known brands and models. But in order to avoid serious problems with such expensive equipment you should regularly carry out its technical inspection. You can entrust such work to our specialists of GE Dryer Repair and Service. Because it is a matter of professional craftsmen. 
Our employees regularly attend refresher courses and gain new knowledge and experience. We have a staff of licensed technicians with the latest and greatest appliances.
Common breakdowns of dryers
Belt breakage;

Motor overheating;

Breakage of the flow dryer;

Pump or pump failure;

The equipment does not turn on;

Malfunction of electronics, sensors and control panel.
You do not need to worry about how to deliver the dryer to our repair shop. You only need to contact our consultants and order the departure of the master at home.
This service is available seven days a week. The cause of the failure and the cost of GE Dryer Repairs master will sound to you immediately after a complete technical diagnosis of the machine.
Our advantages
Diagnosis is made within a day.
Thanks to direct deliveries of spare parts, we can keep prices at a minimum. We charge for GE Dryer Repair and Service exactly as much as it costs.
We give a three-month warranty on all work performed and parts replaced.
Our craftsmen use only original branded parts in their work, which allows us to give a warranty on all services rendered. Upon completion of all work on your machine, you can get tips and advice from a GE Dryer Repair technician on the operation and care of your machine. 
For each customer, we will find a personal approach and will do our best to meet your needs. Contact us for GE Dryer Repairs and Services!
What we offer our customers
We don't charge for diagnostics when you do GE Dryer Repair with us.
We have employees with over 20 years of experience on our staff. The craftsmen regularly upgrade theirs. Qualifications and experience interning at appliance factories.
Our service center is open seven days a week. After all, the equipment does not ask you when it is better to break.
Repair appliances at home
Our GE Dryer Repair technicians are true professionals. They repair 90% of the time on the spot and within one day.
For your convenience we have a courier service. He will come himself, fill out all the necessary documents and take your equipment to our service if necessary to repair it in the workshop. After repair he will bring it back.
Our own spare parts warehouse
We repair faster and cheaper because we have our own parts stock. Cheaper because we work directly with the manufacturers of household appliances. 
Faster because you don't have to wait weeks for parts. We have a stock of the most used parts.
Do not stall! Order GE Dryer Repair and Service at our service center. Appliance Service Center is a company that cares about its reputation. And it is not just words. You can read the testimonials of our grateful customers on our website, Google or Yelp. But the eloquence of all words will be the fact that our customers recommend us to their friends and acquaintances.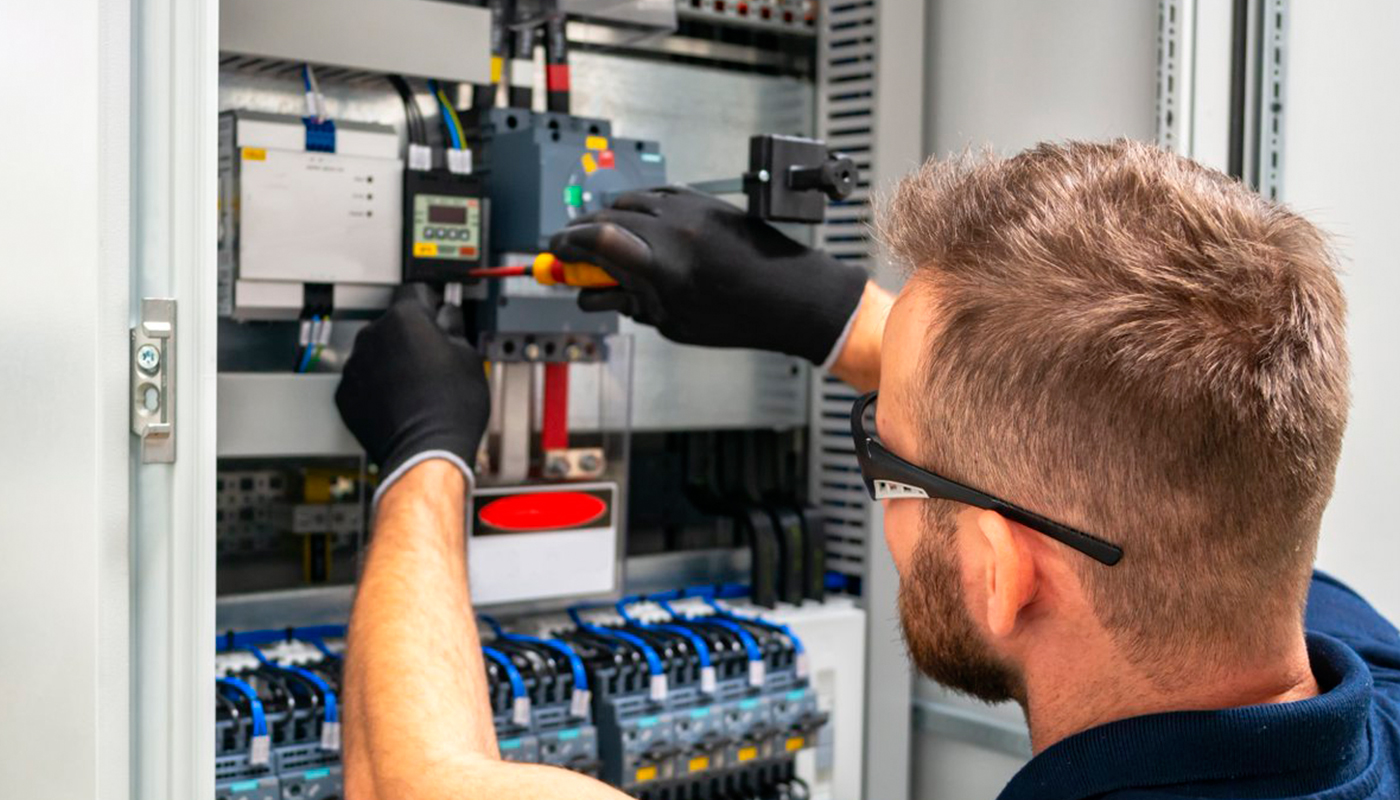 We use only professional equipment and tools, original spare parts, and high-quality consumables. Our technicians have 20 years of experience working with all types of household appliances from well-known brands. Specialists constantly improve their skills to provide you with high-quality services.
Frequently Asked Questions
If you have questions and are looking for answers, contact our experts and we'll answer each one.
In a dryer, just like in a washing machine, you can't load light and dark clothes at the same time. Exposure to high temperatures and humidity can cause them to fade and deteriorate. Before you put your clothes in the drum, fasten all zippers, hooks, buttons, and belts. This will preserve the appearance of your items.
The washer can never weigh less than the dryer unit. The column is only built by placing the dryer on top of the washer. And by no means the other way around, as the washer weighs considerably more. And in the process, the washer vibrates more, which can lead to breakage and GE Dryer Repair.
First, you should rule out external factors. If the voltage in the electric network is unstable, rises or falls sharply, while the dryer is running, the protective mechanisms to shut down the device are activated. In the case if this factor is excluded – it is necessary to look for breakage of the equipment itself. An early GE Dryer Repair will prevent more serious breakdowns.