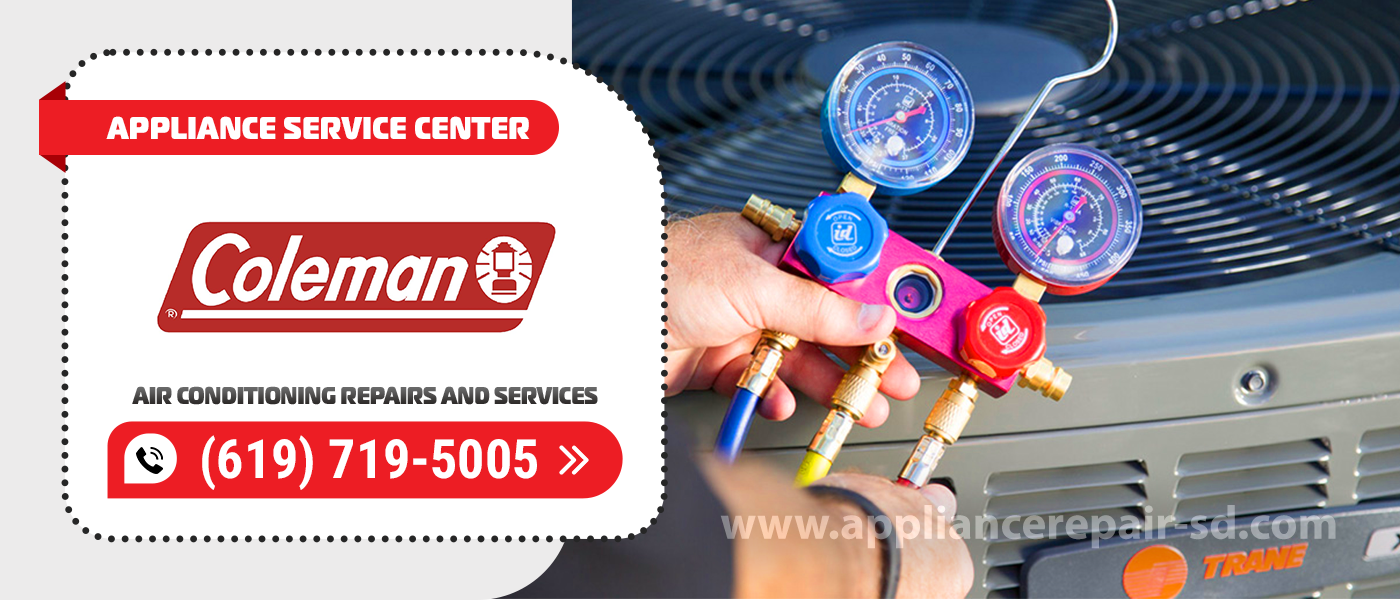 Coleman Air Conditioner Repair
In the hot summertime, the efficient operation of climate control equipment is the key to comfort, health, and high performance. That's why when your air conditioner malfunctions or doesn't work efficiently, you should call a technician certified with Appliance Service Center right away. To avoid the origin of similar difficulties, Coleman Air Conditioner Repair in San Diego County professionals recommend ongoing air conditioner warranty service.
Our company has been in the appliance repair market since 2001. The professionals at Coleman Air Conditioner Repair and Service have over 20 years of experience.
Air conditioner problems
Air conditioner does not cool
Air conditioner does not have enough power to cool a given area when outside temperatures are high.

Improper air conditioner settings.

Lack of coolant in the system.

Filters are clogged.
The datasheet of the air conditioner always specifies capacity, and almost always there is an indication of the size of the room, which can be cooled by this device, turned on at full power. Some users tend to ignore the second parameter.
If summer temperatures are more than a mark of thirty degrees, then a conditioner cannot cope. A separate topic is the settings. Make sure that they are not confused, and you really have a cooling mode, but not dehumidifying, for example. You can also clean the filters of the indoor unit, dry them and put them back. If that doesn't work either, call a Coleman Air Conditioner Repairs technician and charge your air conditioner with coolant.
The air conditioner is not blowing properly
Weak airflow from the air conditioner is another type of problem where the air conditioner works but doesn't cool well. With weak blowing air flow, the room simply doesn't have time to cool over the entire area. This is usually caused by clogged internal filters.
Occasionally, this is the first indication of a more serious malfunction, such as a worn compressor. Rarely, because compressor problems usually "give out" in a more pronounced way. Call Coleman Air Conditioner Repair and Service, at the phone number listed on our company's website.
The air conditioner shuts down
It happens and for different reasons:
Because of the air conditioner's settings.

Through the compressor overheating.

As a result of a malfunction of the control board.
You may have set the temperature too high. Maybe something happened to the control board, and the electronic brain of the air conditioner decided that its task for today is done. Or, maybe, the tubes, filters of a dryer or compressor's radiator are clogged.
It can also be caused by a broken outdoor unit cooling fan or too much refrigerant. Coleman Air Conditioner Repair service technicians can perform service in no time.
The latter breakdown is usually caused by unprofessional self-conditioning. Here, you definitely need to go to a specialized appliance repair company, whose specialists will be able to find and fix the cause of the breakdown.
The service technicians at Coleman Air Conditioner Repairs and Services can handle any appliance repair job, including air conditioners. Your unit will change the control module, replace the filters, clean the pipes and radiator.
Air conditioner turns off right after turning on
Turning off right after switching on is not the same as turning off after ten minutes of work. That is not a big difference for you, but for prospects of repair it is.
Such "minute weakness" of the conditioner can be caused:
Broken air temperature sensor.

Breakage of the heat exchanger temperature sensor.

Failure of indoor unit fan.

Broken control board.

Faulty start capacitors.
The air temperature sensor reading is a guide for the system control board. If the reading cannot be taken, the system shuts down. If you are unable to solve the problem yourself, call the Coleman Air Conditioner Repair technicians.
So, to prevent unpleasant situations with your air conditioner, you should only buy quality appliances, order air conditioner installation from professional Appliance Service Center technicians. Many of the malfunctions can be fixed by Coleman Air Conditioner Repair and Service professionals, but there are also cases where the unit completely fails if customers are not contacted in time to solve the problems.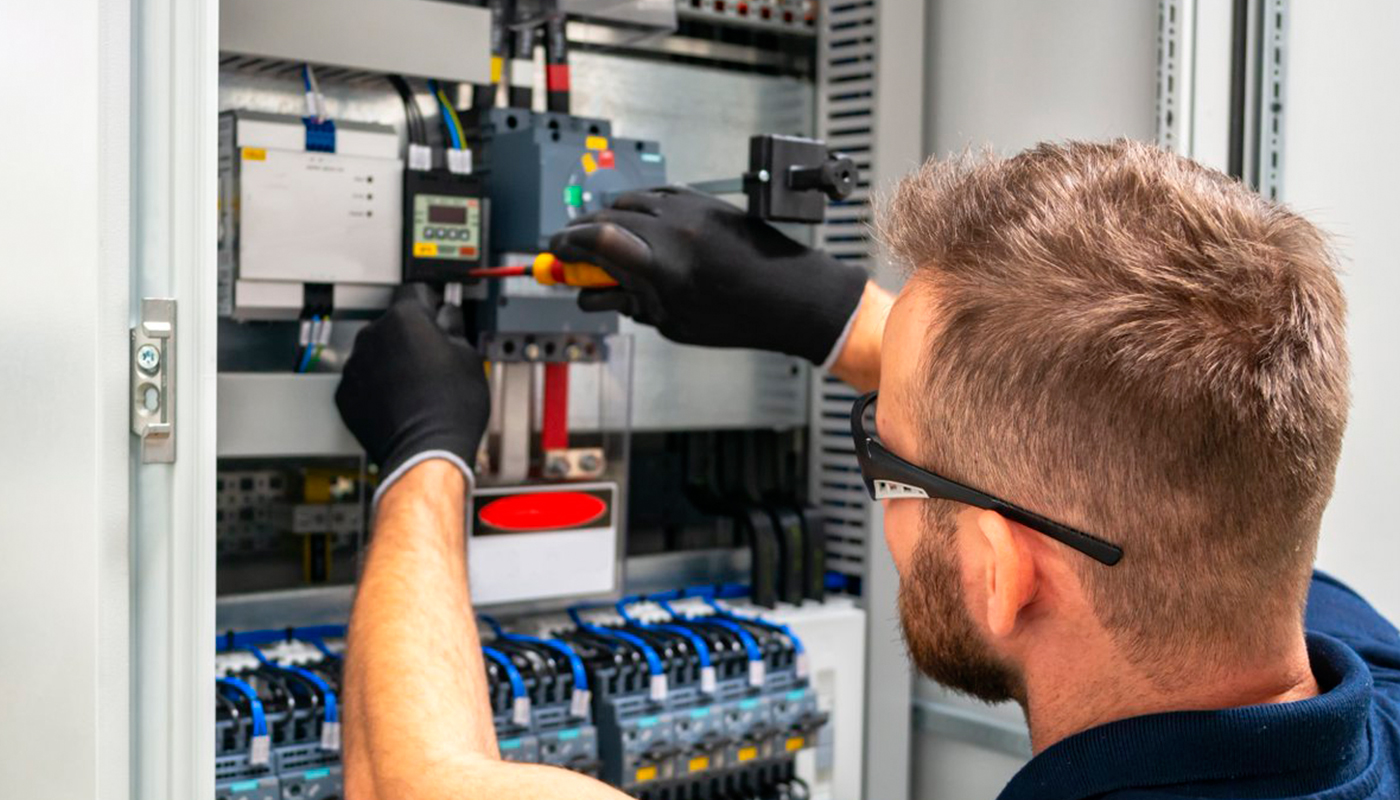 We use only professional equipment and tools, original spare parts, and high-quality consumables. Our technicians have 20 years of experience working with all types of household appliances from well-known brands. Specialists constantly improve their skills to provide you with high-quality services.
Frequently Asked Questions
You ask a question, and we will give you an answer from a qualified expert. We have the answers to the most frequently asked questions on our website.
Inverter conditioners can work all the time without stopping, and it is a plus for it. The mode 24/7 in this case does not mean that an outdoor unit and a fan, which are the main consumers of electric energy, are permanently in operation. But if there is the slightest abnormality in the operation of a complex system, contact the experts profiling at Coleman Air Conditioner Repair right away.
If you want to heat your house or apartment with an air conditioner, you should choose a split system with inverter control of the compressor's work. The main part of such units can work for heating when the outside temperature is minus. Otherwise, running a regular air conditioner on heating in winter with sub-zero temperatures leads to breakdowns and will naturally be followed by Coleman Air Conditioner Repair.
A faulty wiring in the home is most likely the cause of the fire. The air conditioner itself can only catch fire as a last resort due to a factory defect. Much more often fires occur because of connection of conditioner to the already existing networks, which are simply not calculated for such loads. For this reason, you should entrust the installation of the equipment to Coleman Air Conditioner Repair specialists, who consider all the nuances and subtleties of its operation.