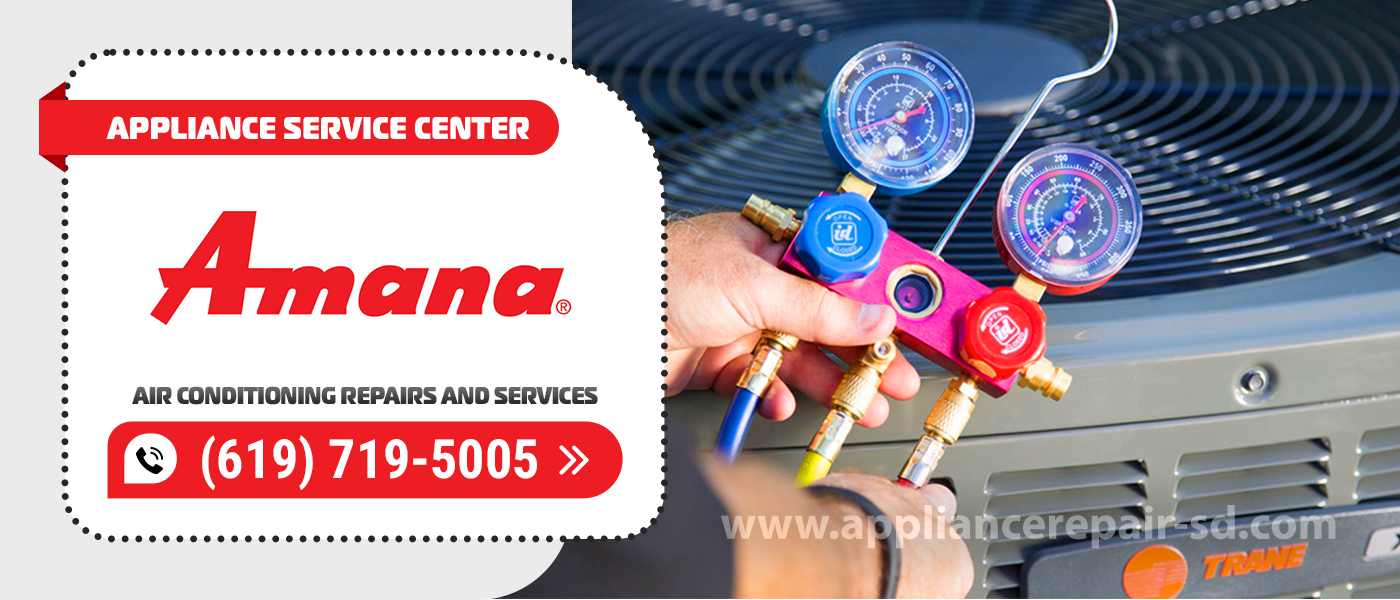 Amana Air Conditioner Repair
In today's climate, it is very difficult to imagine our life without an air conditioner. To diagnose malfunctions, you can contact our Appliance Service Center. To avoid the origin of similar difficulties, the experts at Amana Air Conditioner Repair in San Diego County. It is recommended to carry out ongoing air conditioner warranty maintenance, which will significantly prolong the life of your air conditioner.
In air conditioners, just as in refrigerators, there are only two types of breakdowns: mechanical and electrical
Poor assembly
According to the statistics more than a half of cases of a failure of air-conditioners falls at the low-quality or made with the serious technological violations.
Such installation will show itself very soon – during one or two seasons of usage.
The characteristic signs will be:
Oily traces on rolling joints and sealed joints.

Frosting of ports and heat exchanger of indoor unit.

Clear reduction in cooling capacity.

Inadequate drainage system operation (although in some cases this may not be a sign of poor installation).

Inadequate noises made by the compressor.

Amana Air Conditioner Repair and Service

technicians will perform a quality air conditioner installation.
Lack of proper maintenance
Build-up of fluff and dirt on the heat exchanger of the outdoor unit leads to depressed heat removal from the unit.

Contamination of lamellas of the heat exchanger of the indoor unit – also to oppression of heat exchange and occurrence of a breeding ground for bacteria.

In both cases, the parameters of the refrigeration cycle are shifted, which leads to considerable increase of compressor load, and the cost of compressor replacement is comparable to the cost of a new conditioner.

Lack of freon in the system also changes the parameters of the refrigeration cycle and leads to a significant increase in load on the compressor, in addition, the compressor is cooled by freon gas during operation, and its lack under certain conditions can lead to overheating of the compressor and its jamming. Our

Amana Air Conditioner Repairs

technicians on cooling equipment will fix all breakdowns.

Clogged fan impellers – to imbalance and resulting broken seats, motors, bearings, mounting hardware, etc.

A clogged drain – to condensate overflow.

Amana Air Conditioner Repair and Service

air conditioner service technicians will service your home quickly and with a warranty.

Loose contacts – to burn out, loss of contact, and broken circuits.
Attempts to turn on air conditioner in winter time
Each conditioner has a limitation in the temperature of the air in the street, in which the outdoor unit can operate. These are design features incorporated by the manufacturer. The values for your air conditioner are listed in its operating instructions.
The most critical thing for the air conditioner is a "cold start" at negative design temperatures. This can lead to failure of the compressor and other elements of the air conditioner. Even by installing a "winter kit" on your air conditioner, you need to remember that it will extend the range and allow you to operate it in cooling mode only.
Amana Air Conditioner Repair technicians will install a winter kit on your unit the first time you call our service center.
Incorrect user actions
Modern air conditioners are complex technical devices that are controlled by a multitude of sensors and have a self-diagnostic system. To break it by incorrect user actions is difficult, but it is possible.
In order to avoid this, it is necessary to carefully read the instruction manual of your air conditioner. When your air conditioner breaks down, contact our Amana Air Conditioner Repairs and Services technicians at the number listed on our website.
Improper air conditioner wattage selection
If the conditioner has more power than it is optimal for your place, it will work in "start-stop" mode, quickly bringing up with a powerful cold stream of air the set temperature in the premise and turning off in the case of non-inverter control. Amana Air Conditioner Repair can make the most precise power selection.
Appliance Service Center, repairs split system air conditioners of wall mounted, ducted, under-ceiling, cassette, column, and floor type. All types of air conditioners have spare parts available. Repairs are handled by Amana Air Conditioner Repair and Service professionals. It is recommended that your air conditioner be serviced on a regular basis, which will greatly extend the life of your air conditioner.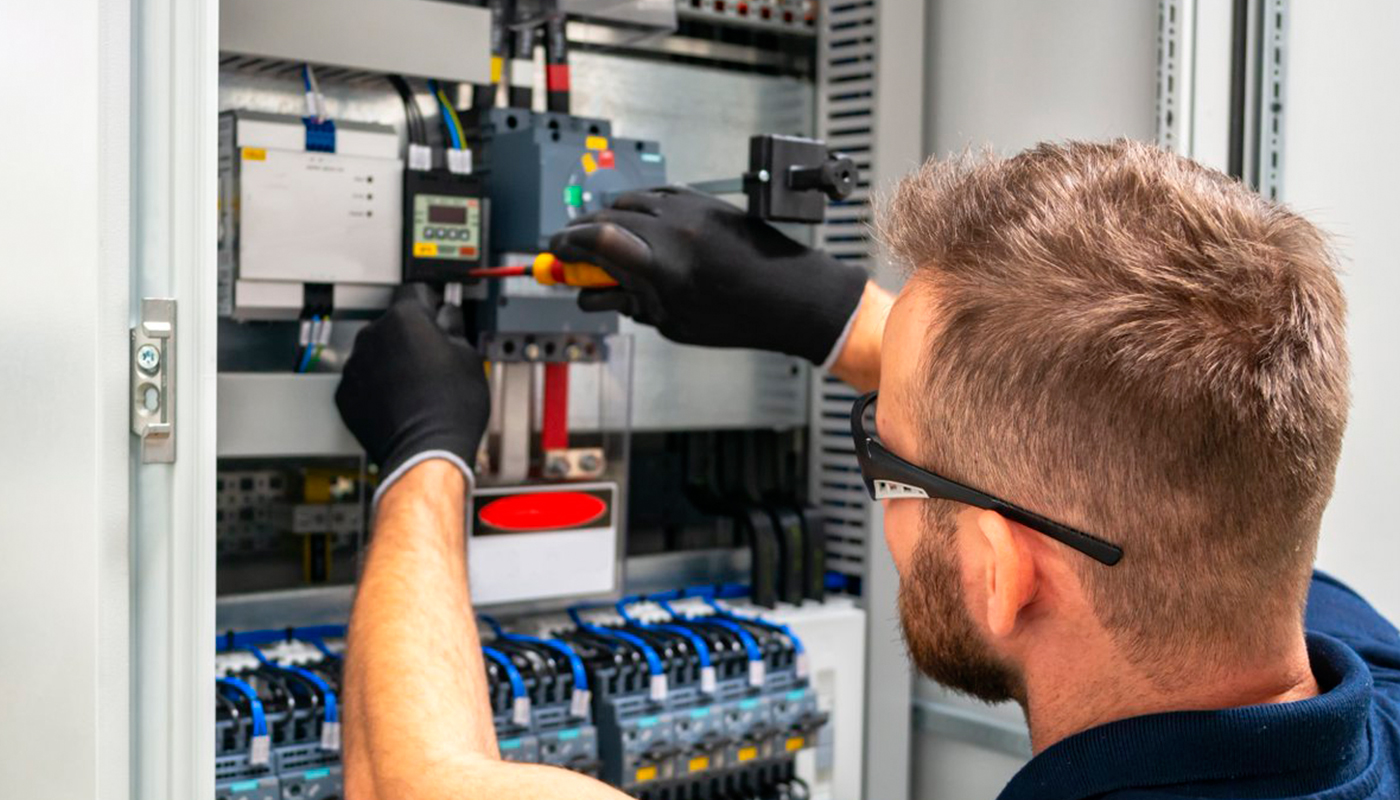 We use only professional equipment and tools, original spare parts, and high-quality consumables. Our technicians have 20 years of experience working with all types of household appliances from well-known brands. Specialists constantly improve their skills to provide you with high-quality services.
Frequently Asked Questions
Any question can be answered by our experts with years of experience in air conditioning service and repair.
An air conditioner breakdown is hard not to see, it's immediately noticeable by your microclimate. Cooling or heating problems occur when:
Clogged filters.

Failure of the inverter module.

Compressor breakdown.

Broken temperature sensor.

Contamination of outdoor unit impeller.

Failure of electrical communication between outdoor unit and indoor unit.

These and many other reasons lead to urgent or scheduled

Amana Air Conditioner Repair

by our service center master.
Most often, the tubes and condenser (aka "air conditioner radiator") lose their tightness. However, the most expensive Amana Air Conditioner Repair is when the air conditioner compressor fails. Both the natural wear and tear of compressor parts and the compressor's operation when there is a lack of freon and oil in the system can lead to breakdown. 
In order for your equipment to serve you for many years, you need to have it serviced regularly. It is especially important for the air conditioners, because not only the serviceability of equipment depends on it, but also your health. You breathe that air which your conditioner cools or heats. What is included in the air conditioner service performed by our Amana Air Conditioner Repair technicians:
Disassembly of the indoor air conditioner unit.

Cleaning the impeller of the indoor unit.

Cleaning the filters of the indoor unit.

Antibacterial treatment of the evaporator.

Steam treatment of the evaporator.