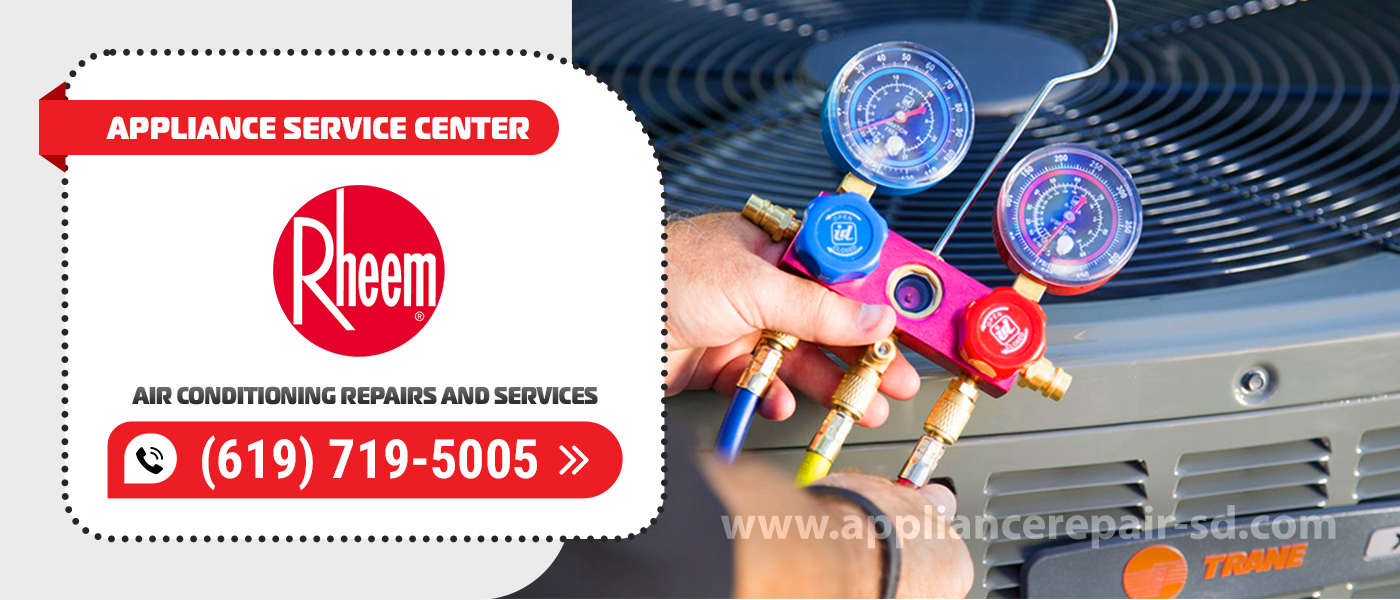 Rheem Air Conditioner Repair
After the purchase and installation of climate control equipment, few owners pay attention to its performance. But in the case of complete lack of maintenance, it is likely to reduce the service life. For service, it is better to immediately contact the proven specialists in the Appliance Service Center where you will quickly and accurately provide Rheem Air Conditioner Repair in San Diego County.
Causes of capricious functioning of the split system
Understanding the cause of their abnormal functioning allows you to know the inner workings at least in basic terms. The split-system is completed with units:
The outer one of the fan and compressor, as well as the radiator (or condenser, as it is sometimes called).

Internal of the radiator (or evaporator) and fan.
They are connected by copper piping necessary to circulate a pressurized mixture consisting of a liquid such as freon mixed with compressor oil in a small volume. Fans of both units are blown around the radiators.
What improves the heat exchange and evenly distributes the cold air flows to the apartments and other rooms. Rheem Air Conditioner Repair and Service technicians will install your air conditioner with quality and warranty.
Clogged filters of indoor units
So, what are the causes of the most common breakdowns in air conditioners?
The screen with small cells, located in front under the panels, is a filter. It is through it that the air is sucked in. It serves as a barrier against dust from the air. Thanks to this, it protects people inside the air-conditioned buildings and radiators inside the unit.
Air conditioners are very similar to a vacuum cleaner in principle. Filters are practically the same dust collectors. Cleaning consists of washing with warm water and drying. Rheem Air Conditioner Repairs specialists will clean the air conditioner when called upon.
There is no difficulty in removing or installing filters. Changing dust bags in vacuum cleaners is also simple in principle. The only difficulty may be the location of the unit inside the room at a high altitude.
Freon leakage
The widespread causes of problems in the work of such equipment is a leakage of freon, which can occur in 2 types: normalized – about six percent annually and caused by low-quality installation.
The leakage in the normalized form occurs in all cases, being the inevitable use of flared pipes connecting the units. Its compensation requires topping up with freon, about once every two and a half to two years.
The consequence of poor installation is a rapid leakage, occurring over a period of a few days or a few months. There is no danger to people from it, since freon is an inert gas without odor. Rheem Air Conditioner Repair and Service specialists will charge your unit when you contact them.
The air conditioner, on the other hand, is at risk with very negative consequences:
The possibility of the compressor overheating, since cooling is done by means of freon.

Rheem Air Conditioner Repair

technicians will service your unit.

Leaking oil mixed with freon sometimes causes compressors to jam. Replacing them is expensive, sometimes as much as half the price of the entire cooling unit. If you need to have any parts of your air conditioner replaced, contact the professionals at

Rheem Air Conditioner Repairs and Services.
Winter air conditioner operation
In some places, air conditioners are used to heat rooms when it is freezing. This is not justified, because, regardless of their adaptation for winter operation, there is a drop in power of the equipment by about three times. If an unadopted unit is used in winter, its operating resource decreases, and jamming of the unit is not excluded.
Condensate from indoor units does not flow out in freezing temperatures, as an ice crust is formed in the drainage hoses. Water flows out into the room. Our Rheem Air Conditioner Repair technicians can help you with the right unit for your room.
Appliance Service Center, performs split air conditioner repairs for wall mounted, ducted, under-ceiling, cassette, column, and floor type air conditioners. Repairs are performed by Rheem Air Conditioner Repair and Service professionals.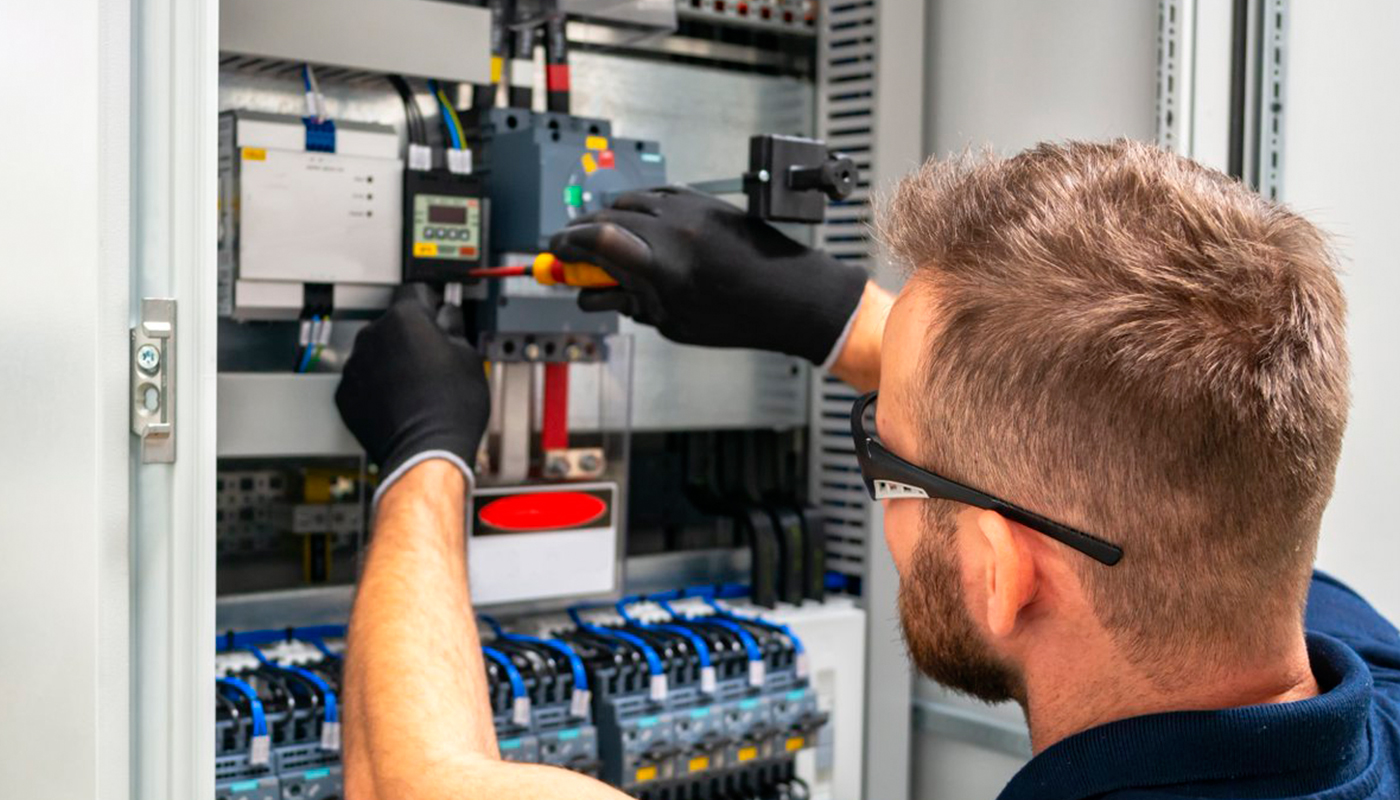 We use only professional equipment and tools, original spare parts, and high-quality consumables. Our technicians have 20 years of experience working with all types of household appliances from well-known brands. Specialists constantly improve their skills to provide you with high-quality services.
Frequently Asked Questions
The more we use our air conditioner, the more questions we have over time. We know the answers to all of your repair, maintenance and operating questions.
The most common cause of Rheem Air Conditioner Repair is failure to follow the product's operating guidelines. If you don't follow the manufacturer's recommendations in this matter, it can fail at any time. Dirt and dust on the filters, condenser can lead to overheating of the system and its failure, improper installation of equipment. And also, the increased load on the air conditioner, when there is a mismatch between its specifications and use. Wear and tear on parts over time and voltage fluctuations.
Modern split system is quite a complex and multi-node technique. Breakdowns are best prevented – it's cost-effective in every way. And less troublesome than a major Rheem Air Conditioner Repair. In order to identify breakdowns faster, routine maintenance should be performed on the equipment. A competent technician will check all vulnerable parts of the air conditioner, clean the filters, and check the freon level in the system. Recognize in advance the signs of future serious breakdowns.
There are numerous models of air conditioners from many well-known manufacturers. Air conditioner manufacturers offer different units in principle of operation and device. But for our Rheem Air Conditioner Repair specialists, it doesn't matter to make, model, or year of your equipment. You don't even have to worry about it. All you have to do is give us a call, and the rest is up to us.