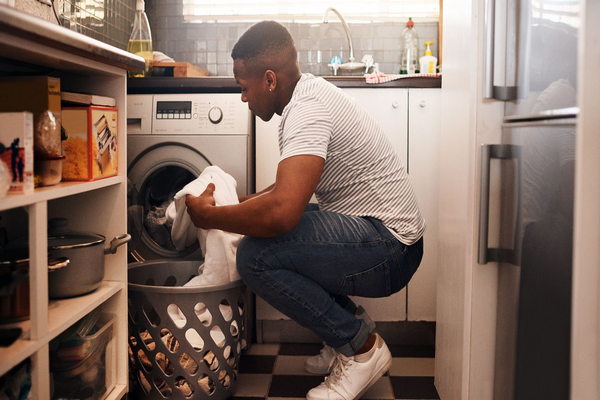 A large dose of laundry detergent
Try using half the amount of detergent.
Limescale on the heating element
If the heating element is covered with limescale, it cannot perform its function. The washing machine must be descaled. You should preferably use a special descaling agent which can be poured into the detergent drawer or drum according to the instructions. Run the program at 60 °C or 90 °C. It is also recommended to use the descaler as a preventive measure about once a month.
Heating element malfunction
If the cause of the washing machine not heating water is a faulty heating element, an error code should appear on the display of new models. This is a malfunction that should not be corrected by yourself, but rather call a service center.
A broken washing machine thermostat does not detect the water temperature correctly and therefore does not heat the water sufficiently during the washing program. Our team of experts can deal with any problem you may have. No matter what type of washer you have got, what problem you face. Trust our technicians and let them do their work. They will take any problem off your shoulders. 
They are licensed, certified, insured and experienced.
 They always do their best to exceed your expectations. Besides washer repair, our skilled technicians are capable of providing you with 
other appliance repair services
 like 
microwave repair
, 
dishwasher repair
, 
freezer and icemaker repair
, 
dryer repair
, 
refrigerator repair
, and many more, along with free advice on maintenance if needed. We have no competitors all over San Diego County. We value every customer and our professional team of experts is committed to what they do. Superior performance and absolute accuracy – that's what our happy and satisfied customers tell about our services. 
We guarantee exceptional customer service at fair prices.
(619) 719-5005
[email protected]
You take out of the washing machine cold laundry, stains remain on the laundry even after washing, the washing machine is cold during washing – this is the manifestation of a malfunction when the washing machine does not heat water. Sometimes the cause can be an excessively high dose of laundry detergent, as a result of which the heating element floats in the foam and can not thoroughly heat the water. Of course, the cause can also be more serious.