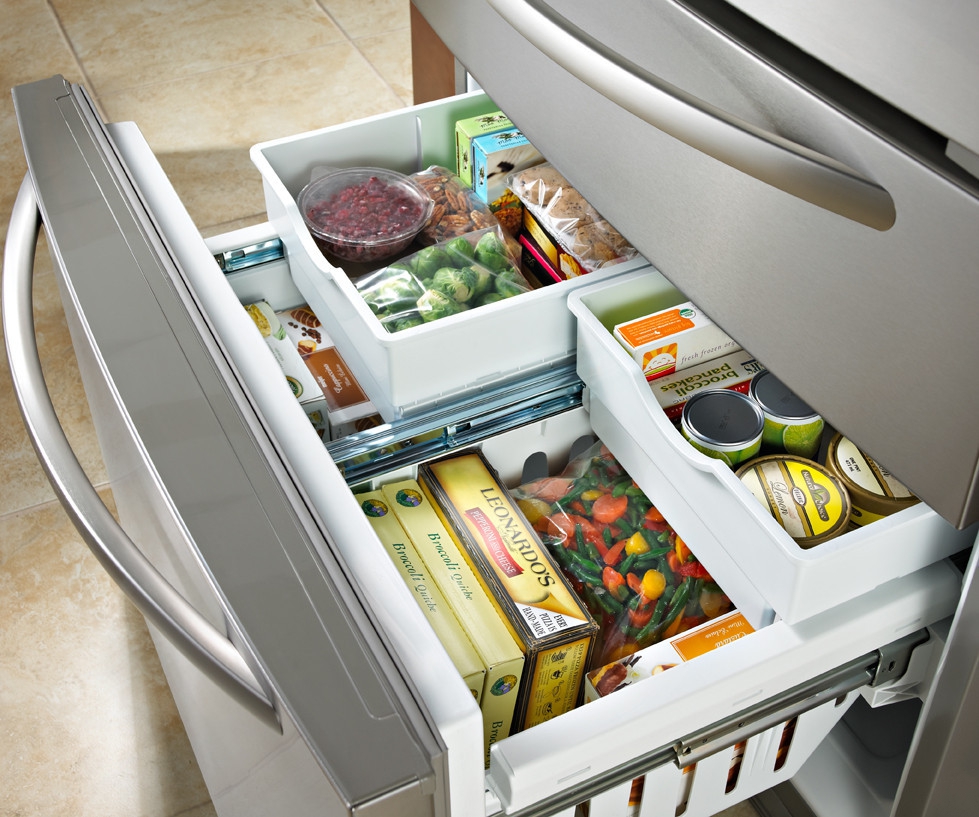 Make sure the door is closed properly.
Whenever you are using the KitchenAid refrigerator, make sure that you close the door tightly afterwards. Double check if you have to. Make sure to push in all of the drawers back in order to make sure that everything is handled perfectly. You should also ensure that the gaskets on the doors or between both the doors provided you are using a double-door freezer, is not damaged or torn. This could be the main reason which allows the cool air to escape, hence leading to unwanted condensation.
Improper ventilation
Believe it or not, this is one of the things that you could probably handle on your own, provided there is no malfunctioning component. In order to improve the ventilation and the overall airflow within the freezer, simply space out the products that you put in it. Make sure not to stack them too much and to overfill the entire thing. That blocks the ventilation slits and blocks the air to pass through. Of course, there are other things that you need to consider. The ice maker flap might be open or the temperature component of the freezer might be failing. The drain tube might have failed you or the freezer condenser has not been cleaned in at least about three months. These are all general maintenance tips and tricks that you might want to take into account in order to ensure that you can handle it all as per the highest standards. It's important to keep these in consideration in order to prevent any malfunctions and improper working condition of your KitchenAid freezer. However, if there are issues with the freezer, you can always call in the local San Diego appliance repair experts. Contact us:

Are you experiencing issues with your freezer? Maybe it might be frosting over? If that's the case, you have yourself a situation to handle. However, the first thing that you need to get sorted is the overall function of your KitchenAid freezer . It needs to circulate cool air inside of the refrigerator compartments in order to ensure that the food stored within is perfectly chilled. However, if there is an excessive moisture or condensation on the back of the compartments, this is inevitably going to start freezing over, hence creating quite a lot of complications. There are a lot of reasons for which frost might actually build up in the freezer. Having an improper cooling system could be the reason for this particular issue. However, there are more common causes which include: – The gasket is torn – The freezer drain tube has managed to freeze – The ice maker isn't filling up properly – The door of your freezer isn't properly closed – The ventilation and flow of cool air are impaired and improper There are quite a few ways that you can avoid these issues, so let's have a look at some of them that you need to take into account.