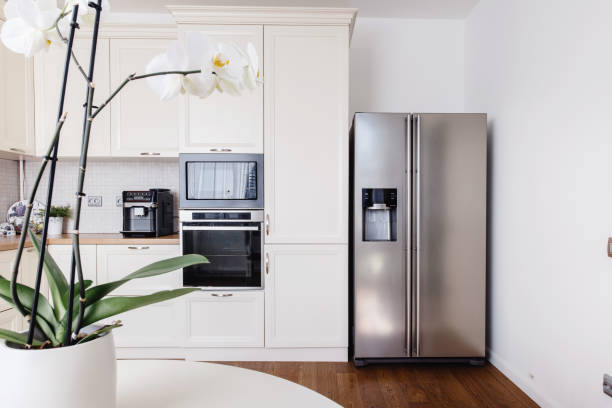 A freezer is an important part of a person's lifestyle, and now it is difficult to imagine preparing food for the winter-spring period without this refrigerating household appliance. We are so used to the benefits of civilization that trivial questions such as what freezers are, now, do not cross our minds. However, it comes in handy when we need to replace the unit and buy a new freezer. What to do, and who to ask for advice, if you have already decided to choose the best freezer for yourself, and then in the cold season to feast on rich compotes, dishes made from freshly frozen berries, fruits, vegetables, and other goodies that can be frozen.
Types of freezers
Household freezers are horizontal and vertical. In proportion to their arrangement, the first look like a chest, the second look more like an ordinary refrigerator, or, if you like, a cabinet. The appearance of the unit will depend on its technical characteristics and your kitchen interior.
Built-in freezer
As the name suggests, electrical appliances are built directly into the kitchen set. The built-in freezer differs from the usual one: compactness and external similarity with a cabinet (cabinet). Its absolute advantage is in variability. The built-in freezer is hidden behind a decorative panel without compromising the design. It is for this reason that it is chosen by particularly discerning aesthetes, who value the harmony of the kitchen interior.
A freestanding freezer for the home will bring functionality and comfort to almost any room. The only condition is free space and a socket, without which you can't go anywhere today. Depending on your appetite and the size of the family, you can choose a huge unit that will provide a hearty and useful winter and a very tiny one that will comfortably fit in a corner of the most modest volume.
Containers, functional features, and volumes of household freezers
Before proceeding directly to the choice of a freezer, you need to decide on its scale. And for this, you need to know what you want to use the freezer for. As a summer cottage unit, you can use a small cottage option, in which it is planned to store a lot of food, designed for a long garden season. To store huge stocks for a long time – let's say you decide to freeze fruit for the winter season – it is better to choose a larger freezer. Average cameras usually have the following parameters:
Height 85 centimeters – here you will find 3-4 small drawers that easily fit into a small cabinet. Such equipment will easily fit under the table, and will not take up much space in the country or a small kitchen.
Height 125 centimeters. The device, which contains no more than 5 compartments, is considered the optimal choice if you need to keep an average amount of products fresh.
The 154-centimeter chamber can elegantly accommodate vegetables, fruits, meat, fish, dumplings, and champagne, without confusing the aromas at the same time – it usually has 5-6 compartments. Capacity is not its only advantage. Given that such devices are equipped with alternating boxes of different sizes, you will never get lost in its bowels: you can store large pieces of meat or fish in the larger ones, and various fruits and vegetables in the smaller ones.
Freezers with a height of 185 centimeters can have a maximum of 7 compartments designed for picky gourmets with a big appetite and a huge kitchen. In such refrigerating devices, you can freeze various products in large quantities, as well as freeze fresh fruits and vegetables, which will be enough for the whole winter.
Type of management
Mechanical control is when the desired level of freezing is regulated in the usual way, using a rotary switch.
Electromechanical – when the temperature is switched using a thermostat.
Electronic/Touch – the best, most convenient, and most advanced switch. The device is controlled using a display (liquid crystal, electronic). Thanks to this panel, they control the freezing process, select the necessary modes, and, of course, set the temperature.
Features of the choice by energy consumption class
Abroad, this parameter has long become the main one. We began to take it into account quite recently. If you haven't paid attention, look at the A, B, C, and D device markings – they indicate its energy-saving class. The lower the energy saving of the model, the further the letter will be from the beginning of the alphabet. Yes, most economic models are labeled A. Even more, "smart" units are labeled A+, and the most "cool" freezers are A++. So it's not surprising that models with high energy consumption usually cost less, while their economical counterparts, which will help save on operation, will cost more.
If your freezer has stopped working. It's time to call for professional appliance repair in San Diego county. San Diego Appliance Repair Service is here to help with professional and experienced appliance repairs.
Contact us
(619) 719-5005
[email protected]