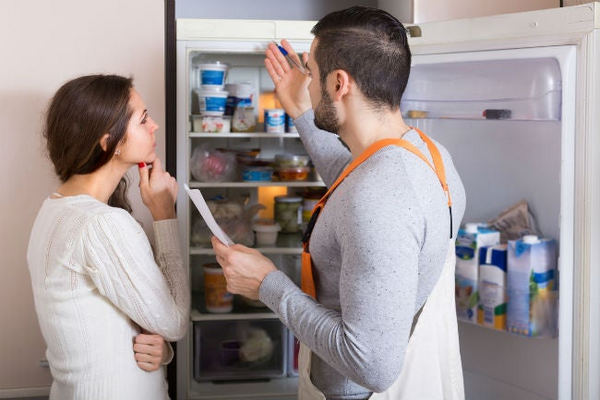 Compressor Failure
A trivial malfunction can lead to the breakdown of the "heart" of the user's refrigerator. Quite often the owners of modern models use the fast freezing function. If you forget to turn it off, the engine will continue to work with a large load. If you forget to close the door of the unit or close it loosely, the motor will continue to work even without stopping. It is good if your model is equipped with a sensor that signals an increase in chamber temperature, otherwise the failure of the refrigerator compressor can not be avoided.
Thermostat Breakdown
Too low a temperature in the "plus" compartments can be a signal that the thermostat is broken. Usually, when a refrigerator thermostat breakdown does occur, the motor will run without stopping. Determining the breakdown is simple: turn the refrigerator on and off from the mains several times. If there is a relay, a click should be heard, if it is not heard – the relay should be replaced.
Refrigerator Malfunction
Ice and frost forming in the freezing chamber This malfunction of the refrigerator most often occurs due to the fact that the door of the unit is not closed tightly. It can be eliminated by replacing the seal or adjusting the door, if it is not clear that it is better to call a service center. And also such an effect occurs if in the upper chambers is stored leaky container with liquid, especially if it is still warm. In this case, it is enough to observe the rules of operation of the device. As you see, most of the problems can be avoided if you abide rules of your equipment's operation. Major breakdowns of the refrigerator are those cases when the negligence of the user manifests itself most of all.
Refrigerators
,
freezers
,
ice-makers
are our specialty for many years. We pride ourselves on being able to claim that we do have thousands of happy customers, satisfied with our quick and quality work. We make the process of repairing your refrigerator really easy. Our experienced and skilled technicians will provide you with 
the best refrigerator repair service in San Diego
 along with free maintenance advice if needed. 
Book your refrigerator repair either by calling us or on our website.
If you call
San Diego Appliance Repair
, in case of emergency our specialists will come direct to you in 15 minutes after your call. Whatever may happen to your refrigerator, they are able to diagnose the problem. They will give you an estimate of repair cost immediately after detecting the fault. We guarantee that our prices are fixed and fair. We always give warranty for our work. No matter what problem you face or what refrigerator brand you have, San Diego Appliance Repair are always ready to help you anytime 24 hours a day seven days a week. Our customers never regret working with us. Our customers satisfaction is our top priority. We offer a vast variety of household appliance repair services, the most extensive in San Diego County. Whatever may happen to your refrigerator, whenever you may need us, call us and we will take the refrigerator repair problems off your shoulders as quickly and effectively as possible. We are certainly the best in providing household appliance repair services among other repair service providers in San Diego. Don't hesitate, call us. Our extensive experience, our passion for quality and safety along with excellent performance and accuracy are always at your disposal.
Contact us.
(619) 719-5005
[email protected]
Determining if your refrigerator is malfunctioning is easy. It should cool to the specified temperature, and the sound of the motor should be quiet and smooth. No frost should form in the chambers of the device. If at least one of these parameters does not meet the requirements, it is a cause for concern. There are many reasons for the possible failure of the refrigerator, and most of them are the fault of the users. Reading this article will help you understand why refrigerators break most often.