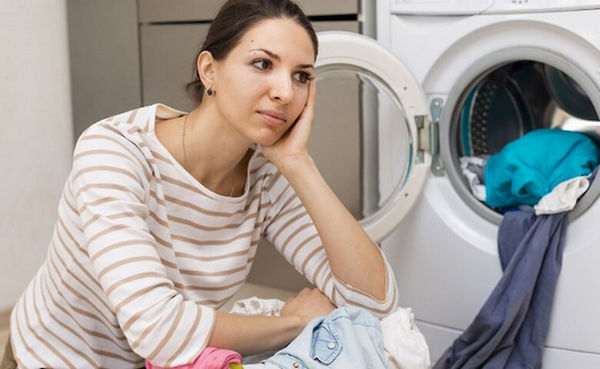 slow water intake (or no water intake at all) – the reason may lie in the failure of the electronic module, the water level switch or the fill valve, although the filter may be simply clogged;
water leaking – most often, the problem is associated with a break or cracks in the hose
no drum rotation – the failure occurs due to a burned-out motor, broken electronic module, or breakage of the drive belt, but sometimes a simple object gets stuck between the tank and drum;
Lack of spinning: as a rule, the cause is a defect in the heating element or motor, although there are cases when the spin stop switch is simply faulty;
no water heating – probably the heater is broken in this situation.
It is essential to understand that the exact cause of the breakdown and how to repair the washing machine can be established only by a master.
How to prevent the breakdown of the washing machine?
Careful use and adherence to the rules of operation are the keys to many years of operation of household appliances. To avoid the need to repair your washing machine as rarely as possible, follow these simple rules:
at least once a year, clean the drain pump filter, as it often accumulates a lot of lint and small particles;
do not wash laundry at temperatures over 60 degrees Celsius unless necessary (when heavily soiled or washing baby laundry, of course, sometimes you have to use modes with high temperatures);
try to take breaks between washing cycles (after the program is finished, let the washing machine "rest" for at least an hour);
It is desirable to choose the washing modes with the speed of 600 rpm or less, as otherwise, there is a risk of bearing wear;
After each wash, air out the drum; otherwise, mold and an unpleasant smell may appear.
The purchase of a quality washing machine, constant preventive maintenance and repair by specialists are the three main conditions, thanks to which the appliances will serve you for many years. Our team of specialists can solve any of your problems. No matter what kind of washing machine you have, no matter what situation you're facing. Trust our experts and let them do their job. In addition to
washer repair,
our skilled technicians can provide you with other appliance repair services such as
refrigerator repair
,
dryer repair
,
microwave repair
,
dishwasher repair
, freezer and ice maker repair and more . We have no competitors in all of
San Diego Appliance Repair
. We are open 24/7. If you need immediate assistance, give us a call – we'll be at your home in 15 minutes. Contact us.
(619) 719-5005
[email protected]
Breakdown of the washing machine is a severe problem for modern families. For a long time, household appliances have become an essential component of a comfortable life and give us more free time. But sooner or later, malfunctions can occur, making the repair of the "washing machine" inevitable. Famous malfunctions of the washing machine. If your home is a washing machine from a reliable manufacturer, likely, you will not need repairs soon. Thus, some manufacturers give a warranty of up to 10 years. As for the most common breakdowns, the following options are possible: