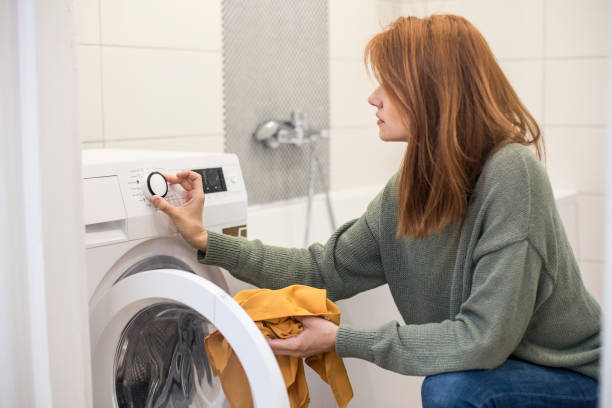 Inactivated type machines, you can drain the used water at any time and pour clean water, but with automatic machines, it will be much more difficult to do this.
Washing things in dirty water is unacceptable because you will never get a quality result. But, what to do if the machine does not rinse, and dirty water is not drained? The main reason for such a malfunction can only be a broken drain pump.
As a rule, such a malfunction happens only with equipment that has already worked for at least several years. During this period, some elements of the washing unit may be subject to natural wear and tear. Such parts include the drain pump. This is not surprising, because, during any operation of the equipment, the pump is constantly in the water.
Thus, if the water does not go anywhere, the machine after a certain time again starts the washing process without replacing the water. Eliminating such a breakdown can only be replaced by replacing the drain pump of the washing machine.
If financial resources allow, the repair of the washing machine can be ordered in the workshop. But in their absence, you can carry out such a procedure yourself. What is needed for this?
Compared to other types of machine breakdowns, everything is very simple. Any user who is at least a little familiar with the design of the washing unit will be able to replace such a component. Pump replacement should begin with the dismantling of the device body, after disconnecting it from the network. Follow all safety rules and drain the water from the machine.
After that, you need to remove the filter-catcher and the bar, which are located at the bottom of the equipment. Next, remove the connectors from the engine, and loosen the screws to secure the pump. Before removing the pump, remove the clamps on the nozzles connecting the tank to the drain hose.
All these actions should be performed only if the machine is laid on its side. You need to assemble the machine in reverse order. That is, the pump is installed first, and then all other fasteners.
If your machine refuses to rinse, the problem may be a faulty electronic module, which will cost you much more. Therefore, monitor the operation of your machine, and do not allow such serious malfunctions.
 It is time to call for professional appliance repair in San Diego County. San Diego Appliance Repair Service is here to help with skilled and experienced appliance repair to get your smooth washing machine looking new again.
Contact us
(619) 719-5005
[email protected]