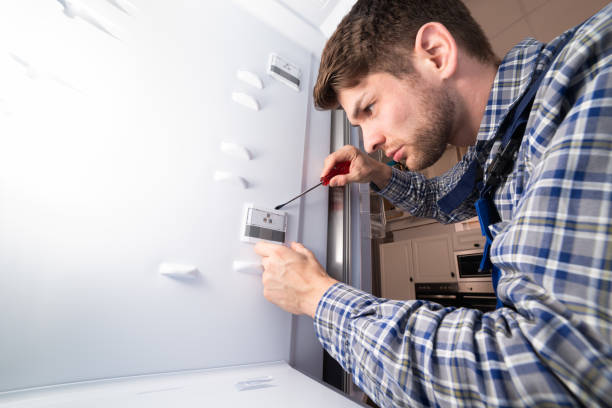 This problem is not particularly common, which is why when people discover such bloat, they usually begin to panic. Find a way out of this situation without resorting to the help of specialists, it is almost impossible, which means that the best solution is to call a master capable of performing repairs to refrigerators for San Diego at-home customers.
Timely treatment allows you to quickly eliminate the root cause of the problem and minimize the likelihood of recurrence of the situation in the near and distant future. To cope with the problem is usually possible on the day of treatment, and taking the fridge to the service center is not necessary. It is possible to get rid of the malfunction at home
Why is the wall bloated and how to avoid it?
The fridge design provides for the presence of the evaporator in the space between the plastic wall and the layer of thermal insulation. This node is responsible for freon evaporation. Therefore, if there is a leak, the refrigerant gets into this layer, gradually filling up the space. Then the plastic is bloated.
To avoid this phenomenon, it is necessary to monitor the condition of the refrigerator and call specialists if you find a freon leak. Signs of incorrect refrigerant circulation are:
– Continuous operation of the compressor;
– Disconnection of the compressor for only 10-20 minutes;
– Appearance of the signal of fridge malfunction (in modern models).
Also, it is necessary to be alerted to the appearance of uncharacteristic crackling. Upon detection of any "symptom", it is necessary to disconnect the unit from the mains and then call the master. Otherwise, the condition of the wall can change for the worse
How to remove the bloat?
To perform such an action, you will need a set of special equipment, as well as a clear understanding of the technical aspects of the functioning of refrigerators. 
Eliminating the bloat is done in a few steps:
– Determination of the malfunction based on the results of diagnosis;
– Careful disassembly of the wall and searching for a specific place of leakage;
– Sealing the problem area or installing a new evaporator;
– renewal of thermal insulation layer;
– Dehumidifier replacement, system vacuolization;
– charging with freon.
The process requires a professional approach. Therefore, if you need a truly high-quality service, then order the repair of refrigerators in San Diego in our company. This decision is sure to pay off.
Contact us
(619) 719-5005
[email protected]