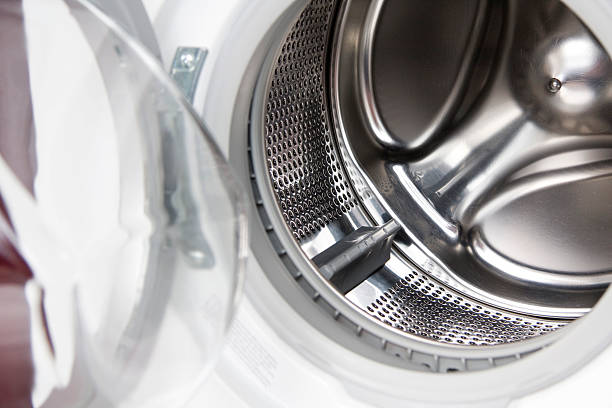 Maintaining the cleanliness and hygiene of your washing machine is crucial for ensuring the longevity and performance of the appliance. Over time, detergent residue, lint, and bacteria can accumulate in the drum, leading to unpleasant odors and potentially affecting the quality of your laundry. That's where washing machine models with self-cleaning systems come to the rescue. These innovative appliances are designed to automatically clean the drum, preventing the buildup of dirt and grime. In this article, we'll explore some of the best washing machine models with self-cleaning systems that help keep the drum in optimal condition.
Samsung Self-Clean+ Technology
Samsung offers washing machines equipped with Self-Clean+ technology. This feature uses a combination of soaking, pulsating, and high-speed spinning to thoroughly clean the drum. It helps remove dirt, detergent residues, and even 99% of odor-causing bacteria, leaving the drum fresh and clean.
LG TurboWash 360°
LG's TurboWash 360° technology is another impressive self-cleaning system. It uses powerful jets of water to thoroughly rinse and clean the drum from multiple angles. This not only eliminates dirt but also helps maintain the drum's cleanliness, ensuring your laundry comes out fresh and odor-free.
Whirlpool Clean Boost
Whirlpool's Clean Boost feature is designed to tackle tough stains and dirt while also cleaning the drum. This technology combines high-speed spinning and extra rinsing to remove residues that might accumulate in the drum over time, promoting a hygienic and efficient washing process.
Bosch DrumClean
Bosch washing machines come with the DrumClean function, which is specifically designed to clean the drum. It uses hot water and high-speed spinning to remove detergent buildup, lint, and other debris, leaving the drum fresh and ready for the next load.
GE Appliances SmartDispense Technology
Some GE washing machines are equipped with SmartDispense technology, which not only automatically dispenses the right amount of detergent but also periodically cleans the drum. This helps prevent detergent residues from accumulating and affecting the drum's cleanliness.
Electrolux Perfect Steam
Electrolux's Perfect Steam technology not only provides powerful stain removal but also offers a self-cleaning cycle. This cycle uses steam to clean and sanitize the drum, ensuring that it remains free from bacteria and odor.
Maytag PowerWash System
Maytag's PowerWash system is not only effective at cleaning clothes but also includes features to clean the drum. The combination of powerful cleaning actions and extra rinsing helps prevent dirt and residues from settling in the drum.
AEG ProSteam Technology
AEG's ProSteam technology not only reduces wrinkles in clothes but also features a drum-cleaning cycle. The steam-based cycle helps remove dirt and refresh the drum, maintaining a hygienic environment for your laundry.
Haier Drum Cleaning
Haier washing machines come with a dedicated Drum Cleaning cycle that uses high-speed spinning and water jets to clean the drum. This feature ensures that your washing machine remains in optimal condition, providing effective cleaning for your clothes.
Panasonic StainMaster+ Technology
Panasonic's StainMaster+ technology combines stain removal with drum cleaning. The combination of soaking, scrubbing, and rinsing ensures that both your laundry and the drum stay clean and fresh.
In conclusion, washing machine models with self-cleaning systems offer a convenient solution to maintaining a clean and hygienic drum. These innovative features not only help prevent odor and bacteria buildup but also contribute to the overall performance and longevity of your washing machine. When choosing a washing machine with a self-cleaning system, consider your specific laundry needs and preferences to find the model that best suits your requirements.
If your home appliances need diagnosis or repair, you can always turn to San Diego Appliance Repair Service. Our company is a reliable partner with many years of experience in the field of servicing household appliances.
Our team of highly qualified technicians will carry out a quick and professional diagnosis of your device, identify the cause of the breakdown and offer the optimal solution. We work with various makes and models of appliances, including refrigerators, washing machines, dryers, dishwashers, stoves, ovens and other household appliances.
Our services are of high quality and affordable prices. We use only original spare parts and modern equipment for repair work.
Additionally, we offer flexible hours, including weekend and holiday service. Our goal is to satisfy the needs of our customers and ensure the reliable and long-lasting functioning of your household appliances.
Contact us now and we'll be happy to help you get your appliance back up and running and provide you with the high level of service you can expect. San Diego Appliance Repair Service – your reliable partner in the repair of household appliances!
Contact us
(619) 719-5005
[email protected]