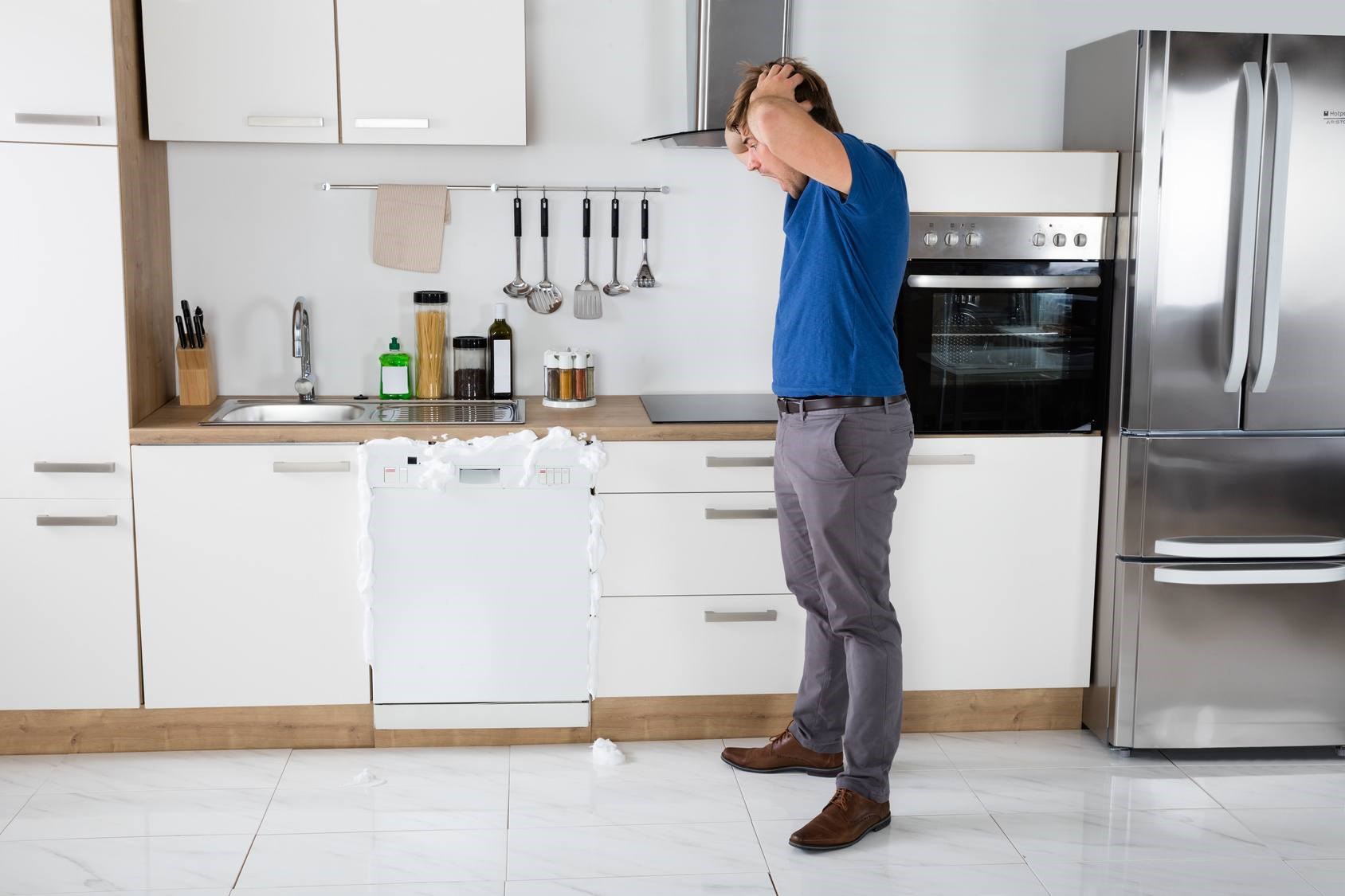 The Problem
Dishes are not getting properly cleaned, and are coming out of the dishwasher streaked, with caked on food or simply not clean.
The Solution
There are many possible reasons why your dishwasher isn't cleaning properly. One simple solution could be changing the type of dishwasher detergent you're using. Some types work better with different models, level of dirt of dishes and type of water. If you're using powder, try the puck detergents. If you're finding that the pucks aren't working, try the powder or liquid detergent. It is best to alternate between the different types to see if your dishwasher starts to clean the dishes more effectively. But before you do this, do a quick check over to make sure the dishwasher itself isn't dirty. A dirty dishwasher will simply spread the dirt to the dishes. It's not difficult to check to see if your dishwasher is clean. Look for food particles in the door gasket, sprayer arms and stain screen. You may also want to check for any grease build up or other debris like small pieces of paper and plastic bag pieces. Once you've removed any obvious particles and debris from the dishwasher, run a cleaning cycle. Some dishwashers have a specific setting for cleaning. Other times running a cycle through an empty dishwasher will do the job. You can buy over the counter dishwasher cleaners. Sometimes running a cycle with vinegar water will clean the dishwasher too.
The Problem
The dishwasher is unusually loud.
The Solution
Most dishwashers will make some noise. More expensive, specialized ones will have special insulation around them to help muffle the sound. Expect some noise from any dishwasher.If the dishwasher is significantly noisy, this could be a sign that there is something wrong with the motor and that it's at the end of its life. More likely is that the pump is defective, the spray arms aren't turning properly or a seal or bearing ring needs to be replaced on the wash arm. These can be fixed by someone with good mechanical skills. Or it may be worth it to see how much it would cost to hire an appliance repair service in San Diego County to fix the problem. Contact us:

Thanks to modern technology, the average home owner no longer has to hand wash dishes. The joys of an automated dishwasher make cleaning up after meals much easier and overall keeping the kitchen dish-free a much simpler process. When the dishwasher doesn't work, this can be a huge inconvenience. Some might even consider it a nightmare, especially with busy work schedules, family schedules and other extra-curricular activities. Without the convenience of the dishwasher, it doesn't take long for the kitchen to become buried with dirty dishes. Some of the reasons why a dishwasher isn't working properly can be complicated to fix and require a significant investment in a repair technician and parts to get it working properly. Other times, the dishwasher problem can be fixed without too much difficulty. Sometimes all it takes it a proper cleaning of the appliance to get things working the way they should again.While it's impossible to list every potential problem a homeowner may have with a dishwasher, here are a handful of common ones that many people experience. Also included are potential solutions to the problem.