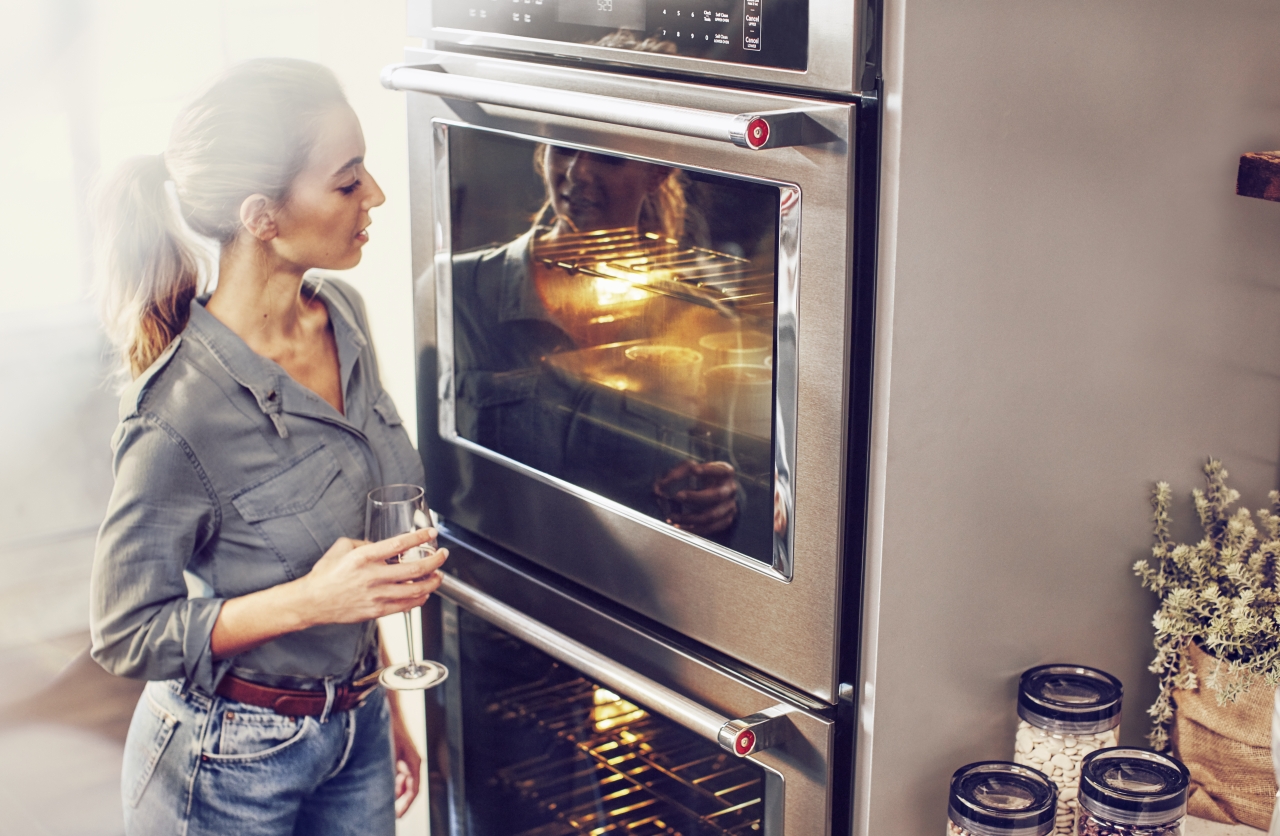 Size & Placement
You want a wall oven that is stylish enough to take a place in your kitchen. With built-in ovens, you can have a custom designed wall oven that is full function in baking, roasting, and your wall decor. The width available for a wall oven ranges from 24″ to 36″. You can purchase them in a single or double cavity and you can opt for a warming drawer too. Wall ovens can be placed under the counter or on a plain wall.
Single vs. Double Wall Ovens
Another option in wall oven selections include double or single. Double ovens can not only bake a large meal but they can be great for everyday baking and cooking too. With a double oven, you can place one dish into each oven and bake them at different temperatures at the same time. This allows you to bake your main dish in one oven and a soufflé or vegetable dish in another.
Features of ovens
There are many features you can get with a wall oven. Some features include a conventional oven which heats from the bottom or the top and a convection oven can heat thoroughly by using an internal fan to circulate the heat throughout the oven. Convection ovens are the most popular today so you may want to become familiar with different models. Many oven brands feature a double convection which offers two fans that can circulate the heat in a more productive way. Because the fan is used, the heat is more evenly distributed which is perfect for baking breads and pastries. Another option available in oven is the speed oven. These ovens are somewhat smaller in size so it reduces the amount of time your food is baking. Steam ovens are very popular due to the fact that you are baking healthy foods and dishes. The steam oven works like a regular oven but it uses a hot pressurized stem to cook the food which is not only fast but also healthy as well. This option is perfect for vegetables and seafood, just to name a few. Steam is by far the healthier choice when it comes to ovens because the food is baked using fans that circulate around the food. Baking meats, pastries, and pies are much easier with this option. Micro-Ovens are a combination of microwaves on the top and conventional or convection ovens on the bottom. This is often chosen for its faster ability to get meals done without running around the kitchen. If you are having trouble deciding which features you would need, there are many options to choose from so you simply need to decide based on what you want; wall oven with speed oven combinations or a wall oven with a microwave option.
Oven Designs
Wall ovens are a great solution to the at home baker. With a sleek modern style, the professional grade wall ovens can feature a modern look or finish it off with stainless steel. Another design that is popular is electronic controls which operate the temperature as well as the timing. These features are simply part of the design but can make the difference in many dishes.
Wall Ovens Installation
We at San Diego Appliance Repair Companies want to make things easier for you, which is why we are pleased to offer skilled appliance installation. We understand that installing an appliance is not an easy task, but don't worry, our service experts will take care of the job. So how does the process work? We've provided a handy breakdown below. – We provide installation for all appliances! Just give us a call, and we'll be happy to install it for you. – Our warranty has got you covered. As appliance installation specialists, we understand that problems can always occur after installation. To ensure things run smoothly, we test all appliances after we install them, and we won't leave until they are fully functional. To further that we also provide a 90-day warranty after installation! – We provide a quick and easy installation process that we complete in ONE DAY. Contact us:

Shopping for an oven can be overwhelming unless you have all the information about the different types of ovens available. A popular type of oven in homes today is the wall oven. It's important that you know what size you will need, how easy it is to install, the different power options, and display options that are available. This guide was designed to help you determine which wall oven you will need, breaking it down into: – Size and Placement – Single or double wall – Features found in wall ovens – Designs available