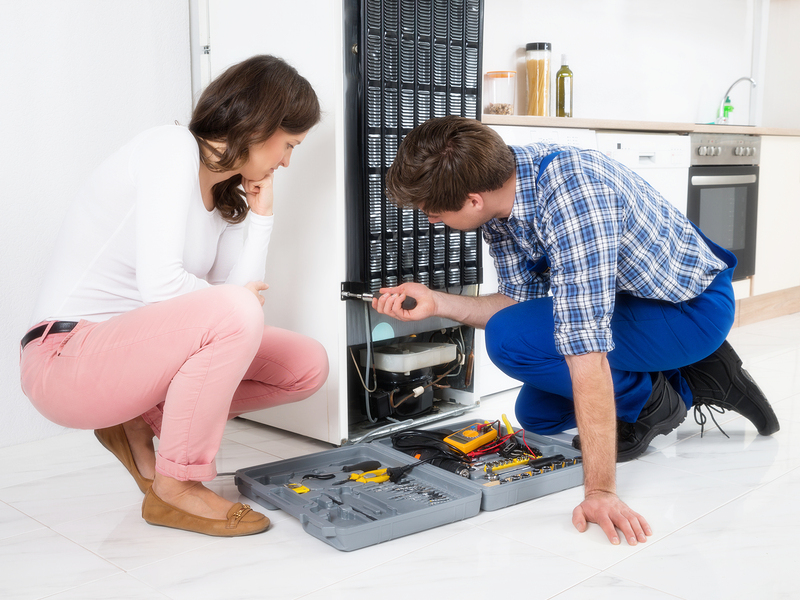 Door fails to seal properly
There is this very convenient test that you can perform to determine whether the door is going to get sealed properly. Put a dollar bill at the closing point and close the door. If the bill slips out freely – you have issues with your sealing. If your sealing is compromised, the cool air from within the fridge is going to slip out and you will experience an immediate spike of the costs of your utility bill. This is due to the fact that the fridge will work excessively in order to make up for the lost cool air. Replacing the sealing gasket isn't something that takes a lot of time or special knowledge and you are likely to be able to handle it on your own. Call the manufacturer and demand a replacement.
Door hinges have failed
If the door hinges of your fridge are loose, this might be the issue causing misalignment of your door. Try to raise and lower it and test the alignment of the door. If you see that the door doesn't fit properly, you need to address the issue as quickly as possible. Crooked door could cause further complications that you need to prevent. If you call in the experts, they will be able to put the sagging door back to its right position.
Malfunctioning compressor
This is another common issue that you might have to deal with. However, this is not something that you should be handling on your own. Calling the professionals is definitely much preferable in such situations. They are factory trained and licensed to work on all appliances. This will ensure that they understand all aspects of the refrigerator malfunction that you have been experiencing. As you can see, there are quite a lot of issues that your fridge could be subjected to. You want to make sure that it's handled flawlessly and without any additional complications. In order to ensure this, it's best if you call the professionals. This is going to get your problems solved at the shortest possible notice and you wouldn't have to worry about them again. It's also the safest way to go. Contact us:

The truth is that your fridge is one of the most integral appliances in your home. This is a device which is going to ensure that your food is kept properly refrigerated. This is the main reason for which you want to ensure that it's in perfect working condition throughout the year. However, every now and then you will come across certain issues which are rather minor but need to be taken into account if you are to ensure that your fridge works properly. Below you will find some common problems that you can easily handle quickly in order to prevent further malfunctioning.