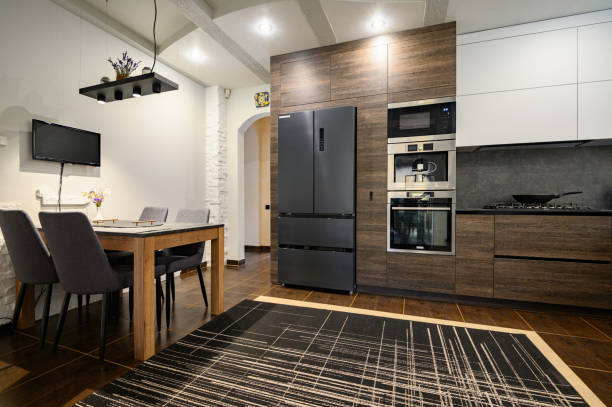 Modernizing a wine fridge can greatly enhance its performance and ensure that your precious wines are stored in optimal conditions. With a few simple upgrades and maintenance practices, you can improve the functionality and efficiency of your wine fridge. In this article, we will explore some valuable tips to help you modernize your wine fridge and elevate your wine storage experience.
Upgrade the thermostat
One of the key components of a wine fridge is the thermostat. Older models may have less precise temperature control, leading to fluctuations that can affect the quality of your wines. Consider upgrading to a digital thermostat that offers more accurate temperature settings and better temperature stability.
Install a humidity control system
Maintaining proper humidity levels is crucial for wine storage. Excessive humidity can cause mold and label damage, while low humidity can lead to corks drying out and wine oxidation. Installing a humidity control system or using humidity packs can help regulate and maintain the ideal humidity range for wine storage.
Install LED lighting
Traditional incandescent lights produce heat, which can negatively impact the temperature inside the wine fridge. Upgrading to LED lighting not only reduces heat generation but also provides better visibility and energy efficiency. LED lights emit minimal heat and do not produce harmful UV rays that can degrade the quality of your wines.
Enhance insulation
Improving the insulation of your wine fridge can help reduce temperature fluctuations and energy consumption. Check for any gaps or leaks in the door seals and replace them if necessary. Adding additional insulation to the walls or investing in a wine fridge with enhanced insulation properties can further improve efficiency and temperature control.
Utilize vibration-dampening technology
Excessive vibrations can disturb the sediments in wine bottles and affect their flavor and aging process. Consider adding vibration-dampening materials, such as rubber mats or specialized wine fridge accessories, to minimize vibrations and create a more stable environment for your wines.
Optimize airflow
Proper airflow is essential for maintaining consistent temperature and humidity levels throughout the wine fridge. Ensure that the vents and air circulation pathways are clear of obstructions. Rearrange wine bottles if needed to allow for better air circulation. Consider using a small fan or a built-in fan system to improve airflow within the fridge.
Integrate smart technology
Embrace the convenience and control offered by smart technology. Many modern wine fridges come with smart features such as Wi-Fi connectivity, mobile apps, and temperature monitoring. These features allow you to monitor and adjust settings remotely, receive notifications for temperature fluctuations, and access valuable information about your wine collection.
Regular maintenance
Don't overlook the importance of regular maintenance. Clean the interior and exterior of your wine fridge regularly, following the manufacturer's guidelines. Pay attention to dust accumulation on the condenser coils, as it can hinder the fridge's performance. Additionally, check and replace the air filters as recommended to ensure proper airflow.
Consider professional servicing
If you have an older or high-end wine fridge, it may be worth investing in professional servicing. A technician can thoroughly inspect and service your wine fridge, including checking refrigerant levels, calibrating temperature controls, and addressing any potential issues that may affect performance.
Organize and categorize your wine collection
Lastly, improve the functionality and accessibility of your wine fridge by organizing and categorizing your wine collection. Utilize wine racks, dividers, or labels to create a system that allows for easy identification and retrieval of bottles. This helps minimize the time the door is open and reduces temperature fluctuations.
By implementing these tips, you can modernize your wine fridge and optimize its performance. Enhancing temperature control, improving insulation, utilizing smart features, and maintaining proper airflow and humidity levels will create an ideal storage environment for your wines. Embrace the advancements in wine fridge technology and elevate your wine storage experience to new heights.
Are you in need of some appliance repairs in San Diego County? San Diego Appliance Repair Service is here to help! We offer professional and experienced technicians who can get the job done right. Don't wait, call us now and get your appliances fixed!
Contact us
(619) 719-5005
[email protected]