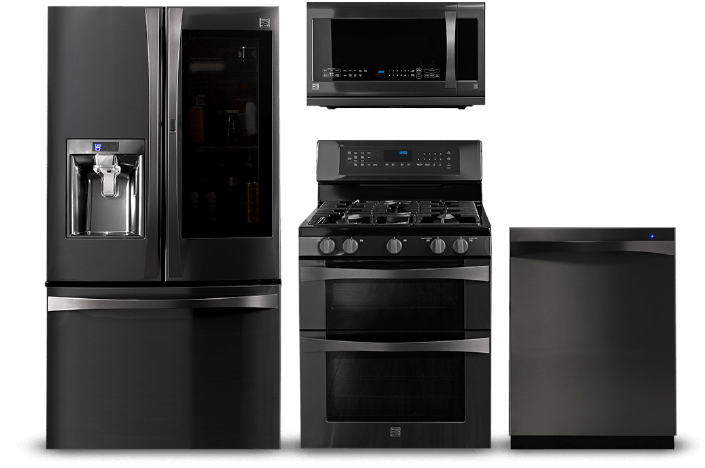 Kenmore Blender Preservation
To properly take care of your Kenmore blender, simply pop out the blades, cap and any other small parts that can be removed. Now, soak your Kenmore blender parts in a solution of warm water and dish soap. Once they have soaked for a few minutes, simply wipe down the parts with a warm cloth. Excess debris and dirt should easily wipe off.
Kenmore Dishwasher Preservation
Preserving your Kenmore dishwasher is, thankfully, quite easy! Simply remove your dishwasher filter and have it soak for a few in soapy water for a few minutes. Put it back in its place in your Kenmore dishwasher. Now, place some baking soda at the bottom of your Kenmore Dishwasher and run a cycle. Once the cycle is completed, throw in a half cup of vinegar at the bottom once again, and leave it overnight (or four hours). Finally, run one more cycle. This process will leave your dishwasher in a like new condition!
Kenmore Refrigerator Preservation
This golden-oldie is a trusted and reliable way to help preserve your Kenmore fridge. Make sure you have a box of baking soda in your fridge at all times, as this helps keep odours in your fridge at bay. If you wish to clean the inside of your Kenmore refrigerator, use a vinegar and warm water solution to wipe down all shelves and drawers. When working with refrigerators, it is best to avoid using chemical cleaners, as you run the risk of the cleaner coming in contact with your food. For a more thorough and deep clean, you can soak your shelves in warm water, soap, and vinegar, and then simply wipe them down.
Kenmore Toaster Oven Preservation
Cleaning your toaster oven might be a downer to some people, but with regular maintenance, it doesn't have to be. Simply unplug your toaster and use a damp cloth. Take out any racks or shelves and wipe down all the food and debris from the bottom of your toaster oven.
What To Do When Your Kenmore Appliance Breaks Down
No matter how well you take care of your appliances, sometimes, things happen. If you are dealing with a broken down Kenmore appliance, call San Diego Appliances Repair Company at (619) 719-5005 today or click here for your free repair quote! Contact us:

Taking care of your Kenmore appliances is made easy, thanks to San Diego Appliances Repair Company! Maintaining your appliances is an important part of their successful operation. Here are some easy ways to properly take care of your Kenmore Appliances!