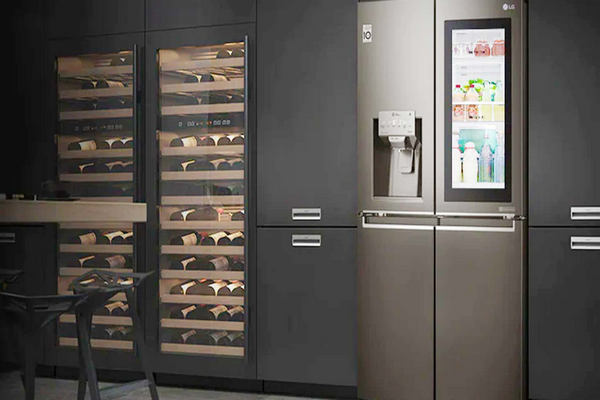 CAUSES OF MALFUNCTION
WARNING –
Before operating the appliance, make sure that the electrical power is disconnected. Danger of short circuit and electric shock. Wear suitable work gloves before disassembling the unit. Risk of injury or abrasion.
Door seal is no longer tight.
The door seal ensures that the wine cooler is airtight. The optimum temperature is regulated by two sensors located inside and outside the wine cooler: when the temperature of the environment in which it is located changes, a cooling or heating cycle is activated to regulate the optimum temperature. If the gasket is damaged, broken or deformed, the temperature between the inside and outside environment will no longer regulate correctly and will not be optimal. A faulty or dirty gasket can prevent the cabinet door from closing tightly; therefore, in these two cases, cleaning or replacing the appliance gasket is recommended.
Thermostat not adjusted properly
The thermostat is used to set the temperature of the cabinet to store or cool wine with different temperatures (multi-temperature). If it's analog, you simply turn the hands clockwise, like on a clock. If it is digital, you have to type the digits of the desired temperature on the control keypad. Warning: you should not manipulate the thermostat too much and change the temperature abruptly, so that temperature fluctuations do not affect the wine. To determine the optimal temperature in your wine cooler, simply place the thermometer in a glass of water for 24 hours. Then, according to the measured temperature, adjust your thermostat to a range of 53° to 57° Fahrenheit. A wine cooler for storage and a wine cooler for service are often confused! The first one allows you to store wine in the best conditions, and that's true whether it's red, white, rose or sparkling wine. In fact, contrary to what one might think, white wines are stored at the same temperature as red and sparkling wines, which is 54°F. In this case, they should be placed in the freezer a few hours before serving. The second type of wine cooler is designed for professional use and allows you to manage a large number of bottles for serving. There are also wine racks that can manage different temperatures depending on their use: aging the wine, maintaining a good temperature before serving, chilling.
Compressor heats up but doesn't work
The situation described below is the most critical: the wine cooler is no longer producing, or not producing enough cold air, and the compressor is running continuously and heating up. Most likely, there is a faulty compressor in the appliance. If the compressor is running continuously, it means that the thermostat is constantly stressing it. Therefore, there is a good chance that the gas circuit is empty. In this case, there is a risk that the wine cooler is beyond repair. In fact, if it is a faulty compressor, it can be replaced.
Warning –
Any intervention on the gas circuit or on the compressor must be performed by a certified repairer: do not do it yourself!
Can you imagine your life without all modern conveniences and household appliances? They fill our lives with comfort, enjoyment, even luxury. There is nothing more frustrating than a faulty appliance, which impacts your quality life greatly. If you are experiencing problems with your
wine cooler
 and are desperately looking for 
professional help in San Diego County
, don't wait any longer, 
call San Diego Appliance Repair
 and we will provide you with the quickest and the 
most qualitative repair service in San Diego County
. We will fix your faulty
wine cooler
quickly, easily and to a high standard.
San Diego Appliance Repair
 carries the best price across San Diego County. We are a local, reliable and cost-effective 
appliance repair service provide
r
 for all large and small appliances with over 20 years of experience in the industry. We provide effective swift service, quick and accurate diagnostics, same day repair and warranty for any job. Our experienced and knowledgeable engineers can fix all types of  
wine coolers
, either old ones or state-of-the-art models and can offer solutions to a huge range of problems.
Customer service is our number one priority and when you call us we guarantee that you will get friendly, respectful and knowledgeable technician for your Wine-cooler repair in San Diego. We are the company you can rely on, as our experts work with original equipment parts, we always do our work quickly to get your freezer and ice-maker work again as soon as possible, our quotes are fixed and fair, we always meet deadlines, we work 24/7 at weekends and on holidays.
Contact us.
(619) 719-5005
[email protected]
Wine coolers are becoming more and more a part of our daily life. For optimum preservation of bottles, a wine cooler should maintain a temperature of 53° to 57° Fahrenheit. It can happen that after a while, either due to wear and tear or a malfunction, the wine cooler does not create the cold and humidity needed to best preserve the wine. Here are the causes of this malfunction and how to fix it.