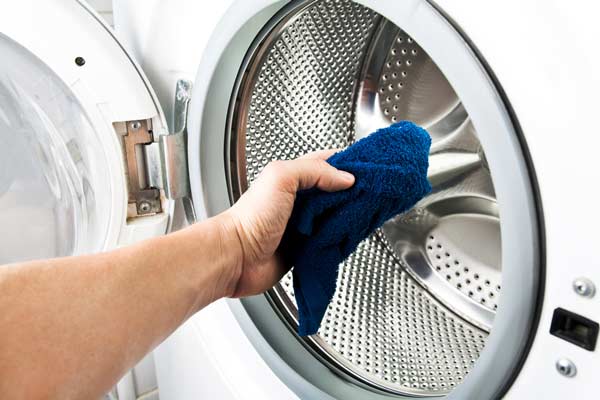 New Washer Knowledge
Don't hesitate to read your instruction manual before using any kind of new appliance. By reading your manual, you will discover that your new washer is not only a high efficiency model, but that it also uses less energy, detergent, and water – meaning that you are helping the environment! Try to always use the proper amount of detergent, because sing too much detergent will cause soap and scum build-up within the washer – which will definitely lead to mold and mildew growing within the unit – leading then to odors.
Do not Beat The Drum – Clean It!
In your manual you find out which a specific washer cleaner to purchase and use to clean your washer drum. Using a wipe, thoroughly clean the entire drum and inside door of your machine, that removes residues that could lead to mold and mildew buildup. Let the cleaner sets for at least five minutes and then wipe down the drum and door again – thoroughly. This will remove anything harmful which may end up on your clothing.
Get the Vinegar
If you want to remove soap, scum, and clean out your washer lines, you should use vinegar and a cloth to clean the rubber seal on the door. Vinegar is considering to being widely renowned as an excellent cleaner for decades now, for specific use in a washer, the number one thing you should do is run some through your washer (Without clothing because it could mess up your clothing). Clean the outside of the seal then pull the rubber away from the door to clean behind it as well. This will allow the door to seal better. Keep In mind, vinegar is also used to clean the detergent compartment of your washer, you just need to put it in a spray bottle and spritz it onto the detergent compartment. After letting it set, wipe it thoroughly with a clean cloth to remove any dirt or stuck on detergents. It is also recommended to, again, run your washer through a clean cycle to remove anything harmful left behind. When it's comes down to repair, you can always rely on our company: Contact us:

My congrats with a newly purchased of a high efficiency washing machine. And now let me ask you, have you truly done all of the research about your new washer to see how often you would need to clean it? Well, here are some useful tips for maintaining your washer to make it working efficiently for years.