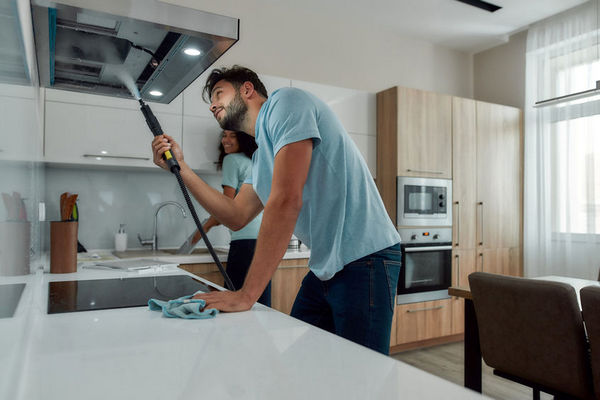 Cleaning the outside casing of the hood
It is recommended that you clean the outside casing of your hood once a month to get rid of grease buildup. When cleaning the hood, never use harsh chemicals, especially those containing chlorine or alcohol, or solvents. Also, do not use sharp objects to remove dried dirt or you will scratch the hood cover. Use a soft cloth or sponge to wash the hood. Never use a wire brush. Wash lacquered surfaces with warm water and detergent.
How to Clean a Stainless Steel Hood
If you have a stainless steel hood, be careful not to mechanically or chemically damage the chromium oxide layer, which prevents oxygen from reaching the steel and prevents corrosion. Wash the surface with a soft cloth soaked in an anti-corrosion cleaner or soaked in warm water and detergent. Then polish the surface with a wax polish that creates an invisible film that resists fingerprints while eliminating dust buildup. Antique sink or faucet cleaners are not suitable for cleaning antique sinks or faucets.
How to Clean a Hood
Clean your stainless steel hood only with a soft cloth and an anti-corrosive surface cleaner that not only removes dirt, but also leaves a protective film against fingerprints.
How to Clean a Hood Filter
The second part of hood maintenance is cleaning the hood filter. All hoods and recirculation hoods are equipped with grease filters, most of them metal. However, you may also encounter textile filters. Recirculation hoods also have activated charcoal filters. So how do you clean the filters in a hood?
How to really thoroughly clean the inside of your hood – cleaning the grease filter
Metal grease filter steam rising into the hood also contains grease particles, which the metal grease filter traps so they don't get into the motor. Metal grease filters are washable, and the easiest way to clean them is to put them in the dishwasher. You can also wash them in warm water and detergent. After drying them thoroughly, put the filter back in place. Metal grease filters will last for the entire lifespan of the hood. It is recommended to wash the metal filter once a month.
Can you imagine your life without all modern conveniences and household appliances? They fill our lives with comfort, enjoyment, even luxury. There is nothing more frustrating than a faulty appliance, which impacts your quality life greatly. If you are experiencing problems with your
kitchen hood
 and are desperately looking for 
professional help in San Diego County
, don't wait any longer, 
call San Diego Appliance Repair
 and we will provide you with the quickest and the 
most qualitative repair service in San Diego County
. We will fix your faulty
hood
quickly, easily and to a high standard.
San Diego Appliance Repair
 carries the best price across San Diego County. We are a local, reliable and cost-effective 
appliance repair service provide
r
 for all large and small appliances with over 20 years of experience in the industry. We provide effective swift service, quick and accurate diagnostics, same day repair and warranty for any job. Our experienced and knowledgeable engineers can fix all types of  
cooktops
, either old ones or state-of-the-art models and can offer solutions to a huge range of 
problems. Contact us.
(619) 719-5005
[email protected]
A dirty and greasy hood looks pretty repulsive. But it's not "just" an aesthetic problem. A dirty hood doesn't serve its primary function. A hood is a device for venting kitchen fumes and smoke. If you want it to work as efficiently as possible, you shouldn't underestimate its maintenance. Additionally, if you have a recirculating hood, regular filter cleaning is a requirement. Fortunately, there's nothing complicated about cleaning your hood. With the help of our guide, you can easily handle regular maintenance. We've got tips and tricks on how to clean your hood so that it's not only clean on the outside, but also on the inside and does its job effectively. As soon as the hood filter becomes clogged, the hood does not pull and its functionality is reduced. This leaves unwanted fumes and odors in the kitchen. But a kitchen hood does more than just remove cooking fumes and odors. If you have a gas stove, it also removes nitrogen oxides from the gas. In the case of a hood, you also get rid of the heat that builds up around the stove. Therefore, hood cleaning should not be neglected. If we want to discuss how to clean the hood, the whole process of cleaning should be divided into two parts. Cleaning the outside casing of the hood so that it stays clean on the outside. Cleaning the hood filter so that it efficiently and effectively removes kitchen fumes.