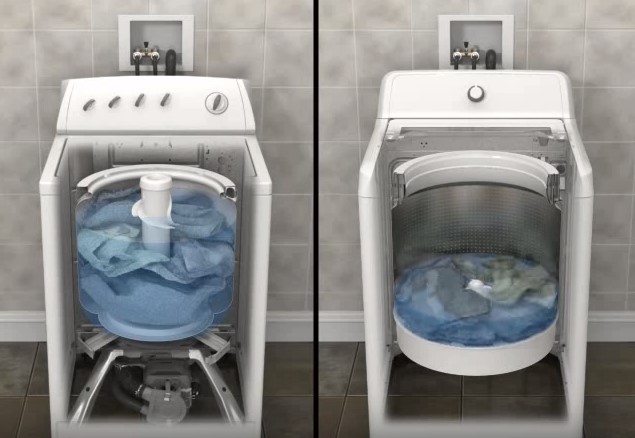 Determining the Maximum Size of the Load
Do you know the capacity of your washing machine in one load? Usually, the average top-loading machine is likely to be capable of holding up to 16 pounds, while larger solutions could take up to 20 at most. This is one of the most important things that you need to ensure in order to determine the actual water level setting.
Setting the level of water
The majority of the top-loading machines are going to provide you with at least three different load sizes. You want to choose the one which is fit for the amount of laundry. Just take a look at how full the machine is and use the appropriate water level setting – it shouldn't be something challenging. A small load of laundry, for instance, would require you to use an approximation of 1/3 of the water.
How do Water Levels Work?
Now, as soon as the machine starts getting filled with water, this is going to push the air towards the top part. As soon as the fill level has been reached as per your desire, the switch is going to be activated and the machine is going to stop filling. However, this is where it's important to note out that defective switches are the most common cause of problems with improper water levels. This is something that you need to take into account. If you fail at having this conveniently repaired is likely to result in a home disaster. You shouldn't underestimate this issue as the machine can get the entire room flooded, if not worse. Not only will that cause damage to the flooring but the water can flood the basement, if your laundry room is there. This can be expensive to repair. In any case, determining the proper water level is something which is going to ensure that you don't use an improper amount of water. You need to be reasonable with that as it's also something which is going to ensure that your clothes will be washed properly. On the other hand, if you experience issues with these types of settings and your washing machine fails at stopping the filling cycle on time, you should call the appliance repair professionals as quickly as it's possible as this is a 100% recipe for disaster. Make sure to give them a call and let them handle the issue on time. However, ensure that the company that you work with is licensed, insured and bonded. Contact us:

Now, the truth is that knowing which particular washer water level setting to take advantage of is something that not every homeowner is aware of. The result is an over usage or a misuse of water and inefficient washing undertaking in general. With this in mind, here are a few things that you might want to take into account to ensure that you do everything as per the highest standards.