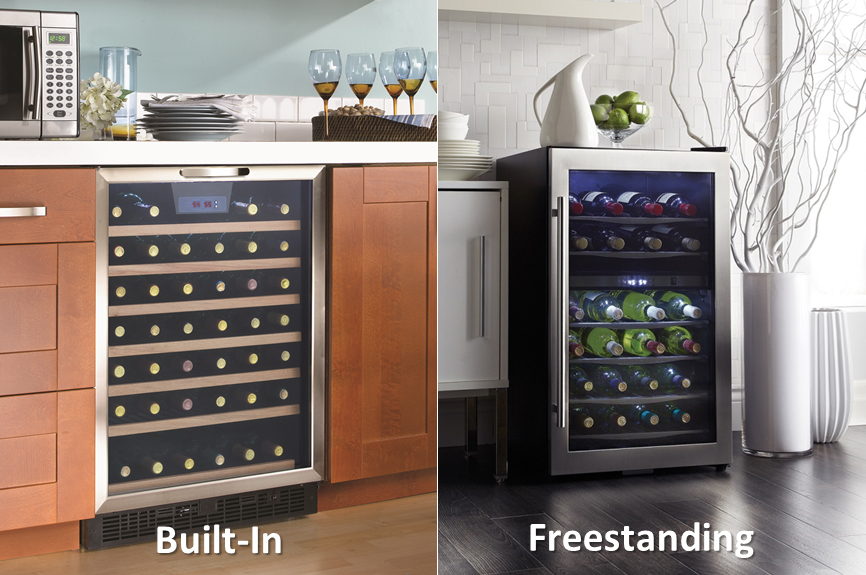 Where Do You Mean To Place It?
The first thing to think of should be where you plan on putting your wine cooler. This will already determine quite a few factors which will rule out a good portion of options and shorten your list of options. For one, it will determine whether you will want to invest in a built-in unit, like you would if you planned on filling up the empty space of a kitchen cabinet, or in a freestanding wine cooler, like you would if you are already using all your cabinet space and need the wine cooler as a separate unit, or if you simply want a bigger unit than any of your cabinets can accommodate.
What Capacity Do You Need?
This is another major one, since the amount of bottles you plan to cool will determine the size of your future wine cooler. This will also be the point at which you may need to rule out built-in coolers entirely, since their space is limit due to their compact designing nature meant to fit a kitchen cabinet. If you are a modest drinker, maybe that is exactly what you want and need. However, if you are a connoisseur of fine wine with an ever-growing collection, a freestanding cooler may be more appropriate for you. However, this is also the point where we will note that some built-in units also have the capability of being freestanding units. The only difference here would be that they have front ventilation like a built-in unit whereas freestanding models have side and rear ventilation. With a bit of searching, you should easily be able to find both types of units with a capacity of up to and over three-hundred wine bottles. You can talk with an appliance repair service in San Diego County to help you decide on the right wine cooler to buy. They work on multiple brands and thus, understand the different features. Contact us:

Stockpiling wine in the refrigerator can only work for so long before you run out of space. So if you are a lover of wine and are the owner of a steadily growing selection of reds and whites, you may already be considering investing in a wine cooler. Now, whether you have already chosen between built-in and freestanding, there will still be a wide variety of options to choose from. To make your final decision easier for you, we have put together a buyer's guide that will help you rule out certain models until you are left with the ones which are perfect for you and your needs.