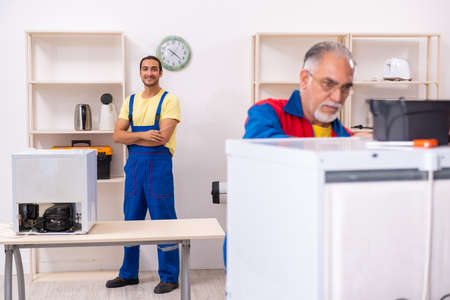 A refrigerator is an essential appliance in any home, and when it malfunctions, it can disrupt your daily routine and potentially lead to food spoilage. When faced with a refrigerator problem, it's crucial to choose a reliable and competent repair service to get your appliance back up and running smoothly. In this article, we will discuss some key factors to consider when selecting a refrigerator repair service.
Experience and expertise
Look for a repair service with extensive experience in refrigerator repairs. An established company with a solid track record is more likely to have encountered a wide range of refrigerator issues and developed the necessary skills to fix them. Experienced technicians are well-equipped to diagnose and repair various refrigerator models effectively.
Certification and licensing
Ensure that the repair service is certified and licensed to perform refrigerator repairs. This indicates that they have met specific industry standards and have the necessary qualifications to handle the job. Certification and licensing provide reassurance that the technicians are trained and knowledgeable in refrigerator repair techniques.
Reputation and reviews
Research the reputation of the repair service before making a decision. Read online reviews and testimonials from previous customers to gauge their satisfaction levels. Positive reviews and high ratings are indicators of reliable and trustworthy service. Additionally, consider asking for recommendations from family, friends, or neighbors who have used a reputable repair service in the past.
Warranty and guarantees
Inquire about the warranty and guarantees offered by the repair service. A reliable service will provide warranties on both parts and labor. This ensures that if the same issue reoccurs shortly after the repair, it will be addressed without additional cost to you. Clarify the duration and coverage of the warranty before proceeding with the repair.
Timeliness and responsiveness
A reputable repair service understands the urgency of refrigerator repairs and strives to provide prompt service. Look for a company that offers quick response times and flexible scheduling options. A timely repair can prevent further damage and minimize food spoilage.
Transparent pricing
Request a detailed estimate for the repair work, including both labor and parts. A reliable repair service will provide transparent pricing and avoid hidden charges. It's advisable to compare quotes from multiple repair services to ensure fair and competitive pricing.
Insurance coverage
Verify whether the repair service has liability insurance. Accidents can happen during repairs, and insurance coverage protects both the technicians and your property in case of any unforeseen damages.
Availability of genuine parts
Ensure that the repair service has access to genuine manufacturer parts for your specific refrigerator model. Genuine parts are designed to fit and function optimally, ensuring the longevity and reliability of the repair.
Customer service
Pay attention to the level of customer service provided by the repair service. Friendly and professional customer service representatives who address your queries and concerns promptly can make the entire repair process smoother and more satisfactory.
Maintenance and preventive care
Inquire if the repair service offers maintenance and preventive care services for refrigerators. Regular maintenance can help identify and address potential issues before they become major problems, extending the lifespan of your refrigerator.
Choosing a reliable refrigerator repair service is crucial for efficient repairs and the longevity of your appliance. By considering the factors mentioned above and doing thorough research, you can select a reputable repair service that meets your needs and ensures your refrigerator is in good hands. Remember, regular maintenance and care are key to preventing major breakdowns, so prioritize the ongoing care of your refrigerator even after repairs are done.
Are you in need of some appliance repairs in San Diego County? San Diego Appliance Repair Service is here to help! We offer professional and experienced technicians who can get the job done right. Don't wait, call us now and get your appliances fixed!
Contact us
(619) 719-5005
[email protected]