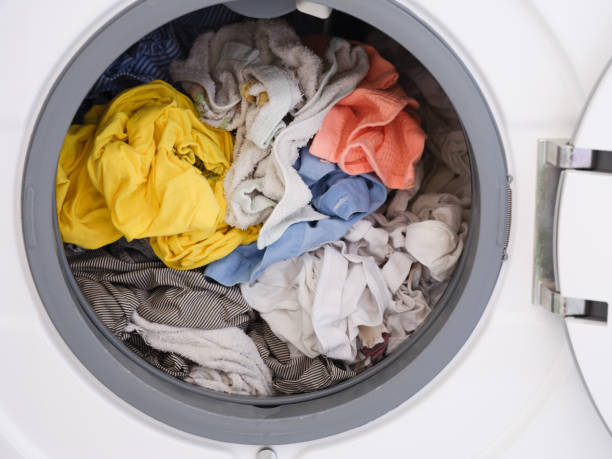 In every apartment, sooner or later, there is a need to wash clothes and then dry them. But not every owner has the opportunity to dry laundry in the air. Some apartments have poor ventilation, and some have no place to hang clothes in the fresh air. At the moment, such a problem can be solved by installing a clothes dryer.
Clothes dryer: its functions
Almost all types of electric dryers perform several drying functions:
Any model of an electric dryer has several drying options:
– Timed – The drying process starts at a certain moment and for any period of time specified by the user.
– Oriented to humidity – The drying process will stop when the percentage of humidity set by the user is reached.
– Oriented to the fabric – Drying is performed based on the user-specified material of the loaded laundry
– Oriented to the type of clothing – The machine dries similar items taking into account their features.
In most dryers, the above basic functions work. The owners will have to shell out for additional options. Note that before purchasing a drying machine, the user needs to understand what he wants from this machine, and for what tasks he will need it.
On what principle does it work?
There are several types of electric dryers, each of which differs in its principle of operation.
Drum
Drum-type electric dryers are considered the most popular at the moment on the market. Their compactness, moderate cost, and good capabilities cause the greatest demand among consumers. Such machines are ventilated, have a heat pump, and are condensing. The difference between these types is manifested only in the method of moisture removal.
Drum machines work according to the following principle. Air purified by means of pile filters is fed through the drum to the heating element. At the same time, the temperature rises to 63-70 degrees. Then, by means of a fan, air flows are distilled into a tank filled with laundry. At the moment of evaporation, the air filled with moisture is transferred to the heat exchanger, from which it is redirected to the heater.
Some models of drum-type electric dryers differ in their principle of operation. Therefore, the operation of all drum electric dryers is described below.
Ventilation
This type of drum electric dryer is no longer produced. Previously, this type was too unpopular due to design features. During its installation, additional assembly work was necessary. Moisture removal was carried out by means of a flexible hose.
Condensation
The most practical option of machines for drying laundry is electric condensing type dryers. Machines with such designs can be installed in any place. You don't have to worry about evaporation, because all the moisture from the laundry is in the condensate compartment, which, by the way, needs to be emptied often. In such machines, an additional option (made for a separate fee) is a drainage system that transfers condensate to the sewer.
With a heat pump
Electric dryers of this type have a circuit with a cooler, the presence of which contributes to the intensity of the temperature drop, as well as to the rapid conversion of moisture into condensate, which reduces the time of operation. It should be noted that electric dryers with heat pumps cannot be placed between the cabinet and the washing machine in order to avoid overheating the device.
Drying cabinet
Cabinets are the most cumbersome option among electric dryers. But, despite this shortcoming, the design of such machines has many advantages. In its appearance, it really resembles a closet with clothes hanging on hangers or stacks of things stacked on shelves. This is how laundry dries, which, by the way, does not need to be ironed.
The difference from other pieces of furniture of this type is a fan (for moving air masses in the closet to wet things) and a heating element that increases the temperature of air flows. After evaporation, the moisture goes outside the structure, for this reason, the automatic drying cabinet must be installed in rooms with good ventilation. The advantage of these machines is their reasonable cost. The disadvantage is a large size. What people living in one-room apartments don't like very much.
Sequence
The sequence of actions when working with electric dryers is quite simple and differs little in different models. Below is the general principle of working with machines of any model.
Things are loaded into the drying machine. Note that all linen should be damp, but in no case wet. Therefore, before loading, all things must be wrung out in the spin mode of the washing machine.

Select the desired drying mode. You need to decide whether to choose to dry by time or to dry things of a certain type of fabric.

After drying, it is necessary to determine the level of humidity of things. In case of poor drying, it is necessary to load the clothes again (after 40 minutes, not earlier) and select the drying mode. Perhaps you need to dry things in another mode.

Clean lint filters. Otherwise, poor air supply and, as a result, low-quality drying are possible.

It will empty the moisture collector.
Advantages
Having read the entire article, we can draw a conclusion: is it necessary to purchase an electric dryer or can we get by with traditional laundry drying?
Machine drying differs from classic laundry drying in a number of advantages:
Accelerated process.

The ability to stop the drying process at a certain level of humidity, which is convenient for subsequent ironing of some fabrics;

Evaporating moisture smoothes simple products during device operation;

Various modes allow you to dry things taking into account the requirements for any type of fabric or type of clothing.
Dryers have disadvantages: first of all, it is a high price and the fact that the dryer takes up a lot of space in the apartment. For this reason, many people living in one-room apartments have to be satisfied with the classic drying of laundry on a small balcony.
It's time to call for professional appliance repair in San Diego County. San Diego Appliance Repair Service is here to help with professional and experienced appliance repairs.
Contact us
(619) 719-5005
[email protected]